Woman Accidentally Finds 'Shocking' $3 Million Winning Lottery Ticket in Spam Folder
A Michigan woman recently found something by surprise in her email spam folder: millions of dollars.
The Michigan Lottery issued a press release January 21 saying that Laura Spears, a resident of Oakland County, experienced "the surprise of a lifetime" when she was looking for an email and had difficulty finding it.
She ended up coming across an email in her spam folder that stated she won a $3 million Mega Million prize.
"I saw an ad on Facebook that the Mega Millions jackpot was getting pretty high, so I got on my account and bought a ticket," Spears said. "A few days later, I was looking for a missing email from someone, so I checked the spam folder in my email account.
"That's when I saw an email from the Lottery saying I had won a prize. I couldn't believe what I was reading, so I logged in to my lottery account to confirm the message in the email. It's all still so shocking to me that I really won $3 million!"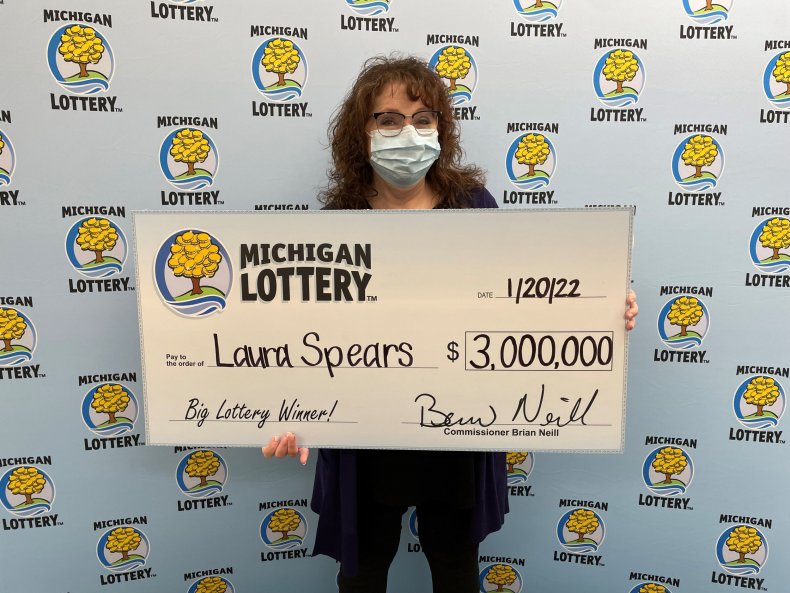 Spears, 55, made the online ticket purchase on New Year's Eve. She matched five white balls—02-05-30-46-61—to win a $1 million prize.
Due to the lottery "Megaplier," her winning prize was multiplied three times to the $3 million total.
Mega Millions drawings take place every Tuesday and Friday evening. Tickets cost $2 and, as Spears chose to do, every player can pay an additional $1 per play to potentially multiply non-jackpot prizes by up to five times.
In Michigan, Mega Millions tickets are available online or at one of the state's 10,500 retailers until 10:45 p.m. of the day of the drawing. Tickets are also sold in 45 states, in addition to Washington, D.C. and the U.S. Virgin Islands.
The last winner of the Mega Millions jackpot was a family in Lake Havasu City, Arizona, that won $108 million on October 22, 2021. As of January 21, the jackpot was at $376 million.
Spears, who recently made the trip to Michigan Lottery headquarters in Lansing to claim her prize, said she plans to share her winning with her family. An early retirement is also now part of her long-term plans.
As for any future lottery ticket purchases, she intends to permanently adjust which folder she receives her lottery-based notifications.
"I definitely added the Michigan Lottery to my safe senders list just in case I ever get lucky enough to receive another email about a huge prize," she said.
Newsweek reached out to Spears for comment.