Woman Accused of 'Glorifying Obesity' for Flaunting Size 26 Frame Hits Back
The job of a social media influencer may seem like a walk in the park—steeped in perks like luxury travel, boxes of free goodies, and millions of online followers. However, putting oneself online does come with its downsides.
Newsweek spoke to Laura Ferry, 34, an influencer who considered taking her own life as a result of online bullying.
The plus-size fashionista has shared the dark side of being a social media influencer as often she is subject to hurtful comments from strangers online.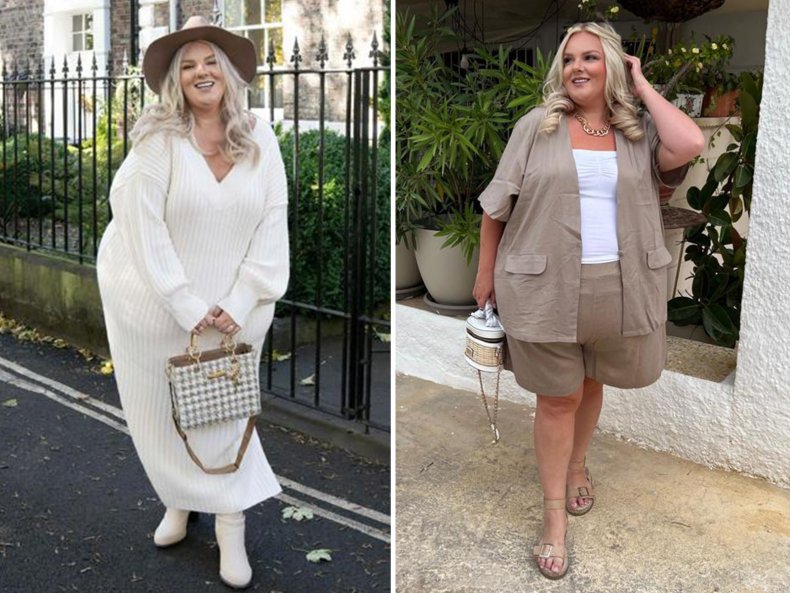 From South Shields, U.K., Ferry told Newsweek: "Trolls say I am glorifying obesity but loving yourself in the process. In an ideal world, everyone would leave constructive, neutral, or positive comments but that isn't the case.
"I have been trolled countless times to the point where I didn't want to be here anymore. It does upset me if I get trolled but no amount of bullying has ever caused me to lose weight.
"I have been pulled apart for everything. During the pandemic, I woke up to messages telling me to 'kill myself' and that I will get COVID-19 and die from it.
"I have even been trolled by older plus-size women who called me a 'pink elephant' when I wore a pink dress.
"Sadly people seem to forget the old saying 'if you haven't got anything nice to say, don't say [anything] all' when they have a WiFi connection."
It has taken a long time for Ferry to get to where she is today. She said the journey has made her realize that "happy people don't hurt other people."
The Consequences of Bullying
Over 10 years ago, Ferry first visited the internet to review beauty products.
She said: "The internet allowed me to connect to people and share my thoughts on makeup. There were no downsides and it was a hobby I grew to love."
Ferry said that at the time, she didn't post about anything related to being plus size as she didn't want to draw attention to herself.
"But then Instagram came and it all snowballed from there," she recalled. "I started sharing more full-length images as my confidence grew and speaking about fashion and confidence rather than just beauty."
While Ferry showed off her fashionable finds, she was soon subject to negative comments amid the sea of support.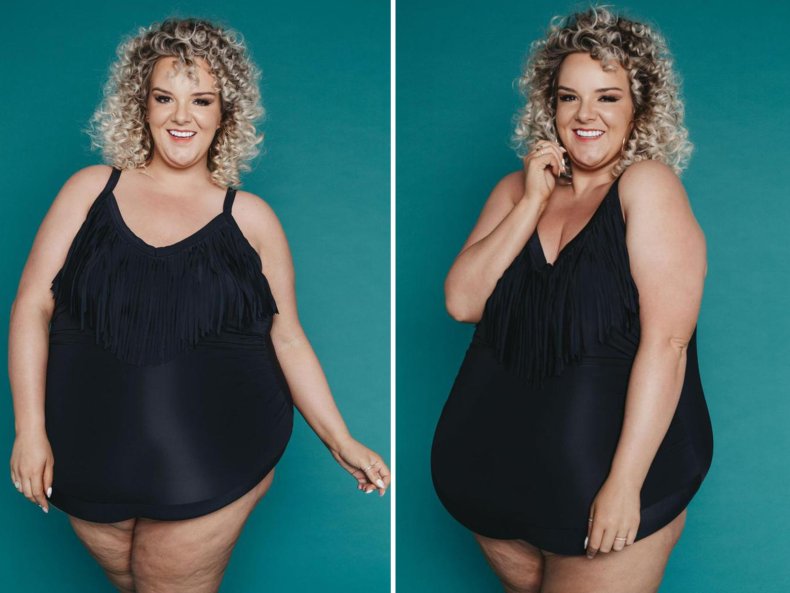 "It upsets me now if I get trolled. No amount of bullying has ever caused me to lose weight," she said.
Cyberbullying doesn't just affect social media influencers, but schoolchildren too. Last year, a team from the Children's Hospital of Philadelphia (CHOP) found cyberbullying was linked to suicidal thoughts and attempts in young adolescents.
Researchers looked at the records for more than 10,000 children with an average age of 12. The study found the participants who experienced cyberbullying were more than four times as likely to report thoughts of suicide and attempts as those who didn't.
Ferry told Newsweek she turned to food for comfort as she was bullied because of her weight and height in elementary school.
She said: "I spent most of my childhood and teenage years hating myself. I had a bad relationship with food and often turned to it for comfort if I had a bad day.
"I had awful eating habits and lived a life of shame. I didn't feel worthy because of my weight as I believed you had to look like Kate Moss or Victoria Beckham to be beautiful."
A Walking Catalog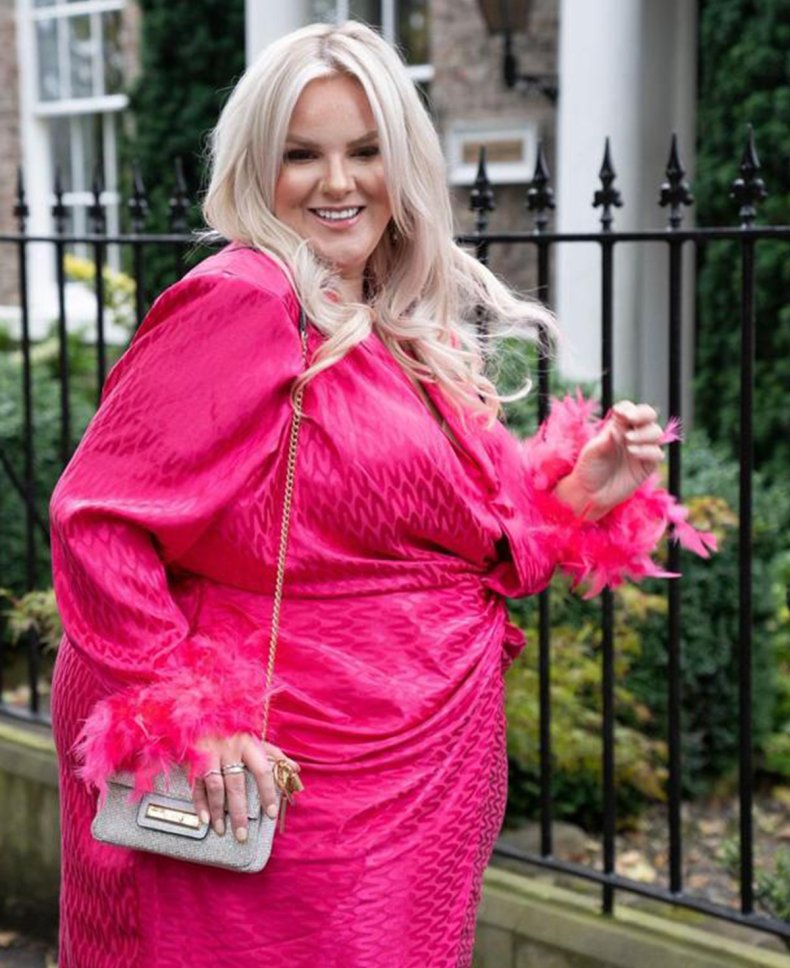 But with a love for fashion and a drive to help women, Ferry decided to change her mindset.
Today, she refers to herself as a "walking catalog"—she uses her platform to encourage women to embrace who they are even as she showcases the plus-size range for many well-known fashion brands like Pretty Little Thing.
"In 2018, I decided enough was enough and I started putting myself first. It wasn't about changing my diet, it was about changing my confidence. I stopped caring about other people's opinions and began living for myself.
"I no longer look for validation from others. If you allow other people's opinions to make you, they can definitely break you," she told Newsweek.
Ferry is a role model to many and is backed by an army of supporters on social media who admire her confidence. She regularly uploads content to her 148,000 Instagram followers using the handle @whatlauraloves.
She is no longer afraid to sport a bikini and encourages others—no matter what shape or size—to do the same. In one video, Ferry told TikTok users: "I love my beach body and it is ok for you to love yours."
Loving Your Body
Speaking to Newsweek, Ferry said: "My message for people is: love who you are today as tomorrow isn't promised. It is important to love the body you are in now and live in the present. If I was to stay the same for the rest of my life—I am still a valid human being."
"I don't place my happiness on what I weigh and others shouldn't either.
"Every day I aim to inspire people to be happy and grateful for who they have today while working on their tomorrow."
Fery said there's nothing wrong with setting goals to bring about positive change—"but you will always get further if you appreciate what you have now and care for yourself out of love rather than hatred."
"Mindful movement out of the celebration of what you can do rather than grueling punishment because you hate your body.
"Fuel your body with variety, balance, and nourishment rather than restriction and punishment.
"Happiness and weight aren't the same things."
If you or someone you know is considering suicide, please contact the 988 Suicide and Crisis Lifeline by dialing 988, text "988" to the Crisis Text Line at 741741 or go to 988lifeline.org.