Woman Accused of Using Racial Slurs, Blaming COVID on Chinatown Salon Workers in New York
A woman in New York City has been arrested after she was accused of using racial slurs and blaming the coronavirus on salon workers in Chinatown.
Sharon Williams, 50, was arrested at a nail salon on Madison Street on Tuesday afternoon. Police said she used slurs and threatened physical violence on the people inside. She reportedly told them, "You brought the corona to this country."
Williams was allegedly harassing another Asian person outside the Manhattan salon when a plain-clothes officer, who is Asian, intervened and stopped the attack. Williams allegedly then began insulting the officer, as well, calling him a monkey and a "Chinese motherf-----," according to police officials.
A spokesperson for the department told Newsweek that Williams was charged with two counts of harassment as a hate crime—one against the nail salon and those inside, and the other against the officer that intervened.
Last month, the New York Police Department (NYPD) increased law-enforcement patrols in the city's Asian communities in hopes of preventing and stopping the surge in racially motivated attacks against Asian Americans, who make up an estimated 16 percent of the city's population.
Police officials announced two weeks ago that plain-clothes officers of Asian descent would be deployed to public spaces to help identify perpetrators of hate crimes and to discourage anti-Asian violence.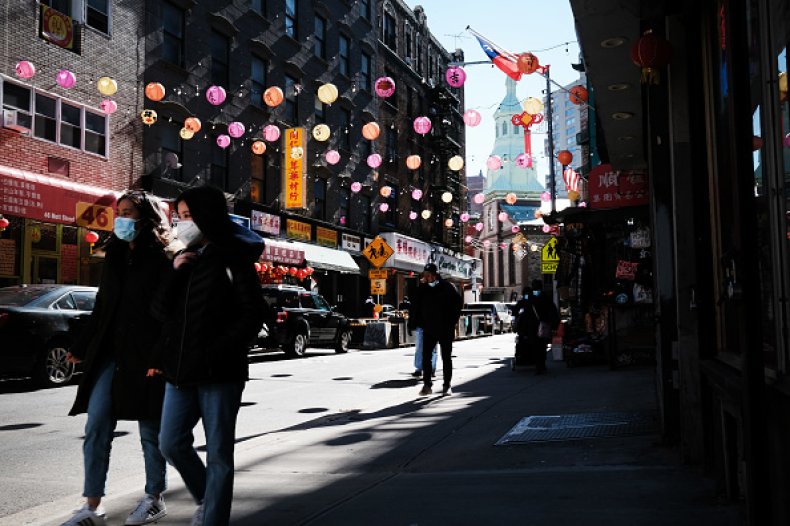 In 2020, the number of hate crimes with Asian-American victims reported to and recorded by the NYPD jumped from three the previous year to 28. Activists and police officials added that there were additional incidents that might not have been classified as hate crimes or went unreported.
The figures have continued to balloon in 2021. According to police, there have been 36 anti-Asian hate crimes motivated by the victim's race so far this year.
Attacks have been on the rise in the last year—an increase that activists and some elected officials have said were fueled by the language of former President Donald Trump, who frequently referred to COVID-19 as the "China virus" or "kung flu."
During the pandemic, the NYPD created an Asian Hate Crimes Task Force, which is staffed by 18 detectives of Asian descent who speak a combined nine Asian languages.
Last week, a video of a 65-year-old Filipino woman being beaten in Manhattan went viral. Surveillance footage shows the perpetrator yelling obscenities at the woman and telling her, "You don't belong here."
As the scene unfolded, three doormen were spotted watching the attack from a nearby luxury apartment building. At one point, one of the men closed the front door to the building. Two of the men have since been fired, according to the building's owner.
Newsweek reached out to the NYPD for comment but did not hear back before publication.