Woman Accuses Mental Health App of 'Predatory' Conduct in Video Viewed Over 2M Times
A TikTok video went viral after it featured a woman accusing popular mental health app Cerebral of being a "scam."
Katie Mac, who goes by the username @katiefromboston, uploaded a video to talk about her experience with Cerebral. The original video and its follow-up received more than 2.6 million views combined since December 21.
"Cerebral is a scam, don't sign up!" the caption of the clip read.
According to the footage, Mac says that she decided to sign up for Cerebral after seeing various ads for it online. She explains it is a website and mobile app matching individuals with therapists or psychiatrists nearby based on personal criteria. She also says Cerebral advertises that it's "great" for people with ADHD.
Mac says in the video that the app required payment information before showing her any therapist options. She recalls that after inputting her information, the service only gave her two therapist options.
"Neither of these people meet the criteria that I just filled out in your questionnaire," she says.
Mac explains that she immediately emailed customer support and said that neither of the people met her criteria. She says she received a reply stating that those were the only two options in her state.
"So hardly the hundreds of options they advertise and definitely not matching you with a therapist to specifically meet your needs like they advertised," Mac says.
She says she requested a refund but was told after some back and forth that the service could only offer her a 30 percent refund. Mac says Cerebral told her it could not issue a full refund because of its "billing policy."
"So I take to the internet and turns out this is not an uncommon experience," Mac says in the video. "Hundreds of people have left reviews on Trustpilot, Better Business Bureau, there's threads on Reddit and Twitter all about what a scam it is that they won't issue refunds if they don't have a therapist to meet your needs."
Cerebral, which launched in 2020, has cared for more than 200,000 patients, Forbes reported. The service, which is marketed as an online mental health subscription and mobile app, has subscribers complete a questionnaire before selecting a therapist based on their answers.
Cerebral has also partnered with Olympic gymnast Simone Biles as its new chief impact officer. In her video, Mac says she thought Biles is a great mental health advocate and should have nothing to do with the website.
"They're keeping thousands and thousands of dollars from hundreds of people who were never able to use their services because they don't have the availability they claim to," Mac alleges at the end of the clip.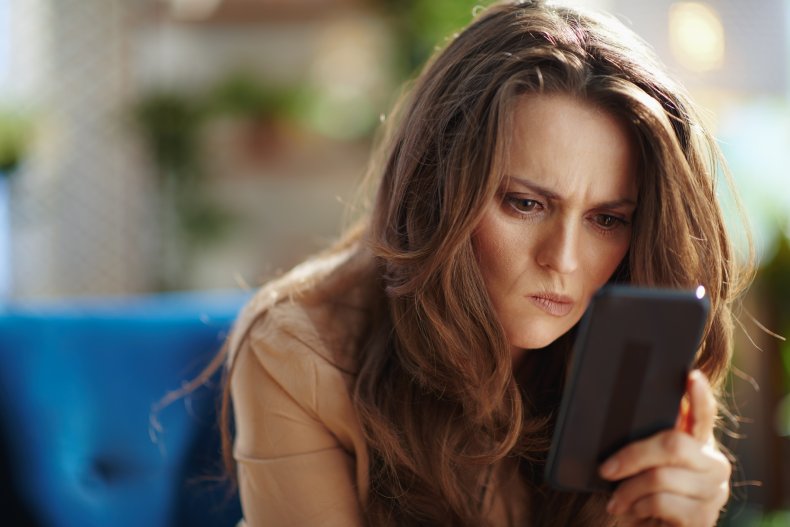 In a follow-up video that received more than 2.2 million views, Mac says that nearly an hour after she posted her clip, a supervisor from Cerebral contacted her but once again said the company could not offer a full refund.
"I paid you to connect me with a therapist," Mac says in the footage about Cerebral. "You do not have a therapist. You don't get to keep my money."
Mac then says she told the supervisor over the phone that this was "predatory behavior" and that Cerebral is "targeting people with mental illness and then stealing their money." She also threatened to report Cerebral to the Better Business Bureau and the Massachusetts Attorney General's Office.
"All of a sudden she could issue me a full refund, but I still filed both complaints," Mac says.
Mac told Newsweek that Cerebral sent her a "generic" message through the Better Business Bureau apologizing for her "less than optimal" experience. She said she has not yet heard back from the attorney general.
A spokesperson for Cerebral told Newsweek that the company has since updated its policies.
"After the incident, we conducted an internal review of our refund process and have updated our policies so that members who are not able to match with a clinician within a specified time period will receive full refunds," the spokesperson said. "Cerebral is dedicated to helping people find the mental health care they need and providing the best experience for everyone. We're always open to feedback and improving the experience for our members."
In the comments of Mac's videos, many users said they had similar issues with Cerebral and other apps.
"I had this exact same experience!!" one user commented. "I just took the money loss and didn't fight it but I'm still upset about it honestly."
"The FTC needs to get involved!!!" another user suggested.
On the contrary, some users said they had great experiences with the subscription. However, they lived in a different state than Mac.
"I use Cerebral! I had a lot of choices," one commenter wrote. "It's not their fault that your state doesn't have ppl signing up to work for them but they should've refunded!"
Update 01/26/2022, 12:22 p.m. ET: This story was updated with a comment from a Cerebral spokesperson.