Woman Allegedly Trying to Burn Bible Sets Own Home and Neighbor's on Fire
Texas officers arrested a woman after she allegedly set fire to a Bible in her backyard, which caused flames to spread to her house as well as her neighbor's home.
San Antonio firefighters raced to Midcrown Drive at around 7:30 a.m. on Sunday, after being called out to reports of a duplex being on fire. When they arrived, firefighters found two homes were on fire.
Witnesses told Fox 29 News it was caused by a woman who had set fire to a Bible in her backyard before the blaze spread to her home and a neighbor's house.
Resident John Bailey, who said he lives next door to the woman, told the network: "I ran out, tried to use my water hose to kind of spread it off and make sure it didn't get to my sister's house."
He added that he and other neighbors had been woken up by the sound of a woman banging on their front doors shouting that a duplex was on fire. He said: "The lady came and knocked on the door, banged on the door and says: 'Oh fire, it's on fire.'"
Bailey also continued to tell the network that he and his sister lost all their medication in the fire and that their five dogs had been taken to an animal shelter until they could find a new place for them to stay.
"Hopefully we can go and stay with relatives," Bailey told the network.
Photos taken in the aftermath of the fire showed the roofs of two homes had been severely damaged and collapsed. Others appeared to show both ends of the street being blocked off by police cars and fire trucks.
Another image showed a woman in handcuffs being led away from the homes by a police officer. Her identity has not been disclosed by police.
Captain John Flores of the San Antonio Fire Department said: "We had heavy fire showing for basically two residential structures. We started applying water as much as we could."
The woman, who allegedly started the fire by burning a Bible, was later arrested by police, according to Fox29 News.
There were no reports of any injuries, although the estimated damage caused by the fire is understood to be around $150,000, according to ABC13 News.
A San Antonio Fire Department spokesperson told Newsweek: "This cause of this fire is under investigation."
Newsweek has contacted San Antonio Police for comment.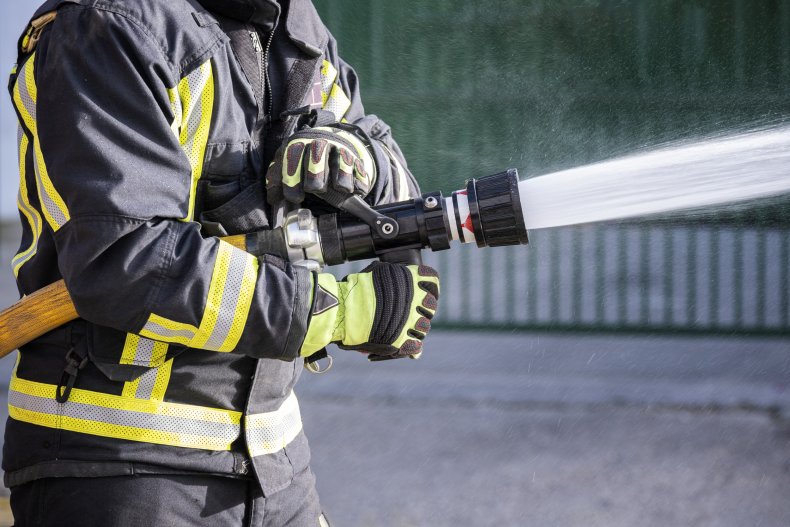 Update 3/8/21, 9:40 a.m. ET. This article was updated with comment from San Antonio Fire Department.