Woman Allegedly Sat in Lawn Chair Watching Fire She Set at Inhabited House
A Maryland woman has been charged with attempted murder after allegedly setting her home on fire while someone was occupying the basement. After setting the blaze, she reportedly sat in a lawn chair and watched the house burn down.
WMAR News 2 says police identified 47-year-old Gail Metwally as the main suspect in the Elkton, Maryland crime. Metwally allegedly set fire to several items inside the house before proceeding to sit and watch the blaze from her front lawn.
Posted to Twitter by @davenewworld_2, the clip features footage of the fire as it progresses from reasonably contained to a full-blown inferno. It's unclear who precisely filmed the video, which features two off-camera witnesses narrating the scene.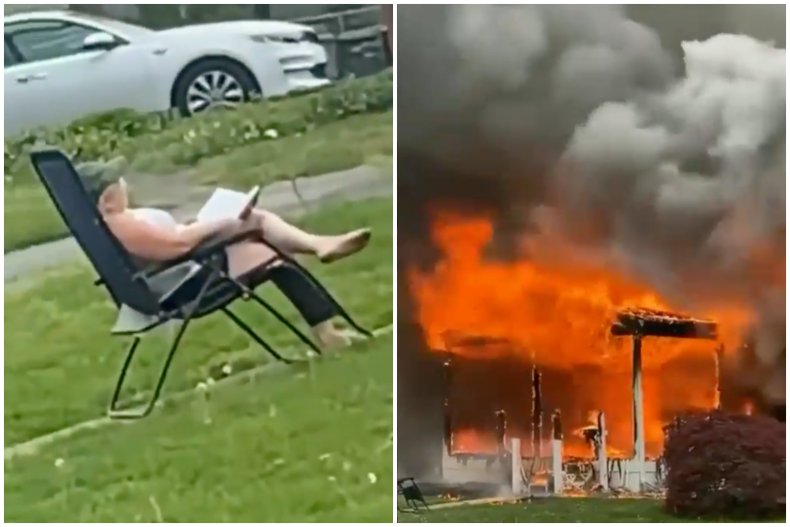 "She just f***ing lit the trash can on fire and dumped it in the f***ing living room," says a voice off-camera. "This is not happening right now," he continues, zooming in on flames flickering through the house's open front door.
He then focuses the camera on a woman who appears to sit in a lawn chair, watching the fire. "I cannot actually believe it. And she's sitting there, just chilling, watching the house go up in flames."
The fire becomes increasingly out of control and smoke pours out of the house's windows. In a terrifying twist, it's revealed that someone is actually still trapped inside the house. A witness runs and helps pull a woman out of the burning home from a ground-level window.
Finally, the entire front porch of the house is seen engulfed in a fiery mass. Meanwhile, sirens are heard wailing in the distance.
According to WMAR, the woman who was inside the house at the time of the fire is 52-year-old Blenda Holbrook. Her sister, Pat Bernal, told the news outlet that someone had thrown a trash can down the stairs, blocking her exit out of the building. "She almost burned to death in that house, and I'm just really thankful she's okay," Bernal said. She added that the fire "burned" and "singed" Holbrook's hair.
Sr. Deputy State Fire Marshal Oliver Alkire spoke on the incident, noting that "the 911 caller stated that [the suspect] actually went inside the house, set multiple items, multiple fires inside the house." He added, "She then exited the house and proceeded to sit on a lawn chair where she actually watched the fire spread throughout the house."
Bernal said Metwally suffers from mental health issues and was renting a room in the house with her boyfriend. There were reportedly other behavioral issues involving Metwally before this incident.
A total of four people, including Metwally and Holbrook, reportedly lived in the home. The other two were said to not be home at the time of the fire.
Metwally now faces "multiple arson-related charges," says WMAR, including attempted murder.