Woman 'Almost Puked' After Rescuing Kitten Perched On The Edge Of A Bridge
TikTok users were left hanging on the edge of their seats as they watched a woman pull over to save a kitten perched on the edge of a bridge.
User nicoletoney uploaded the heart-thumping video onto TikTok on Friday with the caption: "When I say I was so scared I almost puked."
The nervy clip opened with the sound of hazard lights clicking as Toney pulled her car over after she spotted a cat perching from the edge of the Veteran's Memorial Bridge in Bridge City, Texas.
As the video played out, Toney got out of the car and carefully approached the kitten that appeared to be looking over the edge of the bridge.
Carefully taking her time not to spook the kitty, Toney slowly reached out and scooped the feline into her arms and took it back to the car.
Clearly relieved, Toney could be heard commenting: "Oh my God. Hey little guy, hello. I got you."
Since being uploaded onto the social media platform, the video has amassed more than 12.8 million views and has been liked on 2.6 million occasions.
The clip left numerous TikTok users anxious about what would happen to the kitten before they breathed a collective sigh of relief when they saw Nicole bring her safely back to the car.
One TikTok user said: "Not gonna lie, the hazard signals really helped to increase my anxiety as I watched that. You are amazing."
Another added: "The feeling of relief when she grabbed the kitty from the edge."
A third commenter posted: "I almost puked watching. My anxiety was through the roof. Thank you for helping."
In a series of update videos, Toney said the kitty was unharmed and that she had adopted her. Toney added she gave her new pet the name Ducky, "because she is a lucky duck."
She added the video was originally recorded in November but was just recently uploaded onto TikTok, having first been posted on Facebook.
Toney said she believed Ducky was dumped at the bridge and claimed it was a location where many animals are abandoned.
Last year, a man heroically saved a cat from drowning during a record-setting storm in California.
Skip Campbell acted quickly to save the distressed kitten when a storm unleashed fast-moving floodwater in Sacramento on October 24, a day where 5.4 inches of rain fell (the highest recorded since 1880).
Campbell has since taken a shine to the kitten and has adopted it (with the cooperation of his wife Nancy) and gave the feline the name "Stormy."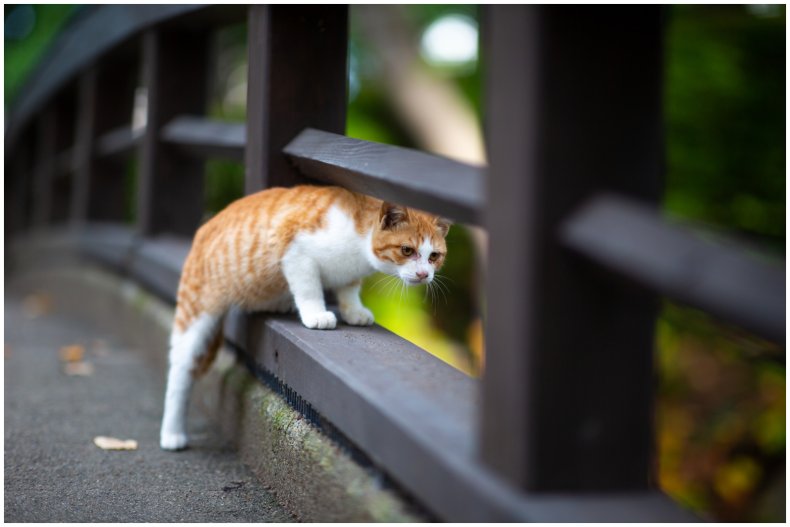 UPDATE 01/12/22 4:30 a.m. ET: This article was updated to include a new picture.