A woman at an anti-mask protest held earlier this month in Toronto argued about face coverings' effectiveness in preventing the spread of the novel coronavirus in a video that has since gone viral.
The video, which the Toronto Sun reported was recorded by cyclist Brian Tao on July 7, is about 10 minutes long and shows Tao's interactions with several of the protesters.
One woman, who identified herself as Kelly Anne Wolfe, criticized Tao for questioning the protesters' opinions. She said of Tao's comments, "Anybody who's going to commit to this kind of civil obedience is the same kind of people that believed their government when they walked the Jews into the gas tanks. That's what I said, so you can quote me."
When Tao asked the woman for her name, she gave it willingly and added, "I'm all over the place. I'm a musician, and a very popular one."
Wolfe went on to say she has 13 degrees in psychology, a master's degree in political science and is a member of Mensa, the high IQ society. Wolfe later shouted a clarification at the camera, saying, "My IQ is 195."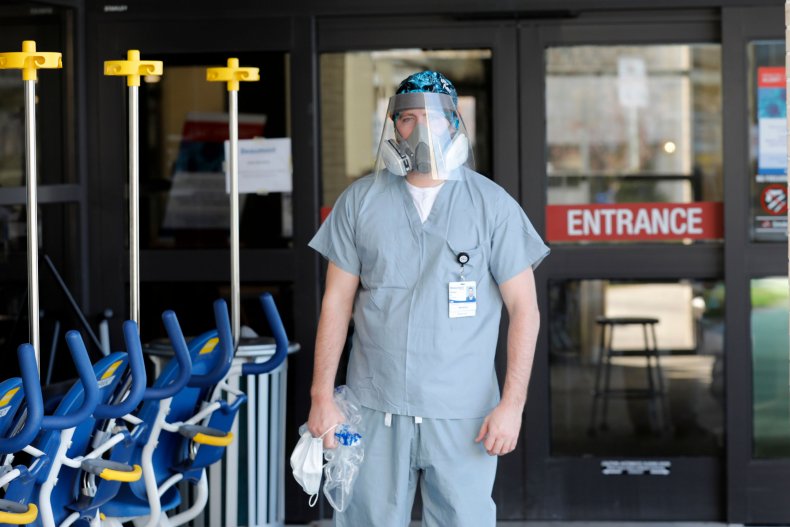 Wolfe was accompanied by a handful of other protesters. One woman told Tao that the current pandemic is not real, but is instead a "plandemic from 2010." The protester went on to say masks "medically don't work." Another protester on the edge of the screen could be seen wearing a shirt that read, "Hugs over masks."
According to Wolfe, the new coronavirus that scientists have identified as SARS-CoV-2, or COVID-19, is not actually new. "COVID-19 has existed forever," Wolfe told Tao. "It's existed for thousands of years. Just because scientists have only discovered it now does not make it brand new. It just makes it new to the scientific community."
Scientists around the world are still in the process of studying COVID-19 and the threats it poses to humans. Most believe it originated in a bat or pangolin before it transferred to humans. While scientists currently believe transfer of the virus between humans and animals is rare, they have confirmed that it is very contagious among people.
One of the things that many scientists agree humans can do to prevent further spread of the virus is wear masks that cover their noses and mouths. Doing so can limit the spread of the tiny droplets that come out of a person's nose and mouth when they sneeze, cough, laugh or talk, scientists believe.
Despite the widespread agreement on the benefits masks provide in the midst of the worst pandemic the world has seen since the 1918 Spanish flu pandemic, face coverings have grown increasingly politicized, especially in North America. In the U.S., many mayors and governors have introduced citywide and statewide mask mandates as virus numbers continued climbing, despite President Donald Trump's refusal to do so in most public settings. In Toronto, Mayor John Tory implemented a citywide mask mandate on July 7, the day the protest Tao recorded took place. Tory's mandate requires all people in Toronto to wear face coverings whenever they are in public indoor spaces.
Tao told the Toronto Sun his goal in recording the mask protesters wasn't to change their minds but to share both sides of the mask debate with people who might be unconvinced.
"The point isn't to convince those particular people, because you'll probably never convince them," Tao said. "But the [videos] can be used as an example for those sitting on the sidelines."