Woman Arrested After Striking Gate Agent at Phoenix Airport Over Mask Rule
Phoenix police officers arrested a woman Wednesday after she allegedly struck an American Airlines gate agent, who had denied her boarding because she refused to wear a mask.
Phoenix Police Department officers arrested Yolanda Yarbrough, 47, for assault, Sgt. Mercedes Fortune, a department spokeswoman, told Newsweek.
"Officers contacted the victim who informed officers that the suspect had struck him with her hand on his face," Fortune said.
Yarbrough had arrived at the Phoenix Sky Harbor International Airport just before 8 a.m. Wednesday to board a connecting flight to Las Vegas. She had originally come from Los Angeles, where crew members flagged her for refusing to wear a mask.
"After arriving into Phoenix and being informed that they would not be able to take their connecting flight to Las Vegas, the individual became irate and struck an American team member in the terminal," Curtis Blessing, a spokesman for American Airlines, told Newsweek in a statement. "Law enforcement was requested and since this is now a law enforcement matter, we would refer additional questions to the Phoenix Police Department."
The gate agent was not injured, Blessing added.
According to American's policy, face coverings are required on all flights in an effort to help mitigate the spread of coronavirus. Those who decline to wear them could "be denied boarding and future travel on American," its website states. Sky Harbor also requires passengers to wear masks in the terminal, according to its website.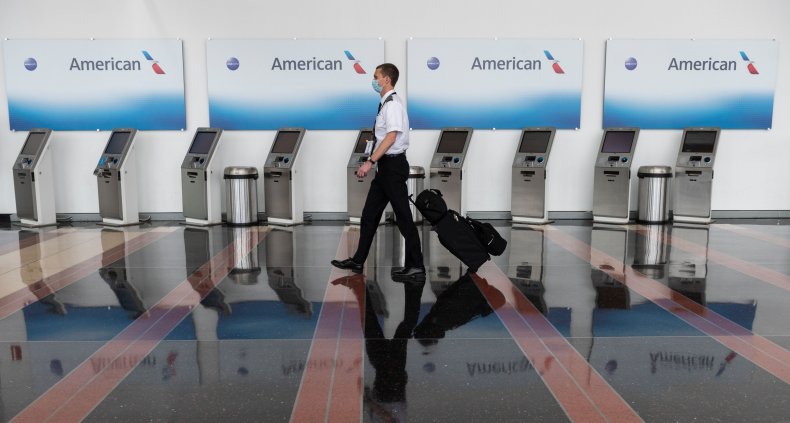 A video of the incident posted to Twitter Wednesday captured part of the altercation between Yarbrough and the gate agent. The clip does not show Yarbrough striking the employee, but begins with her yelling several profanities as other passengers attempt to hold her back.
"I will be on that flight. F**k you mean I'm not taking my mother f***ing flight?" Yarbrough said.
Yarbrough threatened to beat the agent's "a** with a bat" if she wasn't allowed to get on the flight.
"If I don't get on that flight, you're going to be beat down to the death right here. I promise you that," she said.
The clip ends with police officers arriving to speak with Yarbrough. American has placed Yarbrough on its internal refuse list pending further investigation, Blessing said.
This is not the first airport incident to result in arrest. On July 14, three women were arrested and charged with battery after an altercation between them and Spirit Airlines staff at the Fort Lauderdale-Hollywood International Airport in Florida, the Broward County Sheriff's Office said.
The passengers became violent following a delayed flight and "were arrested for physically assaulting our Team Members," Spirit Airlines said in a statement, according to The Washington Post. Three of the airline employees sustained minor injuries, the company added.
Update 4:32 p.m. ET: This article has been updated to include a comment from the Phoenix Police Department.