Woman Arrested for Allegedly Beating Elderly Latino Man, Yelling 'Go Back to Your Country'
Los Angeles Police arrested a woman Tuesday for allegedly attacking an elderly Latino man with a brick and yelling "Go back to your country."
Laquisha Jones, 30, was arrested on Tuesday night on suspicion of beating Rodolfo Rodriguez, 91, on July 4, the Los Angeles Sheriff's Department told WABC-TV in a statement. Rodriguez said he was walking on the sidewalk when he accidentally bumped into Jones's toddler when the attack occurred KTLA-TV previously reported.
Rodriguez told KTLA-TV that the mother began beating him with a brick after pushing him to the ground. Rodriguez said once he was on the ground, a group of men also began to kick him A witness who caught the aftermath of the brutal beating contacted police. The witness said the attacker told Rodriguez, who is a legal U.S. resident, to "go back to your country," KCBS-TV previously reported.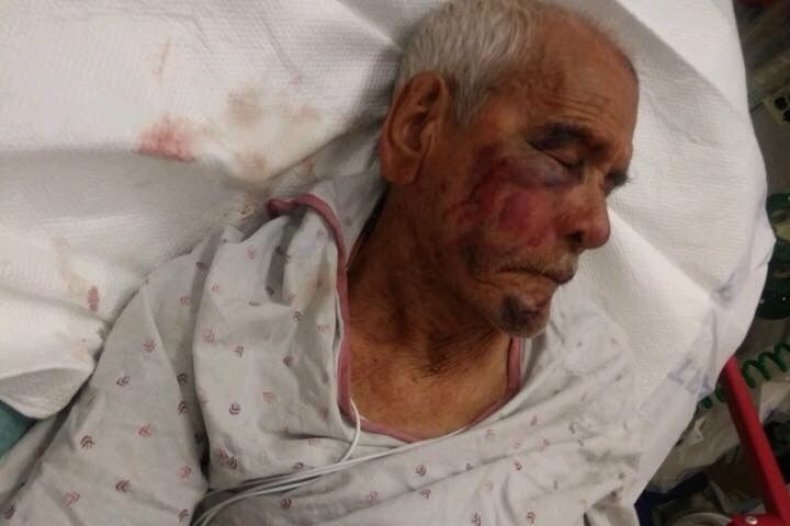 Jones was arrested on suspicion of assault with a deadly weapon and is being held on $200,000 bail, according to the statement received by WABC-TV. The weapon has not been found and the motive for the attack has not been determined, police told the news station. Police are also trying to figure out if more individuals were involved in the assault.
Rodriguez, who does not speak any English, suffered bruises all over his body, a broken cheekbone and broken ribs. His grandson, Erik Mendoza, told KCBS-TV that he's confused as to why someone would hurt his grandfather. Public records show that Rodriguez is 91-years-old, though Mendoza said his grandfather was 92-years-old.
"I'm just overwhelmed how anybody can do this to a human being at all," Mendoza told KCBS-TV. "He's 92 years of age. There's no harm that he meant for you to treat him the way you did."
Rodriguez's story has gone viral since the attack. Mendoza and the rest of Rodriguez's family started a GoFundMe page to help Rodriguez, and the campaign has already raised over $240,000, exceeding its original goal of $15,000.
"He is [doing] very badly, he has many bruises on his face, he has lost his sight in his right eye and he has a broken cheekbone. We ask people for help because their treatment will be long and costly for their recovery," the GoFundMe page reads.
Newsweek reached out to Mendoza for comment but did not hear back in time for publication. Rodriguez has left the hospital and is now recovering in his home with his family, according to KNBC.