Woman Arrested, Charged With 49 Counts of Animal Cruelty
An Apalachin woman was arrested and charged by the Tioga County Sheriff's Office with multiple counts of animal abuse. Police found several dogs, chickens and a miniature pony without food or a clean environment in the Owego, New York area.
Binghamton Homepage reported that Terry Woloszyn was arrested on Thursday. The sheriff's office worked with several animal rescue facilities to save 33 dogs, 15 chickens and a pony from the property. Woloszyn will appear in court to face her charges of 33 counts of harboring an unlicensed dog and 49 counts of cruelty toward an animal.
Captain Shawn Nalepa told Newsweek that the civil division was responsible for seizing a shed on Woloszyn's property but noticed the condition that the animals were living in. A team of deputies, one of whom is trained to handle potential animal abuse cases, went to investigate Woloszyn's home.
Upon arriving at the property, they allegedly found it wasn't a clean space for animals to live and there wasn't food or water. Nalepa told Newsweek the animals were not acting aggressive, but they were showing signs of having skin conditions and malnutrition.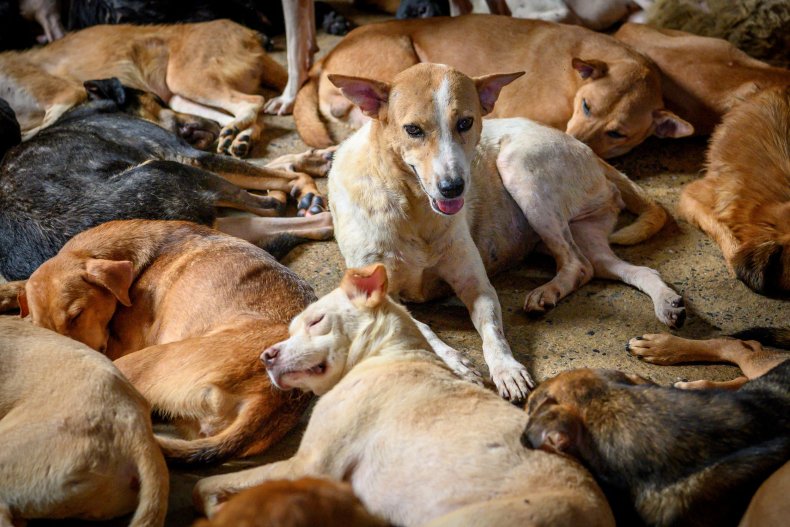 Although there were dozens of animals on the property, the case will not be viewed as a case of animal hoarding.
"People have the right to have as many animals as they want, as long as they can take care of them," Nalepa said. "It's not about how many animals they have, it's about the conditions that the animals are in."
While several animal rescue agencies aided the sheriff's office in rescuing the animals, Nalepa declined to comment on where the animals were taken, pointing to the possibility that Woloszyn may try to take them back to her home.
The animal cruelty charges fall under a state law violation, and if Woloszyn is found guilty, there is a possibility she will be placed in the local county jail.
Nalepa said an animal complaint made to the department is not unusual but this incident that police responded to is rare. Officers may visit a pet owner and help them get things in order for the animal. They then follow up to confirm that the animal is still receiving the necessary basic care.
This is not the first time the police department has responded to a case involving Woloszyn. Nalepa said they've had contact with her on civil cases previously.