Woman Arrested for Refusing to Leave Florida Beach in Protest of Coronavirus Closure
Police in Miami Beach arrested a woman who walked onto the sand in South Beach and refused to leave.
Kimberlee Falkenstine, a 33-year-old Miami resident, was charged with resisting an officer without violence, trespassing after receiving a warning, and violating an emergency order aimed at preventing the spread of COVID-19.
Before she was apprehended, Falkenstine had attended a rally at Lummus Park where protesters called for the reopening of businesses and beaches across Florida.
She then moved from a designated protest area to the beach, where she sat down with a sign that said "we are free," according to WSVN.
Officers spotted her just after 3:30 p.m. and gave her several opportunities to leave. Falkenstine was taken into custody after she failed to comply.
She is facing several charges, including resisting an officer without violence and trespassing after receiving a warning. She was held on $2,500 bond and has since posted bond.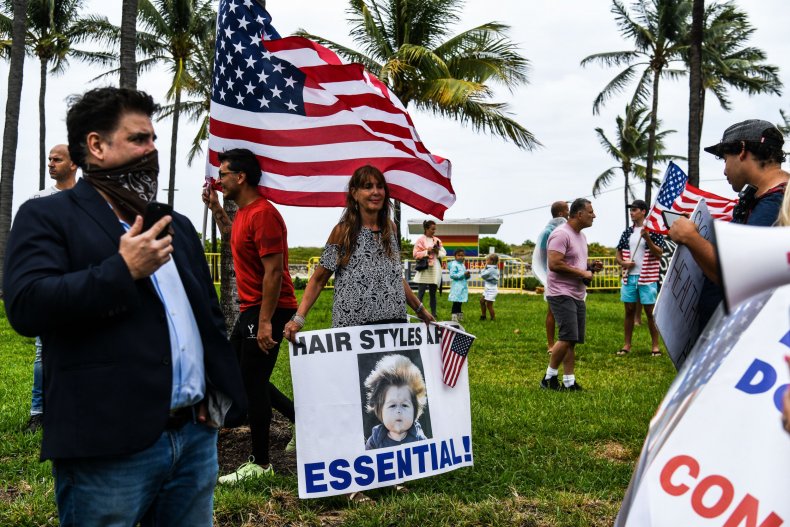 All beaches in Miami-Dade County have been closed since March 19 under an emergency order to prevent the spread of COVID-19.
Under the county's executive order, all beaches were closed except those under state or federal jurisdiction. The county has since reopened parks and some recreational facilities with restrictions in place.
There are currently 40,596 confirmed cases of coronavirus in Florida, according to data from the state's Department of Health. Nearly 600 new coronavirus cases were confirmed in the state on Sunday as the virus-related death toll reached 1,721.
Miami-Dade County continued to be the state's epicenter for COVID-19, with 14,007 cases. Broward County had 5,858 cases, while Palm Beach had 3,870 cases.
Florida is currently undergoing its first phase of reopening, but Miami-Dade and Broward counties have been excluded due to the severity of their COVID-19 outbreaks.
Under the new order, restaurants and retail stores in other counties have been allowed to reopen. Outdoor seating at restaurants can be used, though restaurants can use only 25 percent of their indoor seating capacity. Beaches have reopened in some areas.
Miami-Dade County Mayor Carlos Gimenez said the county has a target date of May 18 to reopen certain businesses, NBC reported.
"We need to start opening up this area of the state as the governor has started to open up other areas of the state of Florida," Gimenez said. "We need to get back to a new normal, the new normal won't be the old normal, it will be a new normal but we're heading in that direction."