Woman Arrested for Throwing Drink at Conservative Rep. Matt Gaetz Outside Florida Town Hall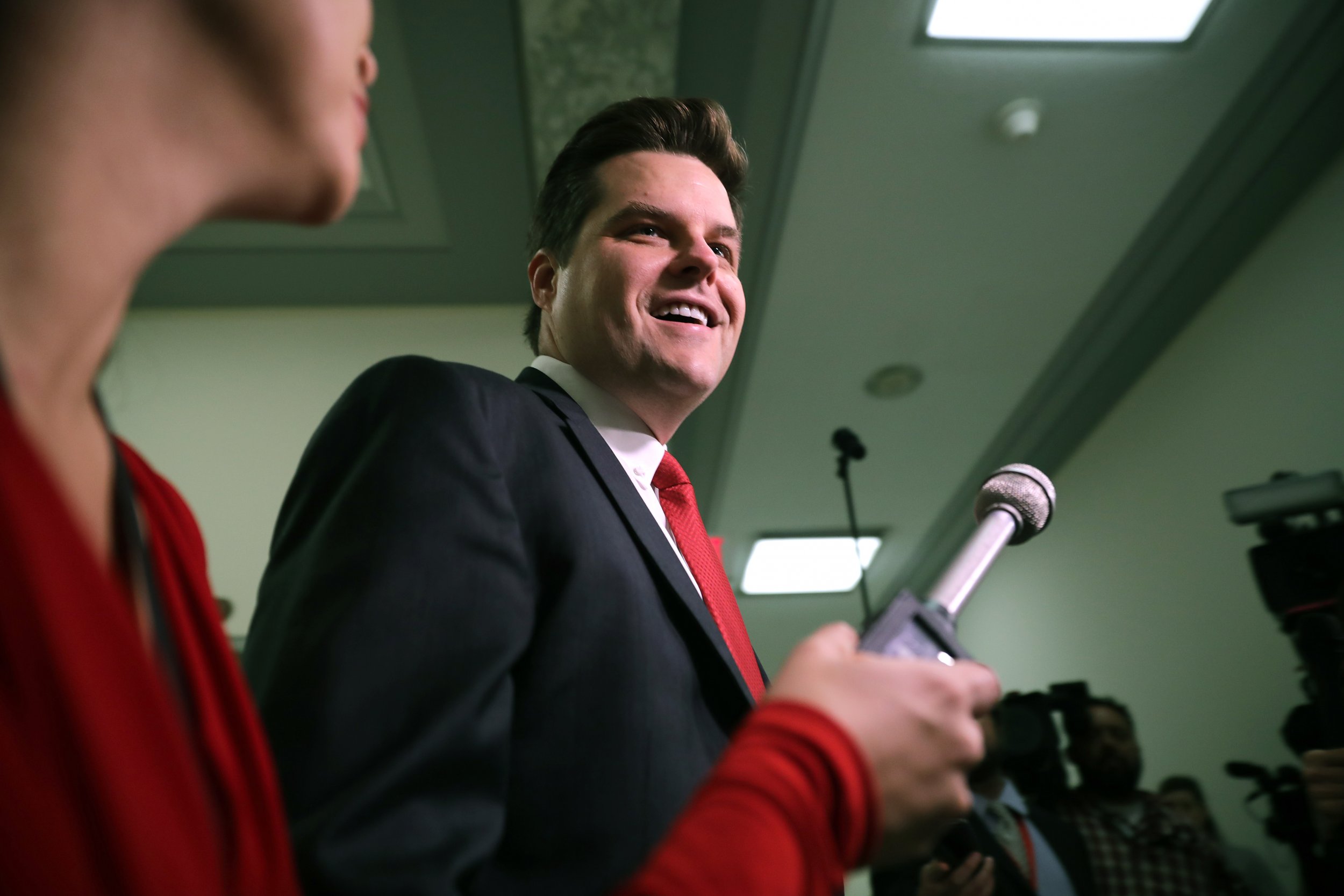 A Florida woman — a onetime congressional candidate — was arrested after throwing a drink at Congressman Matt Gaetz as the Republican lawmaker was leaving a town hall event in Pensacola on Saturday.
Local police detained the woman, identified as Amanda Kondrat'yev, and later charged her with assault and battery for throwing the drink, the Northwest Florida Daily News first reported. The 35-year-old was one of several candidates running against Gaetz in the 2016 election before she exited the race. She has since been released on bail.
Video of the incident posted to Twitter shows Gaetz walking outside the Brew Ha Ha restaurant on Saturday as a throng of protesters decried his appearance. At one point, a flying drink comes into the video frame, although it's unclear if the drink actually hit Gaetz.
On Saturday night, the lawmaker thanked police and praised his team for handling the situation.
"Clearly it takes more than a drink to slow down our great team," he wrote. "We are always thankful to the brave law enforcement officials who keep everyone safe at our events."
His office later released a statement that said people engaging in violent behavior at his events can expect to be arrested and prosecuted.
"All people are invited to participate in our #OpenGaetz town hall events regardless of viewpoint," his office told The Hill. "If anyone assaults anyone else, they can expect to be arrested and prosecuted to the fullest extent of the law to ensure the security of all law-abiding participants. We continue to express our deep gratitude to the brave law enforcement officials who always keep our events and our community safe."
Gaetz, who has previously associated himself with causes sympathetic to the far-right, is no stranger to controversy. In 2018 the congressman invited a known Holocaust denier to the State of the Union address, sparking outcry both from Jewish organizations and his colleagues in Washington, D.C.
A staunch supporter of President Donald Trump, the lawmaker also faced widespread backlash after he tweeted, without evidence, that former Trump lawyer Michael Cohen had cheated on his wife and that he had new information to disclose. Gaetz sent the tweet hours before Cohen was set to testify before the House Oversight Committee. He later apologized, and The Florida Bar subsequently opened an investigation into possible witness tampering.
As it happens, the Saturday incident followed a rash of similar protests in the U.K, in which demonstrators hurled milkshakes at (mostly) conservative lawmakers. The practice has become frequent enough to earn the nickname "milkshaking."
Carl Benjamin, a U.K. Independent candidate for the South West region, was targeted with the creamy drink several times in March. Anti-Muslim activist Tommy Robinson was also doused with the drink, as was Brexit Party leader Nigel Farage.
The viral trend has yet to catch on with the same fervor stateside.