Woman Arrested for Wearing Miniskirt in Saudi Arabia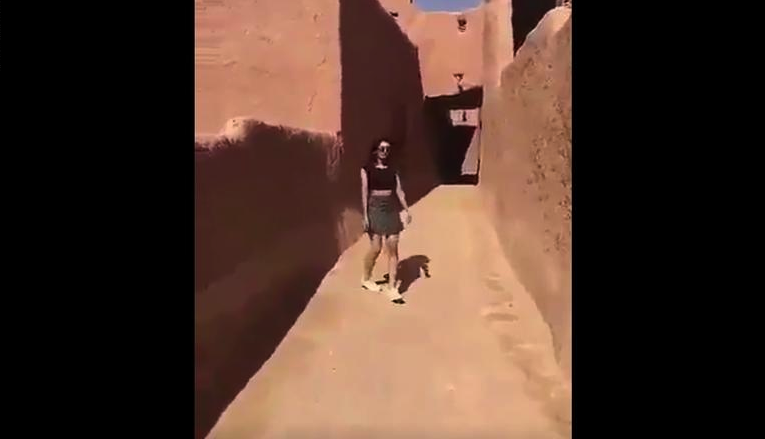 Saudi Arabian authorities have arrested a woman who posted a video of herself on Snapchat wearing a miniskirt and a cropped top in one of the Gulf Kingdom's most conservative regions.
Her decision polarized Saudi social media circles, with some coming to her defense while others called for her arrest. It appears that the latter group have been heard, according to a report on Saudi state television station Al Ekhbariya on Tuesday, which said Riyadh police arrested the woman for wearing "suggestive clothing."
The clip shows the unidentified woman walking through a fort in the village of Ushaiger, around 90 miles north of Riyadh, the Saudi capital, her head uncovered apart from her sunglasses.
The outfit caused uproar in a country where a justice system based on Wahhabism prohibits liberal dress. Under the strict religious code, women must cover themselves and wear full-length all-black robes known as abaya.
Foreign dignitaries are exempt from these rules. President Donald Trump's wife Melania wore a knee-length skirt and no headdress when she arrived in Riyadh. Other female state leaders, such as Britain's Theresa May or German Chancellor Angela Merkel, have also opted to forego the headgear that everyday women in Saudi Arabia are required to wear.
One male social media user condemned the unidentified miniskirt-wearing woman on Twitter: "These are the demands of the ignorant liberal community, a broken woman, mixed cinema, songs and dance. This is their development! No health or education."
Another, Saudi writer Ibrahim al-Munayif, wrote on Twitter that Saudi Arabia has a legal code that must be followed like any other country.
"Just like we call on people to respect the laws of countries they travel to, people must also respect the laws of this country," he wrote, according to an Associated Press translation.
Women cannot drive in Saudi Arabia, must limit the time they spend with men and not wear makeup or clothes considered to enhance their beauty.
The laws are facing resistance as the country's ruling monarchy makes attempts to appease its population, more than half of which is under 25.
The newly appointed Saudi Crown Prince Mohammed bin Salman has embarked on a modernization project known as Vision 2030. It has permitted music concerts and mixed film screenings in the western city of Jeddah, which sits on the Red Sea.