Woman Asks Husband To Defrost Chicken but He Gets It Hilariously Wrong
When one wife on TikTok asked her husband to defrost some chicken for dinner he got very confused, and footage of her confronting him has gone viral.
In the hilarious video, which was shared to the app by a woman named Nassima, known online as Beaussima, we can see an object wrapped up on the kitchen counter.
Speaking over the footage, which has attracted 840,500 views, Nassima says: "I asked my husband to defrost the chicken before dinner and he said he wrapped it in a tea towel, which I found a bit weird."
She then opens up the tea towel to reveal what's inside, exclaiming: "Please explain to me why he decided to defrost chicken dinosaurs. I'm now left with a block of chicken, a block of frozen chicken.
"I'm going to take this and whack him in the head with it," she adds.
Strolling into the other room, to meet her husband who is relaxing on the sofa, she asks: "Is this the chicken I asked you to defrost?!"
"What's that?" he replies, looking shocked.
Nassima captioned the hilarious footage, which can be watched here, writing: "Times like these I should have married one of my own [laughing-face emoji] #husbands #marriedlife @carlosandthekid."
The funny video, which can be watched here, has gained lots of traction online since it was initially posted on January 9, having attracted more than 119,100 likes and 2,800 shares.
Speaking to Newsweek, Nassima said: "An honest but very hilarious mistake. I'm sure it won't happen again. I'm still confused about the tea towel though."
Many people rushed to the comments section to share their thoughts on the husband's actions.
One TikTok user, Lauren Bear, wrote: "I just want to know how he arrived at the decision that 3 dinosaurs was the correct amount."
Another person, Gi, added: "I swear! men should go on a 1 year course of living alone before being allowed to actually leave home [laughing-face emoji]."
Shaai typed: "The mind of a man truly works in mysterious ways."
User1623125213742 exclaimed: "This isn't funny, at his big age it's concerning. I don't think a child would even do this! Parenting your man you know."
Imane Amine stated: "The look on his face though. He knows he messed up and is thinking frantically what tell you."
Issē commented: "This is something my little sister would do. And they always dare to tell us, 'You're supposed to tell me more clearly!'"
Marusha explained: "Nah nah I rate you guys, you'll have Dino nuggets it's giving green flag."
User1235677003 admitted: "I wouldn't know whether to laugh or cry [laughing-face emoji]."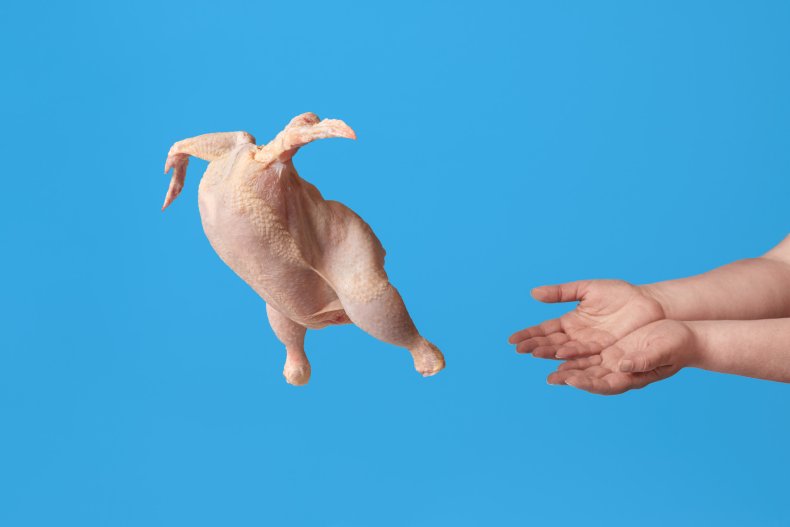 UPDATE 01/13/22 10:47 a.m. ET: This article was updated to include a comment from Nassima.