Woman Attacks Native American Tribe Members Protesting Trump's Border Wall
Video has emerged of a woman attacking members of a Native American tribe who were protesting against a wall being erected along the California-Mexico border.
Footage shows the woman hitting members of the group and telling them to "get the f*** out of here." They urge her to "calm down" and not to use violence before she is warned that she will be reported. At one point she swipes at and removes a face mask from one member of the group before another individual restrains her.
A second clip shows the woman continuing her verbal attack while the group begins singing.
Warning: The video below contains language some might find offensive.
An Instagram account called "Kumeyaaydefenseagainstthewall" shared two clips of the confrontation alongside a caption that read: "Tonight we experienced a violent woman who tried to tear our tents down.
"We de-escalated and stayed non violent. We used songs and prayers again just like how we non violently stop desecration to the land.
"Tonight we ask people to seriously consider to helping us. We seriously are asking for prayers. We are here for the land and indigenous sovereignty. For the further generations, we need better laws for immigrants so xenophobia won't be an issue.
"If you are not Native American, you are a settler/colonizer. If you're not Black, you are a settler/colonizer. If you aren't a refugee, you're a settler/colonizer. Remember where you come from and you won't forget which path to follow.
"Say a prayer for these folks who are disconnected to themselves. Make space for those who are so hurt they act violently.
"The reason why these incidents happen is because we are so dehumanized in their eyes. And it's been happening since the beginning of invasion. We stay non violent. We stay in prayer."
The Kumeyaay people have lived in a stretch of land along the California-Mexico border for more than 12,000 years.
In August the La Posta Band of Diegueno Mission Indians—one of 12 groups that make up the Kumeyaay tribe—filed a lawsuit against the Trump administration in an attempt to block a section of the border wall that they said would prevent them from accessing their land.
They argued that the wall threatened "human burial grounds and other important cultural and archaeological artifacts."
The lawsuit stated: "Defendants are currently constructing the border wall directly through Kumeyaay burial sites and sacred lands, causing irreversible and easily avoidable damage to Kumeyaay remains, cultural items, history, and religious practices."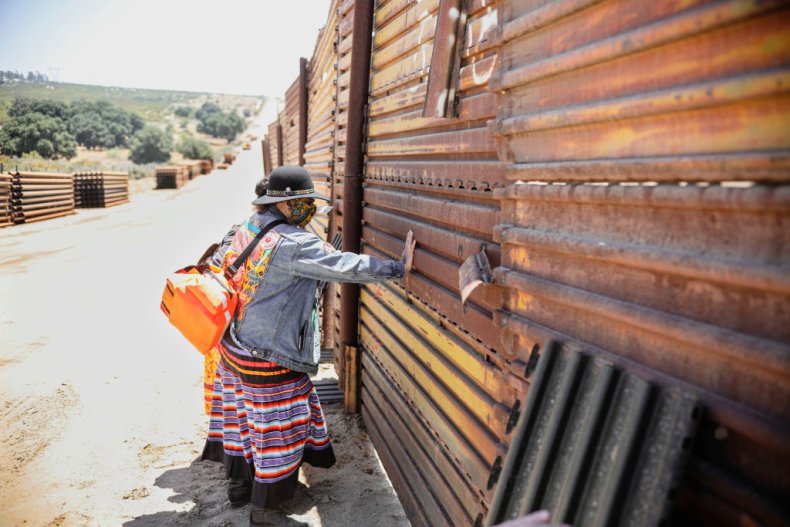 Among the group's demands was for a "formal tribal monitoring program" to be established with at least two members of the community to be present at each construction site.
However, on August 28 a judge found that the federal government should not be forced to stop construction of the wall.
Among U.S. District Judge Anthony Battaglia's reasons for throwing out their claim was that many of the sites could have already been damaged or lost to the wall's construction.
He said he was "having a hard time following" the argument that stopping building of the wall now would prevent additional harm being done since a frontier fence in San Diego had been in place for many years.
The Trump administration has pledged to build hundreds of miles of wall along the Mexican border with California, Arizona, New Mexico and Texas by the end of 2020.