Woman Awakes to Exotic Wild Cat in Her Bed, Large Serval Caught in Atlanta Area
A woman in Atlanta, Georgia, woke up in fear on Wednesday morning after an exotic African cat snuck into her house and jumped on top of her bed.
Kristine Frank, who lives in the Brookhaven neighborhood of Atlanta, told news outlets that the cat entered her house on June 30 after her husband left a door open to take their dog outside.
"I'm laying in bed and I hear a thump on my bed," Frank said, according to WTHR News. She opened her eyes to find a serval, a large spotted wild cat native to sub-Saharan Africa, just 6 inches from her face. "It was big. It was scary."
Frank said she screamed and was able to quickly get the cat off of her bed. The animal then cowered in the corner, while Frank slowly backed out of the room and called her husband to help.
"I said, 'That's not a normal house cat. I don't know what that is, but I am terrified right now,'" she recalled thinking, according to CNN. Frank's husband was then able to open a bedroom door that leads outdoors, allowing the cat to safely leave the house as he took a picture of it.
After the incident, Frank recalled thinking the animal, which was roughly two-and a-half feet tall, could have been a bobcat or a baby leopard. She immediately called animal control, which told her to contact the Department of Natural Resources (DNR).
Nearly a week later, authorities captured the serval and said the animal was "no longer a threat," to the area, Channel 2 Action News reported Monday. According to the news outlet, the animal's name is Nala.
Lt. Wayne Hubbard of the DNR told news outlets that while owning a wild cat is illegal in the state of Georgia, the African serval remains popular within the pet trade.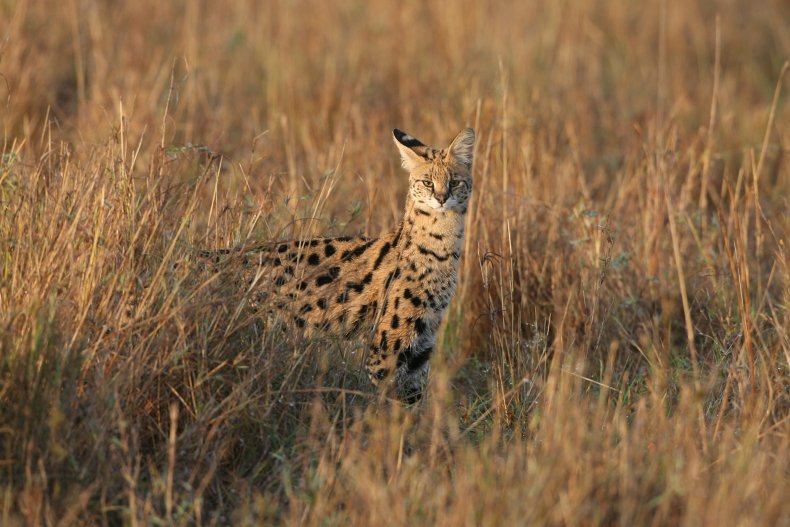 After authorities captured the cat, the Animal Legal Defense Fund (ALDF) offered to place it into an animal sanctuary in North Carolina. ALDF Senior Legislative Affairs Manager Alicia Prygoski previously told CNN that the loose serval reflected why wild cats should not be legally owned as pets.
"Wild cats are not meant for private possession," Prygoski said. "The wild cat trade in this country is really not well regulated, which results in many species of wild cats, including servals, living out their lives in private homes which are not adequate environments for the natural behaviors that they exhibit."
Prygoski added that placing the animal in a sanctuary will allow her to "live out the rest of her life in an appropriate habitat."
[UPDATE 6/6/21:] This article and headline have been updated to reflect that the serval has been captured.