Woman Backed for Confronting 'Sexist' Brother-in-Law in Breastfeeding Drama
The internet has backed a woman who said in a now-viral post that she recently confronted her "insufferable" brother-in-law over a comment he made about her breastfeeding.
Posting in Reddit's popular "Am I The A**hole forum" (AITA) under the username u/Large_Situation6641, the woman added that the showdown happened at a "small party" for their father-in-law's birthday.
The story has received more than 12,000 upvotes and over 970 comments from Redditors who said u/Large_Situation6641 was right to call out her "sexist" family member, despite her mother-in-law saying otherwise.
In her post, the woman explained that the family was gathered outside, eating cake, when all of a sudden, her baby got hungry.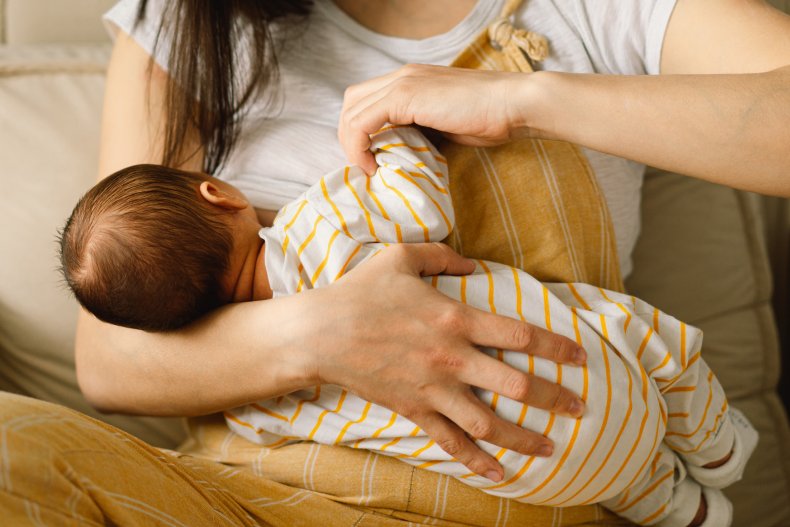 "I had already asked my mother and father-in-law if it was okay for me to nurse her wherever I want...or if they would prefer I do it inside," she wrote.
"They both said that I could do it wherever I want," she continued. "[So] when [the baby] cried, I just popped a boob and nursed her right there."
To her brother-in-law's displeasure, the woman's nephews noticed her breastfeeding and called attention to it, causing her brother-in-law to ask her to step inside. She, of course, said no and continued on with the process, further upsetting her brother-in-law.
"He was [sitting] near me and he just got a little [closer] and whispered, 'I swear it...If you were my woman you would [have to] breastfeed inside,'" she recalled.
"I just smiled and said out loud, 'If I have to breastfeed inside, then you have to go and be insufferable somewhere else sweetie.'"
At that, her brother-in-law dropped the subject. However, as she was leaving, her mother-in-law said she was wrong to make the comment.
Interestingly enough, a 2019 poll from YouGov revealed that many Americans are comfortable with women breastfeeding next to them in public.
"Majorities say that it is somewhat or completely acceptable for mothers to breastfeed in a public bathroom (80 percent), on a plane (75 percent), on a sidewalk bench in a park (70 percent), on public transit (65 percent), in a store (62 percent), in a restaurant (61 percent), and during a church service (56 percent)," YouGov stated.
Additionally, 46 percent of respondents said that they're "very comfortable" with women breastfeeding next to them in public, while another 22 percent said that they were "somewhat comfortable" with it.
Commenters baffled by u/Large_Situation6641's brother-in-law's comment said she was right to call him out, arguing that there's nothing "offensive" about breastfeeding.
"NTA [not the a**hole]. WTF is wrong with this man?" asked u/Pretty_Pen4851. "Good for you for telling him off...There's nothing offensive about breastfeeding and if he doesn't have the ability to parent that he must be a lousy parent."
"'If you were my woman'...like women are just pieces of property. Screw that guy," said u/Nishiwara. "Also, people are so weird about breastfeeding—why? I hate that instead of explaining to young ones what breastfeeding is, the breast is made to be sexualized."
One Redditor posting under a throwaway account added: "Clearly this guy is sexist af and has issues with women. He could've used this as an opportunity to teach his children about breastfeeding and that it is normal. Instead, they are now going to grow up and scoff at women feeding their children—just like their father."
Newsweek reached out to Large_Situation6641 for comment.
In related news, Redditors backed a woman in December who said she disrupted another couple's dinner to defend a breastfeeding mom. Commenters also showed support for a woman who, in October, said she gave her sister-in-law baby formula because she was struggling to breastfeed.
And in 2019, a Texas mother breastfeeding her 10-month-old child at a public swimming pool was asked by a lifeguard to leave.