Woman Allegedly Beat Wife With Bedpost on Florida Trip for Putting Marijuana in Washing Machine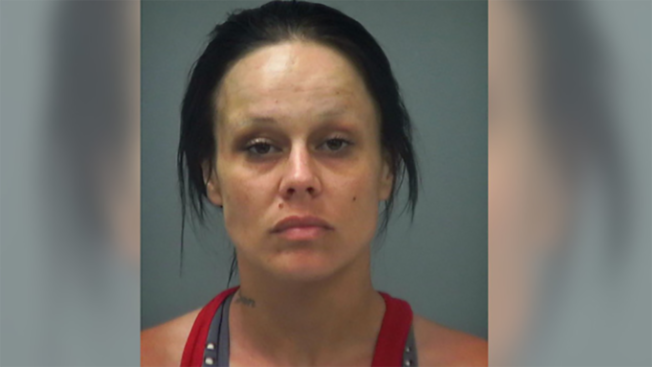 A woman has been arrested in Florida over claims she beat her wife for accidentally putting marijuana in a washing machine.
Ashley Perkins, 30, of Youngsville, Louisiana, was visiting family in Navarre with her spouse when an argument allegedly erupted on Monday morning over the missing drug.
According to an arrest report, the argument got violent when Perkins started beating her wife about the head, legs and left arm with a bedpost, Pensacola News Journal reported.
When police arrived, Perkins told officers that she did not hit her wife and said the injuries were due to her rolling on the bedpost while sleeping.
She then changed her story, and during her ride to jail claimed that her wife had picked up the bedpost and started beating herself with it.
Perkins was booked into the Santa Rosa County Jail with a $25,000 bond and has been charged with aggravated battery causing bodily harm or disability.
Last month, a bedpost was also reportedly used by a hallucinating Florida man to attack a mattress where he thought he had seen a man in bed with his girlfriend.
The Okaloosa County Sheriff's office said that Felipe Oquendo, 37, had been smoking methamphetamine at their Fort Walton Beach home. His girlfriend called police after he hit the mattress with a bedpost, ripped it apart and locked the bedroom door, WNCT reported.
Last December, Michael Webb, of Parish, New York, was arrested for allegedly using a broken bedpost to attack a woman at a Connecticut inn.
Police say Webb, 36, broke off the bedpost and used it to try to stab and choke the woman, who suffered non-life-threatening injuries. He was charged with assault, strangulation, breach of peace and criminal mischief, NBC New York reported.
Meanwhile, in January, a metal bedpost was used by a scorned woman to trash her partner's $50,000 BMW 3 Series car.
Video of the attack was shared on Facebook and showed the woman causing thousands of dollars worth of damage, including piercing three large holes in the front window of the car, knocking in the lights and denting the bonnet in front of shocked neighbors, the Mail Online reported.