A woman seeking emergency care for a possible broken finger was shocked and displeased when staff at a hospital in Toronto, said she would not be evaluated without wearing a face mask.
The woman, identified as Letitia Montana, a Toronto-based insurance and investment adviser, recorded the interaction with St. Joseph's Medical Centre employees in a video shared to Twitter on Saturday.
"Went into the Emergency Dept. at St Joseph's Hospital in #Toronto for a suspected broken finger," Montana captioned the video. "I was asked to wear a mask, which I refused to do. As a result, hospital staff asked me to leave and immediately called 3 security guards to escort me out."
In the video, Montana is heard arguing with health care workers in the hospital's emergency department. She sounds surprised when one informs her that no one is permitted to enter the medical center without wearing a face mask, consistent with the hospital's policy.
"You're making me wear a mask?" Montana asks staff in Saturday's video. "Otherwise you're going to deny me service, if I don't wear a mask."
"Yes, we're asking you to wear a mask," one staff member replies.
Montana's video drew criticism from thousands of Twitter users over the weekend. Many pointed out that mandated use of face masks inside medical centers helps to protect individuals who may run a higher risk of developing serious complications from a COVID-19 infection.
Hospitals across the world have adopted requirements similar to St. Joseph's "universal masking" policy since the coronavirus pandemic began earlier this year. The policies aim to prevent hospitalized individuals from becoming exposed to the illness, since the virus can cause more damage to already compromised immune systems.
A spokesperson from Unity Health Toronto, the hospital network to which St. Joseph's Medical Centre belongs, addressed Montana's argument with emergency department staff in a statement to Newsweek on Monday afternoon. Echoing remarks from another staff member to Montana on Saturday, the spokesperson noted that St. Joseph's face mask requirement complies with guidelines issued by Ontario's Ministry of Health. Toronto is the capital city of the province of Ontario.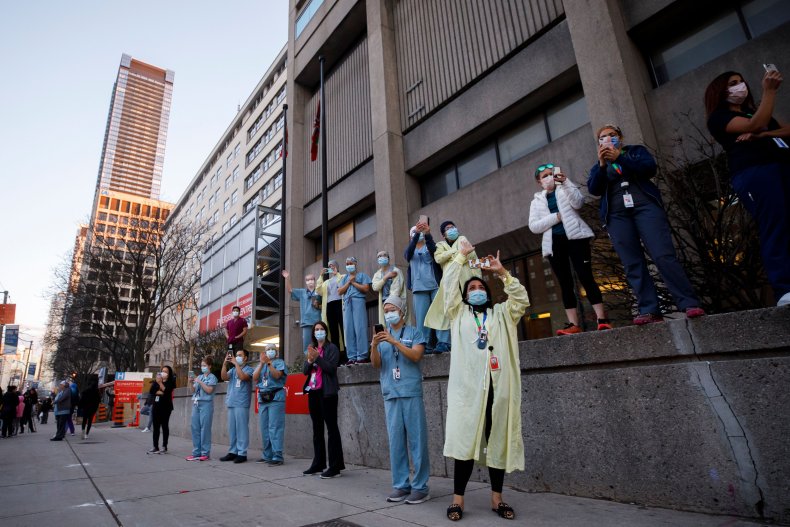 "At St. Joseph's Health Centre we work to ensure all patients receive the best possible care. Masks must be worn by everyone in our hospital in order to keep patients, staff and visitors safe," the statement read. "We encourage all community members to seek care when they need it. At St. Joseph's and any of our Unity Health Toronto sites, you will be asked questions about any COVID-19 related symptoms, to wear a mask and remember to maintain physical distancing in all parts of the hospital."
Canada has confirmed roughly 107,400 virus cases and 8,700 deaths as of Monday, July 6, according to Johns Hopkins University's tracker. Close to 36,000 of the country's cases were diagnosed in Ontario, according to the province's health department.