'I Want My Chicken': KFC Costumer Calls 911 To Complain About Her Order
An Ohio woman called 911 after allegedly being shortchanged on chicken at a KFC, saying "I want my chicken" on the call.
The customer was at the KFC restaurant in Euclid, Ohio when she alleged to have received just four pieces of chicken despite ordering eight, as reported by Fox 8.
She reportedly told the dispatcher on the phone: "I only got four pieces of chicken and I want my chicken."
According to Fox 8, the dispatcher initially refused to entertain the situation, telling the customer that it was a civil matter, which she would need to speak to the manager about, instead of officers.
"There is not much they police can do about it," said the dispatcher on the call.
An officer was eventually dispatched to the scene after insistence from the customer that she needed their assistance. Upon arrival, the officer simply told the woman he was unable to aid in the situation.
Euclid Police took the opportunity to insist that calling 911 should be used only for emergencies, under which being shortchanged on chicken does not fall.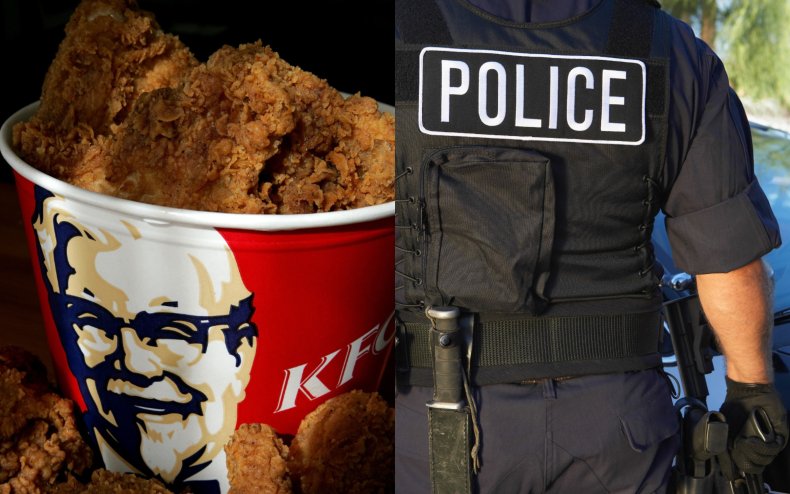 "While we are here to serve the public, an incorrect drive-thru order is not a police matter," Euclid Police Chief Scott Meyer told Fox 8.
Under the Ohio Revised Code, using the 911 system to report an emergency when they know that no emergency exists can be classed as a misdemeanor of the fourth degree.
Knowingly using a 911 system for a purpose other than obtaining emergency service can also result in a misdemeanor of the fourth degree on a first offense, but a felony for any following.
According to the National Emergency Number Association, there are no national statistics that are able to conclude how many 911 calls can be characterized as misuse of the system.
The Arizona State University Center for Problem-Oriented Policing however estimated that "phantom wireless calls account for between 25 and 70 percent of all 911 calls in some U.S. communities."
As technology has developed in the form of cell phones over recent years, so has the likelihood of 911 phantom calls.
Calling 911 over a KFC order certainly isn't the only ridiculous call received by the system. In 2021, various alleged 911 dispatchers took to Reddit to share some of the "pettiest" calls they've taken while working.
"I once got a call from a family of frequent flyers ... a husband's wife ordered the wrong topping on a pizza, so they got in an argument and then she threw a ham sandwich at his head," alleged one operator.
"Another time a call came from a woman who just got out of church and the drive-thru to KFC was too long... and she wanted an officer to come out and help."