Woman Calls Police on Black Couple for Not Having Permit to Install Patio
A white woman from Montclair, New Jersey, called police to report a Black neighbor for an alleged assault on Monday after she was asked to leave his family's property.
Her police call, which can be seen in a video recorded during the incident that later went viral, followed repeated inquiries from the woman about whether the family had a permit to install a stone patio outside their home.
In the video, multiple witnesses are heard saying her assault claims were false. One witness also recalled seeing the woman—identified only by her first name, Susan—return to the family's doorstep more than once to demand more information about the landscaping permit.
The video was originally shared to Facebook Monday evening by attorney Fareed Nassor Hayat, the Montclair resident whom Susan reported to police. His spouse, Norrinda Brown Hayat, was present for the interaction and appeared to film the incident. References to the couple's children indicated they were there as well. In his Facebook post's caption, Hayat described the incident captured on video as well as the events leading up to it.
"It has happened again. White entitlement and black hate embodied in Susan who lives on Marion Road and works at the EPA, called the police to lodge a false report of assault against me when told to leave our property," he wrote. He explained that Susan approached the Hayats' property three times within a 30-minute time span "to demand to know if we had the proper permit to install a stone patio in our backyard," which shares a fence with Susan's property.
"When asked if a permit was required by law, she said she didn't know, but insisted we answer her questions and submit to her demands, or she would call the police to force us to stop improving our home," Hayat continued.
He noted that a permit was not required for the family's patio project and said the town's building and safety department confirmed this after coming to the home to investigate the woman's complaint. But Susan's actions would have been harmful even if Montclair's building codes were different, Hayat said in his social media post.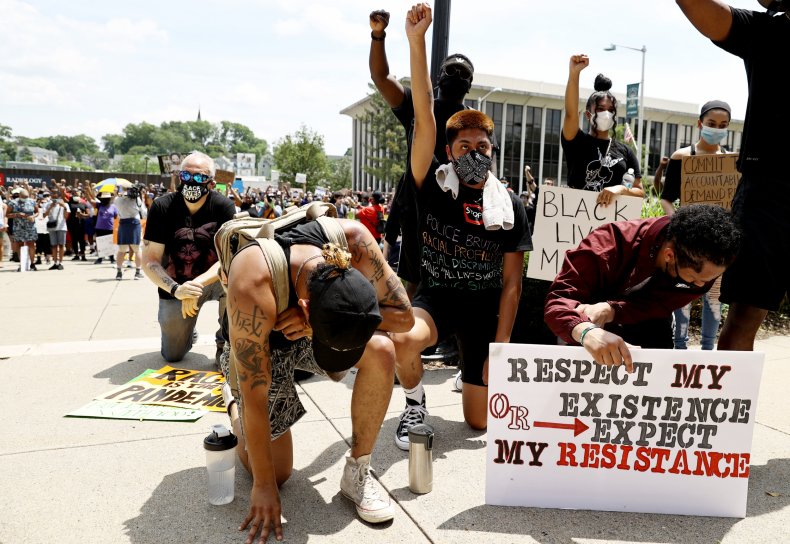 "She invoked centuries of brutality in her call to the police and sought to put her black neighbors back in their place. She believed that we were required to answer her questions and smile while doing so," he wrote. "But to her surprise, her efforts were met by two proudly black human beings, parents, lawyers, law professors, [activists], community members, neighbors, citizens and fighters, who refused to submit."
Newsweek reached out to Hayat and the Montclair Police Department for additional comments but did not hear back before publication.
The Montclair police call took place amid the nationwide movement against systemic racism in police departments as well as in daily interactions. People have gathered in all parts of the U.S. and across the world to protest racism and police abuse since the end of May, when Black Minneapolis resident George Floyd died in police custody.
Upon learning of Susan's actions on Monday, Montclair residents held a demonstration to denounce the behavior.