'You People Are So Violent' Women Hurls Racist Insults at 3 Black Beach Joggers
Three Black joggers were stopped by a woman on Los Angeles' Dockweiler State Beach on Sunday who hurled a number of race-based insults at them. Among them, she referred to the joggers as "Africans," and claimed that all Black people are violent.
The video was captured by a woman named Brittany, who was out for a run with her friends Raquel and Jessyka, according to ABC.
Brittany told Newsweek that before the trio began their run, the woman shouted at them unprovoked and screamed the n-word at them, much to the women's surprise. "We were so shocked, and I definitely tried to rationalize the situation, because beyond the fact that we were just called the n-word, it was a brown woman who called us," she said. "Literally, trying to rationalize it: 'Maybe she was saying something else.'"
Seeing the woman again on their run, Brittany asked her what she'd said earlier in the run, and the woman began a "racist tirade" in response, including saying things like, "Black lives don't matter," among other phrases. She said that the woman said she was Mexican. After the confrontation ended, Brittany said that a Latino family approached her. "They were like, 'Obviously, she doesn't speak for all Latinos. I'm so sorry that you dealt with that,'" she said.
Brittany said after encountering Black cyclists during the run she asked if someone had called them the n-word. They said yes, and she ran to confront the woman, tapping her on the shoulder when the video began.
At the video's start, the woman tries to draw attention to the three women, claiming that one of them hit her. "This woman just hit me, everybody. This woman just accosted me. I can't believe you. I just-you guys are so violent. You Africans are so f**king violent," the woman in the video says. Brittany said that no one attacked the woman, and her outbursts were unprovoked.
"You're an African, right? I'm trying to give a description. Why are you so offended by the fact that you're an African," the woman said.
"You called me a n*****r," Brittany responded. The woman again called her an African, to which Brittany responded: "An African is a n****r?"
"You're trying to put words in my mouth," the woman responded.
After that exchange, the woman is on the phone with the police, again saying that she was attacked and accosted. "This woman is a Karen," Brittany said. "She called me the n-word. She's not wearing a mask."
While on the phone with police, the woman says that she needs an ambulance, and paramedics, before repeating that she'd been attacked. "I've been harmed by the environment that this African has created. This African-Black lives! Black lives, Black lives! My emergency is that I was just attacked by an African Black person. She just attacked me from behind," she said, before saying that Brittany was following her and giving her location.
Brittany said that she and her friends left after the woman called the police. "With her calling and saying, 'I'm being attacked by a Black African,' who knows what's going to come of that? So they actually did not send anybody when she called them, but she did end up—we found out after—she did end up flagging somebody down and filing an incident report, saying that she was attacked by three women," Brittany told Newsweek.
The whole incident surprised Brittany and her friends, and they're still wondering what the woman's motive for shouting the racial slurs was. "It was so shocking. Where did that come from? We didn't do anything to you. To say that to three women, out of nowhere, and then to yell racial slurs at a group of black [men], it was like she went out on a racist run. It's like she was trying to provoke people. I feel like she wanted us to attack her so she could somehow get us in trouble. I don't know what," she said.
Brittany also alleged that the woman made further racist remarks which weren't captured in the video. "She said, 'Black lives don't matter, your life doesn't matter, you need to go back to Africa.' She said, 'I'll get you the cheapest flight back to Africa," Brittany said.
Brittany told ABC that she was shocked to see a racist rant in L.A. "I haven't experienced it. It was a very sobering experience. It just reminded us, as we see everything happening around us, this can happen in our backyard," she said.
With increased focus on racial issues in the U.S., Brittany explained to Newsweek that the widespread attention was a motivator for her confronting the woman. "In this time right now, where there's so much attention on Black Lives Matter, on the racism that still suffocates this country, I knew in that moment I had to say something. The emotions are so raw. I think everybody in the Black community has been tired of everything that's going on, and I couldn't allow myself to not say anything to her," she said.
With the clip circulating on Twitter, people called on the Internet to discover who the woman in the video is. Other people criticized her for calling the police on the women trying to enjoy a jog. Brittany called the online support "overwhelming."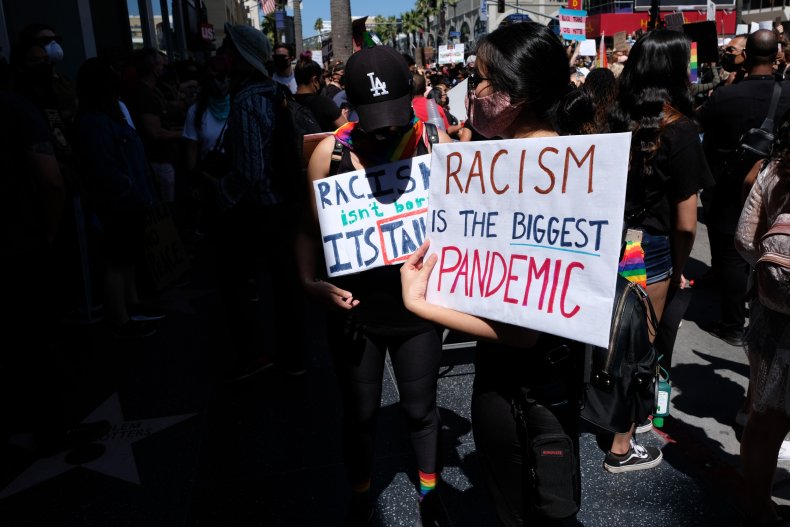 Update 9/4/20 4:33 p.m. EST: This story has been updated to include additional context and comment from Brittany, which was received after the story was originally published.