Woman Caught 'Hungover' on Google Maps Leaves Internet in Stitches
Many of us have likely put our own address into Google Maps out of curiosity. What we don't expect to see is an image of ourselves picking up a takeaway after a heavy night.
In a TikTok video with over 800,000 views posted by @xmandahx, which can be watched here, she can be seen standing in her driveway in a pink tracksuit holding a red paper bag with the text: "Finding myself on Google Maps collecting a takeaway." The caption adds: "Hungover I might add." At the end of the video she appears and lip syncs to the voice of Keira Knightley's line from Love Actually: "I look quite pretty."
Legal Issues
Despite many people considering it a badge of honor to be caught on Google Maps, since its launch in 2005 and the launch of the Street View feature in 2007 there have been global complaints about security and privacy. Privacy advocates have brought to light examples of people being photographed engaging in subjectively controversial activities, such as sunbathers in bikinis, protesters at abortion clinics, and people leaving strip clubs, even heightening tensions within residential communities.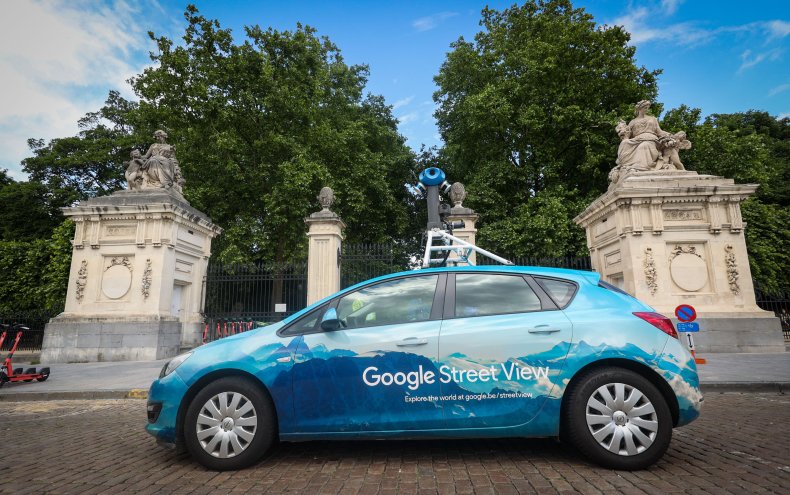 India has allowed the Street View feature since July 2022, permitting photographs to be taken in ten Indian cities, including Delhi and Bangalore. Google had begun taking pictures in Bangalore in 2011 but they were subsequently blocked due to security concerns for the police.
In June last year a U.S. court upheld the results of a long-running case against Google from 2010, after the company said the Street View vehicles had inadvertently collected private data including emails, passwords and documents from Wi-Fi networks. It was ordered to pay $13 million to various privacy interest groups.
Sims Character
Many users found the images amusing, with one user asking: "Why are you lingering? You already got the takeaway in ur hand." Another said: "Feels like she has the speed of a sims character." One said: "That one Sim that just stands there."
Others shared stories of being caught by Google Street View. One said: "When you go out in slippers hoping that not even the neighbors that you don't ever know will see you, BOOM Google drives by." Another said: "I was on Google maps chatting with my friend in a doorway, while I was supposed to be at work." A third user said: "I found my kids on Google maps from about 8 or 9 yrs ago, they were so small and out playing in the estate."