California Woman Yells Racial Slur at Asian American USPS Worker in Video
A woman in California was caught on camera yelling a racial slur at an Asian American post office employee.
Tyler Brumfield filmed the woman as she berated a United States Postal Service (USPS) employee inside the post office on Main Street in Los Altos last Thursday, ABC 7 reported.
"Can't you just do your job? It's simple!" The woman, who is wearing a face mask, is seen yelling at the employee in the video, which was posted on Facebook by ABC7 correspondent Dion Lim.
The woman in the video then mentions that she has been in the U.S. for 38 years, suggesting that she is an immigrant.
But moments later, the woman quietly says "ch**k" while the employee is standing away from the counter, prompting an angry reaction from Brumfield and other customers in the post office.
"That is not acceptable! No, it's not!" Brumfield told the woman.
Another woman is heard telling her that using the slur was "totally not okay" before calling police to report the woman.
The woman is then seen gathering up some papers and calling the USPS employee "b***h" before repeating the "ch**k" slur again, louder.
"Oh my God! Get out of here. Bye Karen!" Brumfield is heard saying as the woman walks out, using the popular insult to describe a certain kind of person, often entitled, suburban women.
In a statement to Newsweek, a USPS spokesperson said the incident was "unfortunate."
"It was an unfortunate incident. We expect our customer-contact employees to treat all customers with courtesy and to handle all transactions professionally," the spokesperson said.
"We also expect our customers to extend the same courtesy to our employees. However, no employee should have to suffer any abuse by a customer, and we have every right to refuse service to anyone who is abusive. In cases like this, the employee would bring the situation to his/her manager who would interact with the customer on behalf of the employee."
The spokesperson added: "Incidents like this are unusual as most customers have praised and thanked our employees for their essential service, but we will continue to provide courteous, professional and essential service to our customers as they look to us for certainty, continuity and stability during these hectic times."
Commenters praised Brumfield and other people in the post office for calling the woman out.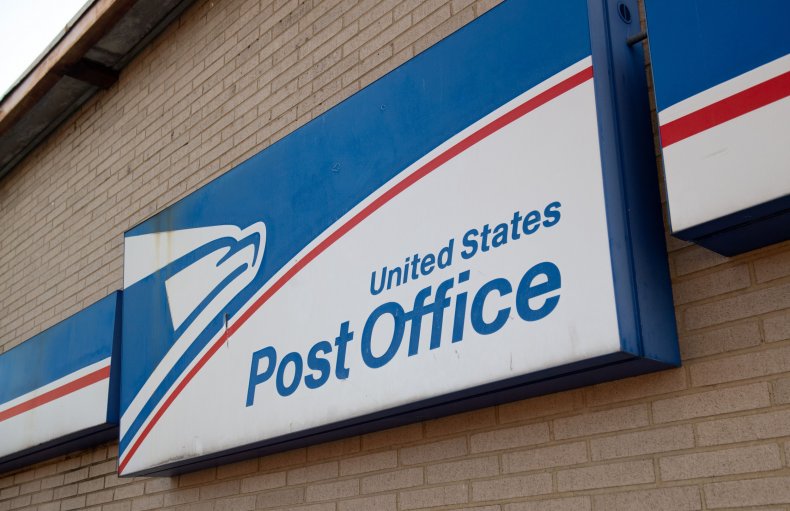 One mentioned that the USPS employee who was abused "has never been anything but professional and polite."
"That employee has never been anything but professional and polite every time I have been in that post office," the commenter said. "Shame on that awful woman who was obviously not taught acceptable behavior by her family."
Brumfield and the Los Altos Police Department have been contacted for additional comment.
The incident is the latest example of a racist outburst aimed at Asians and Asian Americans to be captured on camera in recent months.
Earlier this month, a Silicon Valley CEO resigned after his racist abuse of an Asian family went viral on social media.
In the clip posted on Instagram, Michael Lofthouse was seen being ordered out of a restaurant in Carmel Valley, California, on July 4 after hurling racist abuse at the family. "Trump's gonna f*** you! You f***ers need to leave... f***ing Asian piece of s**t," he was heard saying.
The Anti-Defamation League has said there has been an uptick in racist and xenophobic incidents targeting the Asian American and Pacific Islander communities in the U.S. amid the coronavirus pandemic.
"These incidents include being told to 'Go back to China,' being blamed for 'bringing the virus' to the United States, being referred to with racial slurs, spat on, or physically assaulted," according to the organization, which has collated some of the incidents.