Woman Cautions Against Viral Nail Hack: 'They Were Falling Off'
A woman shared a now-viral video discussing her difficult experience with a popular manicure trend and urged viewers not to take part in it.
TikTok user @k.wamp's video was viewed more than one million times as she discussed the painful side effects she dealt with after trying to gel cure her press-on nails.
Gel manicures are popular, but the American Academy of Dermatology said they can be "tough on nails."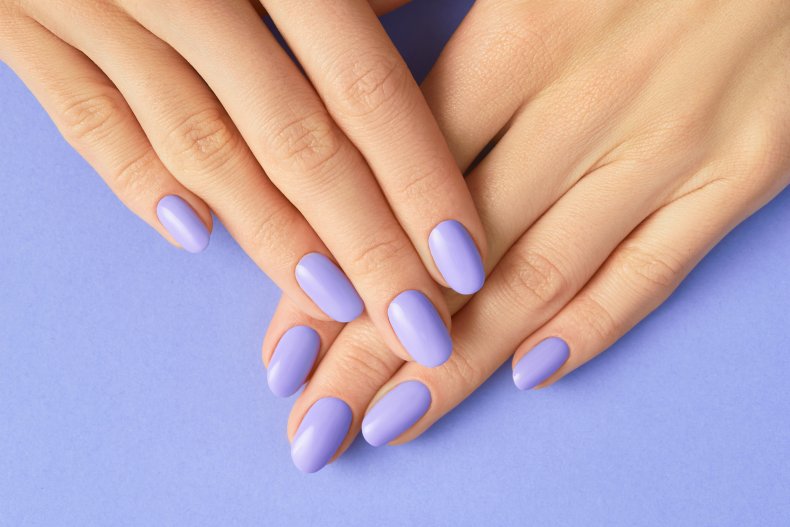 "Gel manicures can cause nail brittleness, peeling and cracking, and repeated use can increase the risk for skin cancer and premature skin aging on the hands," the organization said.
If someone decides to get a gel manicure, they are encouraged to wear sunscreen before it is applied, not to pick at it as the polish begins to come off and to only soak the fingertips in acetone when removing the polish.
Dermatologists also suggest giving fingernails a break by not wearing nail polish for at least one to two weeks and hydrating the nails.
The Nail 'Hack'
@k.wamp says there's a trend circulating on TikTok encouraging consumers to buy press-on nails from the beauty aisle, but to "cure" them with gel, rather than apply them with nail glue.
In her video, @k.wamp said she tried the hack, and while her nails "looked great," they soon began itching.
"I had to literally pour almost boiling water on my fingers just to try to ease the pain," she said. "And then, my fingernails were so squishy underneath, they were falling off."
@k.wamp said the gel would not properly set if the press-on nails have any sort of design on them.
"It needs to be clear for the gel to set," she said. "And if it's not, you're going to have uncured gel on your nails."
The Aftermath
@k.wamp continued and people may experience this type of reaction if they get a gel manicure after trying the hack.
"You can never, ever go to the nail salon again and get gel, or you're going to have the most uncomfortable itching you've ever felt in your entire life," she said. "Just use glue."
In the comments section, @k.wamp said this happened to her 'forever' ago, but she saw a video from @amberthenailwhisperer, a nail technician who warned against the same trend, and was inspired to share her own story.
@amberthenailwhisperer said that UV light cannot go through a press-on nail that is not clear. Uncured gel, she said, may lead to an allergy to gel products.
Viewers took to the comments section of @k.wamp's video to share their thoughts.
"As a nail tech, please don't do this," a viewer wrote. "This is how fungus/infections are formed."
"Happy I saw this," another viewer commented. "I was seriously considering doing this."
"I'm allergic to gel and I promise you don't want this," one viewer wrote. "I'm talking about burning skin, itchy skin, peeling and crackling skin."
Newsweek reached out to @k.wamp for further comment.
Other posts about beauty and personal care have previously gone viral, including one that involves beauty influencers pumping liquid foundation into a cup of water before taking it back out and applying it to the skin.
A woman's video went viral after she showed how she used fruit to create a natural look.
Another post showed a photo of the effects of someone using sunscreen on her face but not on her neck.