A woman at the center of Saturday's Texas synagogue hostage standoff is "an icon among Islamic terrorists" who vowed to kill as many Americans as possible, according to a prominent former U.S. Attorney.
Malik Faisal Akram, a 44-year-old British citizen, was shot dead by law enforcement on Saturday after taking four people, including the rabbi, hostage during a Shabbat service at Congregation Beth Israel in Colleyville, Texas. During the standoff, Akram demanded the release of Aafia Siddiqui, according to the authorities.
Siddiqui has been imprisoned at Carswell Air Force Base near Fort Worth for the last 10 years. She is serving an 86-year sentence for trying to kill U.S. Army officers in Afghanistan in 2008. Siddiqui has fervent and, sometimes, dangerous sympathizers.
"Some people who are anti-American and who are jihadist think that she's a martyr for them because she got sentenced to 86 years in prison," Preet Bharara, a CNN legal analyst and the former U.S. Attorney for the Southern District of New York, told CNN Newsroom host Jim Acosta on Sunday.
Bharara, who prosecuted the case, described Siddiqui as "a highly educated, extremely smart person" with degrees from M.I.T. and Brandeis University who became radicalized after the 9/11 attacks. Her sympathizers believe her case was unfair and have engaged in "quite extreme acts of violence, to show solidarity with her and try to get her released," he said.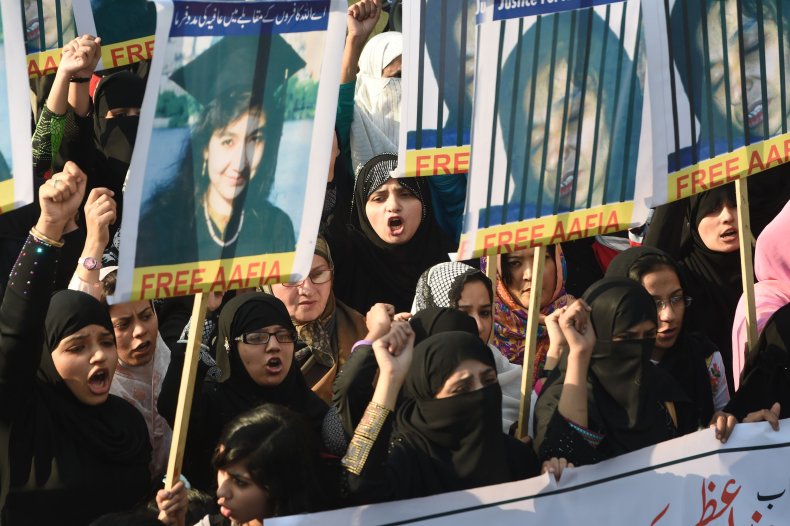 A Pakistani neuroscientist, Siddiqui caught the attention of federal authorities in the mid-2000s who suspected her of having terrorist ties. She was found in Afghanistan in 2008 with two pounds of sodium cyanide and bomb-making plans, along with what appeared to be possible targets in the U.S., including the Empire State Building, the Brooklyn Bridge and the Statue of Liberty.
While being questioned in Afghanistan, Siddiqui unexpectedly grabbed an M-4 rifle from a U.S. servicemember and began firing at everyone.
"I want to kill as many f---ing Americans as I can," she shouted while firing the weapon, according to Bharara. None of the bullets struck anyone.
Siddiqui was put on trial in January 2010, which she watched most of from a live feed in her prison cell because of her repeated outbursts that included anti-Semitic remarks—an arrangement Bharara called very unusual. She was given a hefty sentence for her crime, as well as for the incident with the rifle and terrorism enhancement.
Acosta asked Bharara if law enforcement should be keeping an eye on people "obsessed with Siddiqui," especially following the Texas synagogue attack.
Bharara noted that he hadn't seen investigative materials for Akram and what kind of signals he might have given prior to taking hostages.
"You can't catch everything in advance," he added.