Woman Charged With Hate Crime After Telling Kids 'Hitler Should Have Killed' Them: Police
A woman was recently arrested in New York City and charged with a hate crime after telling children outside a synagogue that "Hitler should have killed" them, according to police.
The New York Police Department (NYPD) Hate Crimes division announced on Twitter that a woman, identified as 21-year-old Christina Darling, was arrested on Friday and charged with hate crime-menacing, aggravated harassment, and acting in a manner injurious to a child.
The incident was first reported by the NYPD earlier this week after they posted a surveillance video on Twitter asking the public's help in identifying the woman. In the video, Darling can be seen walking down a street in the Marine Park neighborhood of Brooklyn towards a group of children, who are blurred out.
A spokesperson for the NYPD told Newsweek that the incident occurred last Friday, January 14 at around 12:35 p.m. local time. While walking past the Kehal Tiferes Avrohom Ziditshov Orthodox synagogue, located at 4017 Avenue P, Darling approached an 8-year-old boy and his two younger siblings.
In addition to making the anti-Jewish statements to the children, the woman also "spat on the child," police told Newsweek.
Darling fled the scene on foot, heading toward Kimball Street, but was eventually arrested a week later. "There were no injuries reported as a result of this incident," the NYPD spokesperson said.
The children's father, Aryah Fried, told CBS 2 New York: "I would hope that she understands the severity of what she did...To do it to anybody is obviously problematic, but for an adult to do it to a child is just beyond crazy."
Shortly after the incident was first reported, New York Representative Lee Zeldin responded on Twitter, saying, "Antisemitism in & around NYC continues to reach new lows. The victims here were little kids."
"There are also MANY electeds [sic] in Albany & NYC who need to step up big time & start protecting innocent NYer," Zeldin added.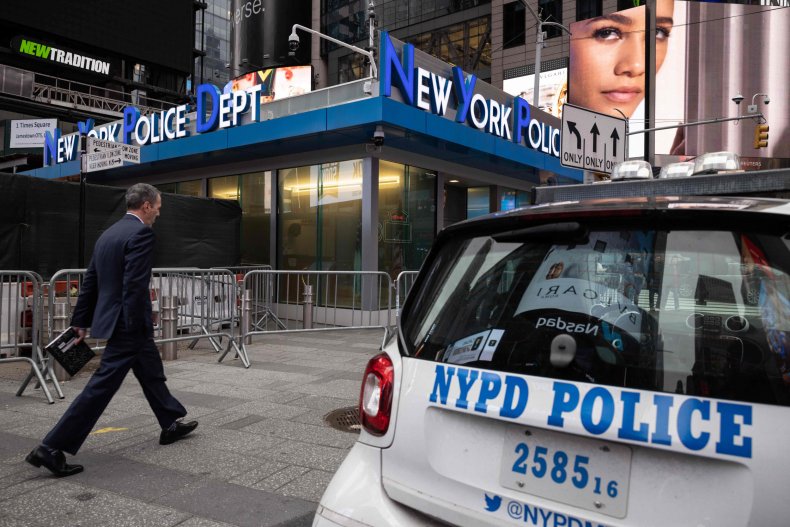 In 2021, New York City saw a rise in anti-Semitic hate crimes from the previous year. According to data from the NYPD Hate Crimes Dashboard, throughout 2021 there were 197 anti-Jewish hate crime incidents reported, resulting in 58 arrests. In comparison, throughout 2020, there were 120 anti-Jewish hate crime incidents and 24 arrests.
Overall, the data, which only lists incidents up to December 29, 2021, shows that throughout 2021, there were 522 confirmed hate crime incidents in New York City and 206 arrests.