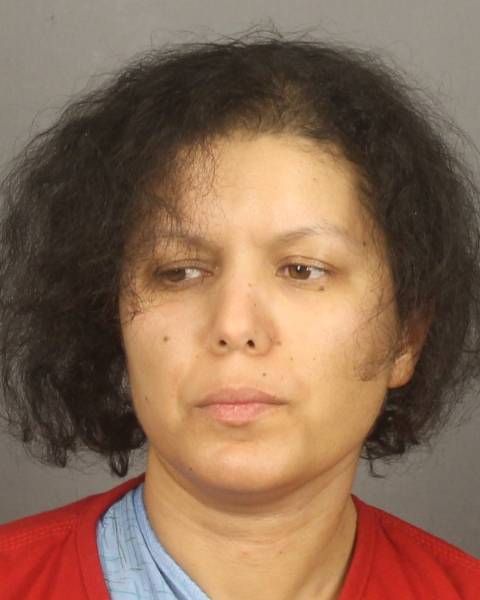 A 36-year-old woman from Sweden, New York, was charged with murder for allegedly stabbing and decapitating her 7-year-old son.
Hanane Mouhib is accused of stabbing her son with a large-bladed kitchen knife in the upper left area of his back and neck, decapitating the boy, The Democrat and Chronicle reported.
"There's absolutely no explanation for us," Monroe County Sheriff Todd Baxter told reporters during a press conference Friday. "The word evil comes to mind.… This is a mother who took her son's life."
Deputies received a call to go to 5499 South Lake Road (Route 19) in Sweden at 8:19 p.m. Thursday and found "an extreme, horrific crime scene." Baxter said deputies arrived at the home and found a "suicidal female armed with a knife." Mouhib reportedly refused deputies' orders to drop the knife, prompting deputies to use pepper spray and a Taser to disarm and arrest her.
Baxter said deputies also found the body of the victim on the first floor of the home. The victim was later identified as first grader Abraham Cardenas, a student at Barclay Elementary School in Brockport Central School District who was described as "vibrant" and an "engaged learner."
"We are deeply saddened to learn of the death of one of our students," Superintendent Lesli Myers said in a statement sent to Newsweek. "Our heartfelt condolences go out to Abraham's family, friends and all affected by this tragedy. Any loss of life is a loss to our entire community."
The school district will have grief counselors available to students, staff and families over the weekend and throughout the week, Myers said.
"I will never find the words to adequately describe, or reconcile with what happened inside Abraham Cardenas's home last evening. A young boy with a life full of promise ahead of him is no longer with us to hope, prosper and fulfill his dreams," Baxter said in a statement provided to Newsweek.
Baxter told reporters that that calls from the home were made on March 5 and March 8 for mental health assistance. According to WHEC-TV, Mouhib was in a mental health facility on March 8 and was released with a care plan on March 26.
Records show that Mouhib is a licensed nurse practitioner with a specialty in mental health; she worked for Rochester Regional Health from January 2016 through January 2017. Rochester Regional Health officials told WHEC that she has not been affiliated or credentialed with the system since then.
Mouhib was arraigned at 8 a.m. at Sweden Town Court Friday on a charge of second-degree murder. She pleaded not guilty and is set to return to court for a preliminary hearing on April 11. If convicted, Mouhib could face 25 years to life in prison.