Woman Cheered for Refusing Colleague Who 'Might Become Homeless' to Move In
A woman has been applauded online for refusing to allow a female colleague to move in with her, despite the worker being on the verge of being made homeless, and facing the possibility of losing her job.
The staff member shared the bizarre request her company made to Reddit's Am I The A**hole, forum, under username u/Dangerous_Spot_5372.
The post, which can be read here, was entitled "AITA for not letting a coworker move in with me when she might become homeless?" It has racked up more than 10,000 comments and upvotes since being posted on Wednesday.
The 32-year-old claimed her colleague, Aly, had been having frequent meetings with the supervisor, about both work and accommodation.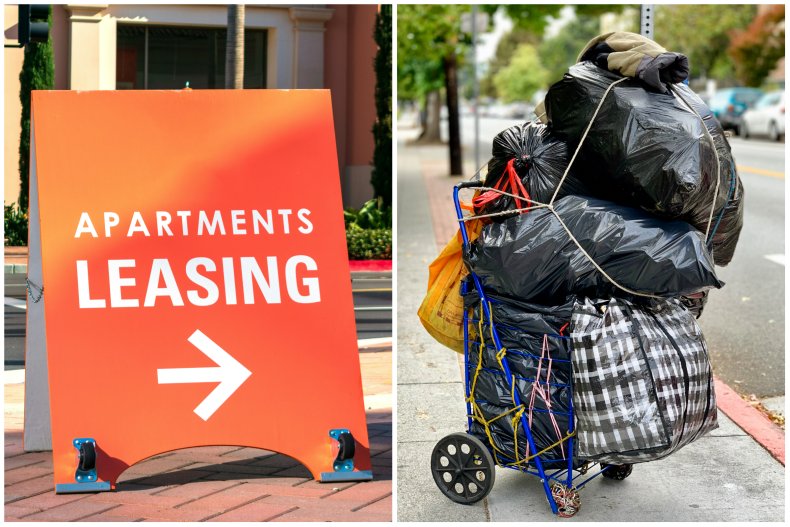 According to The National Alliance to End Homeless, the State of Homelessness: 2021 Edition report shared a snapshot of the country from January 2020, just before the pandemic hit.
Figures from that month revealed there were 580,466 people experiencing homelessness in America. The majority of them, 70 percent, were individuals like Aly, while the rest were people living in families with children.
Men were noted to be far more likely than women to experience homelessness, with the report stating: "Out of every 10,000 males, 22 are homeless. For women and girls, that number is 13."
America is currently in the grip of a housing crisis, as the Pew Research Center noted earlier this year: "Prospective homebuyers and renters across the United States have seen prices surge and supply plummet during the coronavirus pandemic."
According to website Apartment List, the monthly estimate of the median rent paid in the U.S. for a one-bedroom apartment—where the Redditor currently lives—was $1,185 in July. That's up from $1,105 a year ago.
In the post, the worker wrote: "They've been talking about how Aly has had a downturn in job performance and might be laid off soon if things don't improve. Aly is nice and outgoing but not reliable when it comes to office work."
Management bizarrely starting asking about her living situation, as she continued: "The past couple of days my supervisor has been very interested in my living situation. Always asking how the area is, how I decorate my space, and how my relationship is with the property management.
"They have even started making comments about how lucky I am to live alone and how important community is.
"Yesterday after Aly's usual gossip visit my supervisor messaged me on the company chat asking if I knew of any open apartments that Aly could rent for cheap, when I told them that there are only a few apartments in my building and they are all occupied they asked me to come over to their desk for a talk."
The reason for his interest soon became clear, as she later discovered Aly's roommates were breaking the lease, and she "needs a place to stay." The supervisor then tried to convince her to let Aly stay-in her one bedroom apartment.
Not Looking for a Roommate
But she stood her ground, saying: "For over a half an hour they went on about how I could let her live with me and how good it would be to carpool, split expenses, and have company at home.
"I tried to keep the shocked look off my face as I told them, I felt for Aly and her situation but that I want to live alone and that my lease doesn't allow sublets.
"My supervisor got visibly upset by this and kept pushing how we need to take care of our own and I have all this space that I could surely share for a while. I repeated that I am not looking for a roommate and left to get back to work."
After her refusal, she claims she saw Aly later looking "very upset" in a hushed chat with the supervisor.
The chart below, provided by Statista, shows how much space $1,500 gets you in America.
It seems word got around the company, as they added: "Ever since then several coworkers have started giving me the side eye and water cooler talk quickly turns to how we are a family culture here and how nice it is to work with caring people."
Amid her colleague's reaction, she asked: "So AITA for not taking in a coworker I don't really know when they might get fired soon?"
People almost unanimously thought she was in the right, as Good_Glass_8172 wrote: "This. In fact, go tell Aly that you have heard your coworkers were very concerned for her, so they will more likely to help her, and tell her to go and ask them lol."
Neverthelessidissent commented: "NTA. If they're so upset, she can move in with one of them. It's easy to be generous with other people's space, time, and money. They can all put up or shut up."
Ursula2071 added: "It is not even like OP and Ali are good friends...like who? And does Ali not have friends outside of work or family that can help? It so random to ask OP."
Newsweek contacted u/Dangerous_Spot_5372 for comment.