Widow Cheered for How She Removed Husband's Mistress From His Funeral
A woman has been backed for how she had her late husband's mistress removed from his funeral.
In a post on the popular Reddit sub r/AmITheA******, user u/MyMomo20 asked the internet's most popular judges "AITA [am I the a******] for not allowing my late husband's affair partner [to] come to his funeral?"
In the post, the widow explained: "Three weeks ago my husband died in a car accident halfway across the country. He said he was going to a work trip but we later found out that all of that was just another one of his lies and he was actually on a cheating trip. Something he'd seemingly been doing for at least the past 5 years."
Melody Chadamoyo, relationship coach, author, and CEO and founder of relationship coaching service Heart Passion Institute, told Newsweek: "The most profound emotions would be shock and grief. Anger would be up there as well but those emotions come anyway as part of grief.
"It is painful beyond belief to lose someone you love. It is not just them you lose but also your hopes and dreams for the future. The only way to process is to live one second, minute and day at a time. Breath as much as you can. Discovering that someone was cheating takes away that belief of your union and makes it a lie."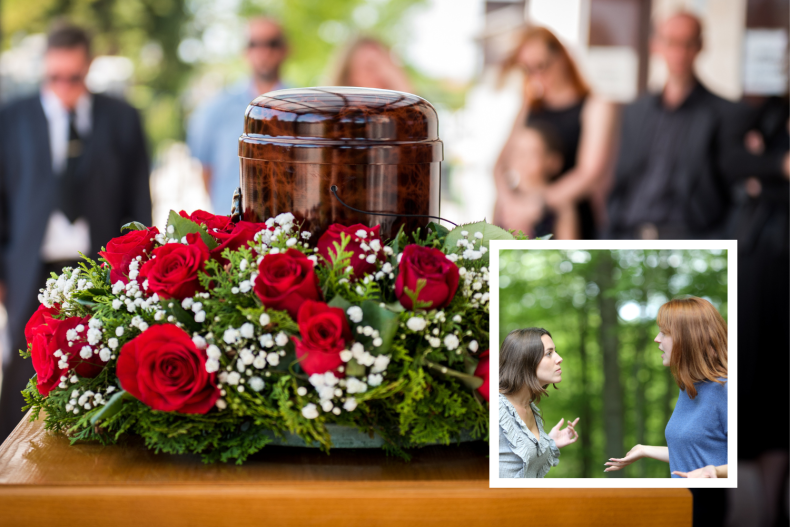 Only the eldest of the man's three children (aged 19) was made aware of his cheating, with the other two (7 and 14) left uninformed. While arranging the funeral, it quickly became clear that the man's mistress wanted to be involved.
"I told her that wouldn't be possible and she should respect our privacy. Even putting my feelings aside, though he's trying to be strong for his younger siblings, my eldest is battling with his anger and grief. Having her there would only cause problems," the OP said.
"Regardless, she was there when we arrived at the graveyard standing some distance away but she was still close enough to everyone to just make her stand out as if she wants to be seen. I told my brother and he removed her without causing too much of a scene. Afterwards she sent me a text which summarized basically called me selfish for blocking her from being there and saying I robbed her of the chance to say goodbye properly."
Dealing with the mix of grief and anger, the poster asked the internet if she was wrong to deny the woman any involvement in the funeral. "I still believe I did what was right and put my kids first," she said. "She had no business there and her presence would only cause drama. She could always go to his grave whenever she wants to say goodbye."
"People make choices that are crazy sometimes, but we are not to take their choices personally. He chose to live a double life and became adept at lying. That is how he wanted to live his life. Don't take his choices personally," said Chadamoyo of the post.
But on Reddit, responses were less forgiving and overwhelmingly backed the woman for banning her husband's mistress from the event.
One reply that had over 21,000 upvotes said: "She apparently knew she was having an affair with a married man and father and she is unreasonable expecting anything from you. I'm sorry for what you're going through, this must be a hell of a time."
"She was playing around knowingly with a married man who had a family and now she has the nerve to call you the selfish one??? No sympathy for her, You do what you need to do to protect your kids and family," said another Redditor.
u/MyMomo20, who wished to remain anonymous, told Newsweek: "I feel quite validated. I'm glad I made the post, and that it went viral, as its introduced to me a community of women who also have been through this exact situation and have provided valuable support towards me. Although I haven't made peace with everything and still processing the deception, I have somewhat accepted it."
Chadamoyo, however, suggested that the wife should consider the other woman's position.
"Chances are the mistress was also an innocent victim in this situation. If the wife didn't know, what makes her think the mistress knew? Does the wife know the full story or she's taking her anger out on the person she can see? Maybe the wife needs to do some deep healing work to free herself from the pain of living with a cheating spouse. I don't think she should have banned her from the funeral," she said.
Has infidelity broken your trust in your partner? Let us know via life@newsweek.com. We can ask experts for advice, and your story could be featured on Newsweek.
UPDATE 01/27/23, 03:30 a.m. ET: This story was updated with comment from the original poster.