Woman Cites Trump-touted Conspiracy Theory for Refusing to Wear Mask in Grocery Store
A woman wearing a "Shed the Mask" T-shirt filmed herself crying in a grocery store in Texas when she was refused service for not wearing a mask.
Though she claims she cannot wear a mask due to mental health reasons, she later cited a conspiracy theory shared by President Trump that claims only 9,000 people have died from COVID-19 in the U.S. as a reason for not wearing a mask.
The woman, identified as Katie Bug, says she was shopping at an H-E-B store in Cedar Park, north of Austin, when customers "harassed" her for not wearing a mask. Bug said that she was not allowed to check out after complaining to a manager about the other customers.
In the video, which has been shared on Twitter and Reddit, Bug says: "I have anxiety and PTSD and [the customers] were berating me about not wearing a mask even though I told them I had a medical exemption."
H-E-B requires its customers to wear masks or face coverings, even in areas where there are no local guidelines, though it does make exceptions for people with health issues.
Martin Otto, H-E-B chief operating officer, said in a statement: "As an essential service provider at this time, masks and gloves are just another safeguard we've implemented across our company to protect the health and safety of our Partners, customers, and communities.
"We are here for all Texans and we take our role to protect public safety seriously."
Texas requires its residents to wear masks while in public and counties are only exempt if they record 20 or fewer active cases of the coronavirus. Cedar Park in Williamson County is currently not exempt from the face mask rule.
Though Bug cites anxiety and PTSD as a reason for not wearing a mask, the Centers for Disease Control and Prevention (CDC) says that while masks may exacerbate a physical or mental health condition, "adaptations and alternatives should be considered whenever possible to increase the feasibility of wearing a mask or to reduce the risk of COVID-19 spreading if it is not possible to wear one," and that these people should contact their healthcare provider for advice about wearing masks.
Still crying, Bug then says: "I just need food for my family and they will not... They turned off the light here [on the checkout] and they won't service [sic] me, the lady walked away.
"There's like no compassion left in this world, nobody's asking me if I'm okay, nobody even cares."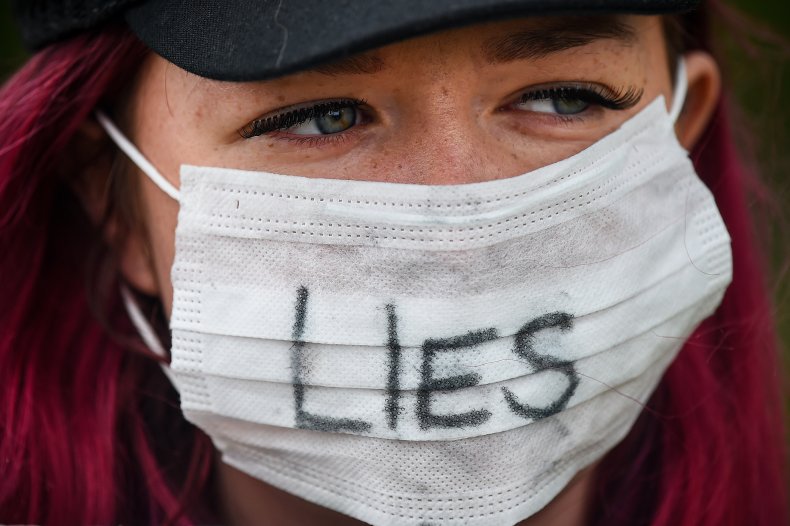 She then says: "All this because less than 10,000 people have died from COVID for real in the U.S. The rest of them had at least two and a half co-morbidities."
It seems as though Bug is incorrectly citing a report from the CDC that said in 6 percent of COVID-19 related deaths, COVID-19 was the only cause mentioned and for deaths with conditions in addition to COVID-19, there were 2.6 additional conditions or causes per death.
However, Bug cites a misrepresentation of the statistics—a misrepresentation that even President Trump has shared, as he retweeted a post that falsely claimed that only around 9,000 people had actually died of COVID-19 in the U.S.
The statistics actually show that 6 percent of people who died when they had COVID-19 didn't have underlying health conditions. However, the other 94 percent of deaths were also caused by COVID-19, as underlying health conditions can make diseases that people recover from, like COVID-19, deadly.
Then, Bug cites Executive Order No. GA-29 and says: "I have to call my husband now in case I get arrested or something which they're not allowed to do."
The executive order mandates that every person in Texas will wear a face covering when in an indoor public space or outside where social distancing is not possible and that after a verbal or written warning, a second violation can result in a fine of $250.
While someone not wearing a mask cannot be detained, arrested, or put in jail, law enforcement can enforce trespassing laws and remove violators at the request of the business owner.
In a follow-up video, Bug says that a different manager apologized to her, helped her checkout, and helped her take the groceries to her car.
She says she hopes the other manager gets fired and in response to being told that if a three-year-old can wear a mask then so can she, she says that it is child abuse to get a child under 10 to wear a mask.
Bug said she questioned the manager who told her there was a pandemic and again said that less than 10,000 people had died of COVID-19 in the U.S.
A Facebook page that appears to belong to Bug has shared posts about anti-mask "Reclaim Your Rights" rallies and an event called the Constitutional Rights Summit in Austin designed to "push back against draconian tyrannical government overreach."
Newsweek has contacted H-E-B for comment.