Woman Claiming to Have COVID Accused of Purposely Coughing in Officer's Face
A hit-and-run suspect in Nashville, Tennessee, is accused of claiming to have COVID-19 and coughing in a police officer's face on Thursday.
The 25-year-old driver was arrested after a hit-and-run crash at around 12:30 a.m. She then allegedly coughed into the arresting officer's face and told her that she hoped the coronavirus would kill someone she loved, according to an arrest warrant.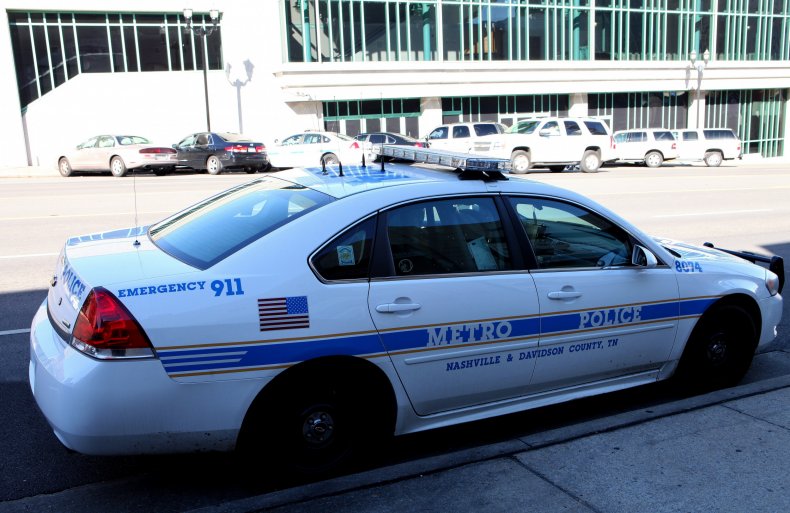 The Metropolitan Nashville Police Department said the victim of the hit-and-run crash had followed the suspect, whose name was not made public, to a gas station in southeast Nashville. The victim then flagged down police.
Police said the suspect, whose name has not been made public, smelled of alcohol when they arrived at the scene. She also allegedly tried to hide tequila bottles that were in her backseat. The woman was then taken into custody for possible impairment and transported to a hospital to have her blood drawn to test for alcohol.
The suspect told the arresting officer that both she and her grandmother had COVID-19, according to the warrant. The warrant also said that the suspect refused to wear a mask while at the hospital and that one was put on her face.
The suspect allegedly told the arresting officer multiple times that she wanted to give her COVID-19. The officer said the suspect told her that "she hopes I pass [the virus] on to my significant other, and they die from it," according to the warrant.
While at the hospital, the suspect also allegedly removed the face mask that was put on her. According to police, she again repeated multiple times that she hoped the arresting officer would get COVID-19 before walking over to the officer and coughing into her face.
The suspect was booked into Nashville's Metro jail Thursday on eight charges, including vandalism, resisting arrest and assaulting an officer. She was released on a $7,750 bond.
WKRN, an ABC-affiliated TV station in Nashville, reported on Friday that it was not known if the woman had COVID-19 at the time it aired a story about the arrest. The station noted that the suspect was tested for the coronavirus.
As of Thursday, Tennessee had a daily average of 2,581 new coronavirus cases reported, with 994 hospitalizations. Of those cases, 235 were in Davidson County, where Nashville is located. That figure is a 134 percent increase from 14 days earlier.
Newsweek contacted the Metropolitan Nashville Police Department for more information and comment but did not hear back before publication.