Woman Claims Midwife Said 'Hurry Up' in Labor Because Her Shift Was Ending in Viral Video
A woman on TikTok claimed her midwife told her to "hurry up" during labor because the midwife's shift was about to end.
According to the clip's caption, a woman named Sumayya said the story will "traumatize me for life." It has amassed over 248,000 views after it was posted over the weekend.
Sumayya explained that when she was in labor with her daughter and it was time to push, her midwife started trying to rush her.
"When I was in labor with my daughter, and it was time to push my midwife was telling me to 'HURRY UP' as her 'shift' was over," the on-screen text in the clip read. "When it was time to deliver the placenta she was telling me to 'hush' and stop screaming. She quickly delivered my 'placenta' and was done with her shift."
Sumayya told Newsweek that the incident occurred at a hospital in London.
After she delivered her daughter, Sumayya experienced severe abdominal pain but dismissed it as normal in delivering a baby.
"7 days later I was massaging my stomach..." the video continued.
Sumayya said something was "coming out" of her and that she was scared. She said she showed her husband who was "traumatized" and that they rushed to the hospital.
"When I was examined in triage the nurses were shocked because of what they found..." the on-screen text read.
Sumayya alleged that the midwife didn't clean her properly and there was "retained placenta" left inside "that was the size of my hand." She said she received a scan at the hospital that showed that there was some additional placenta that required surgery to remove.
She said the retained placenta could have led to a serious infection and can be life-threatening if left untreated.
A retained placenta is what happens when the placenta is not naturally delivered after the birth of the baby. According to Healthline, the body naturally dispels the placenta within about 30 minutes after birth.
In some instances when the placenta isn't delivered, there can be significant blood loss that is potentially fatal. Healthline said if a doctor suspects a retained placenta, they will perform an ultrasound on the womb. If any part of the placenta is located on the scan, treatment is necessary to avoid complications.
In the video's comments, Sumayya said that she began the process of suing the midwife and many people came to her defense. However, Sumayya told Newsweek that she wasn't able to sue the midwife because the hospital said retained placentas can occur although they are rare.
She also said she made a complaint to the hospital but did not get a response.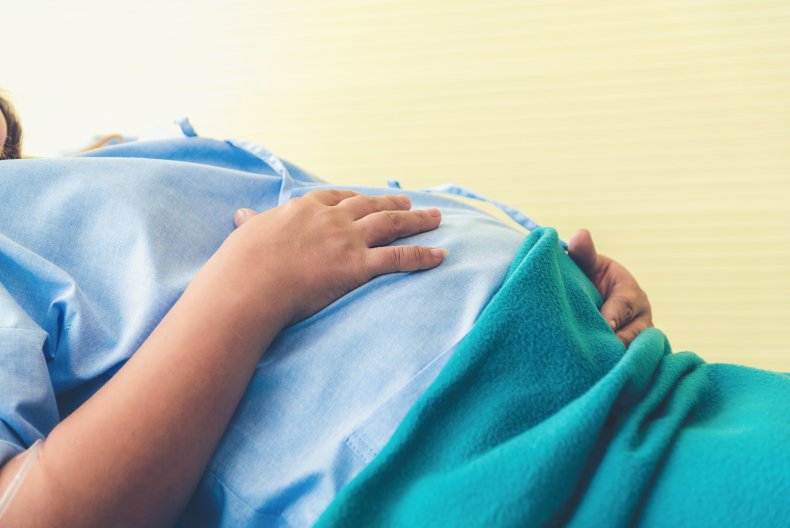 An online commenter said they hoped the midwife would get sued and that she chose the wrong profession "if she wanted to clock off on time."
Another user recounted their experience with a midwife in the comments: "My midwife's shift was ending when it was time to push. She said to me 'I am not leaving until we deliver this baby.' Take her to court!"
Some users in the comments discussed similar experiences, saying their situations were "traumatizing" and "excruciating."
"They failed to take the placenta out of my sister as well, due to which she now has cervical cancer," one user wrote. "We're planning on suing the GP and everyone involved as she went to the GP for a year and they kept dismissing her case and not giving her proper treatment."