Woman Claims She Found Winged Bug in Bottle of Kendall Jenner's 818 Tequila in Viral TikTok
Extra protein, anyone?
Claiming she found a winged bug in a brand-new bottle of Kendall Jenner's signature 818 Tequila, TikToker @kait_tc, whose real name appears to be Kaitlyn, called out the brand in a viral video.
Even before it hit supermarket shelves in May, 818 Tequila was taking plenty of heat online. Earlier that month, Jenner, a model and influencer best known for her role on the reality show Keeping Up With the Kardashians, shared an ad for the alcohol brand on her Instagram account.
However, the ad, which featured Jenner sharing a drink with field laborers, was met with fierce backlash for allegedly playing into stereotypes of Mexico and Mexican people. In it, Jenner rides a horse through a field, sits on a pile of harvested agave plants, and perches on the edge of the bed of a beat-up pickup truck, all while wearing her hair in braids and a sombrero around her neck. Between the props, setting, and styling, many deemed the ad a prime example of cultural appropriation.
While Jenner deleted the post in response to the backlash, the ad is still available on YouTube. Furthermore, this isn't her first beverage-based scandal, either. In 2017, Jenner became the target of internet ire for starring in a Pepsi ad that, some thought, implied that racial conflict—specifically, police brutality—in the United States could be solved by chugging a can of soda.
Back to the TikTok that kickstarted 818's most recent controversy. Clutching the offending bottle, @kait_tc says, "Kendall, serious question. Here's my new bottle of tequila, sealed, unopened. I went to go enjoy a nice shot and I see this floater just hangin' out and about in the bottle." She then zooms in on a tiny black object that resembles a winged insect suspended inside. Observing that "[i]t looks like he's gone through it 'cause he only has one wing left," she notes, "Someone's shot was gonna hit extra hard."
Since the video was posted four days ago, it has been viewed more than half a million times and liked more than 79,000 times. While some commenters noted Jenner is likely not involved in the distilling and packaging processes, others attributed the mistake to her nonetheless.
"Do better honeyyyyyyy," one wrote, tagging Jenner herself.
Many joked the apparent insect was the poor man's version of the worm or scorpion that traditionally rests on the bottom of a bottle of tequila.
"When you can't afford a scorpion to go in side the bottle lol," one wrote.
"[T]he worms and scorpions were too much money," another wrote.
However, others opined that @kait_tc shouldn't have expected better from one of Kendall Jenner's products.
"Okay but the jokes on u cuz u bought it," one wrote.
"That's what you get for buying celeb tequila," another wrote.
However, @kait_tc does not appear to hold any hard feelings toward Jenner or her brand. Yesterday, @kait_tc claimed 818 Tequila's official Instagram account had reached out to her after watching the video and offered to send her tequila as well as merchandise for free. Holding up a windbreaker emblazoned with the 818 logo and a bag containing three bottles, she praised the brand for its customer service.
Of the incident, 818 Tequila representatives told Newsweek, "Bottling is performed in an artisanal environment that is not perfect, incidents like this are extremely rare but they can happen. We're transparent about our tequila-making process and will continue to uphold the highest standards of health and safety from the day we plant the agaves to when the bottles of 818 tequila are sustainably packaged to share with the world. We've been in touch with Kaitlyn and have provided her with a new bottle of 818."
Newsweek also reached out to @kait_tc for comment but did not immediately receive a response.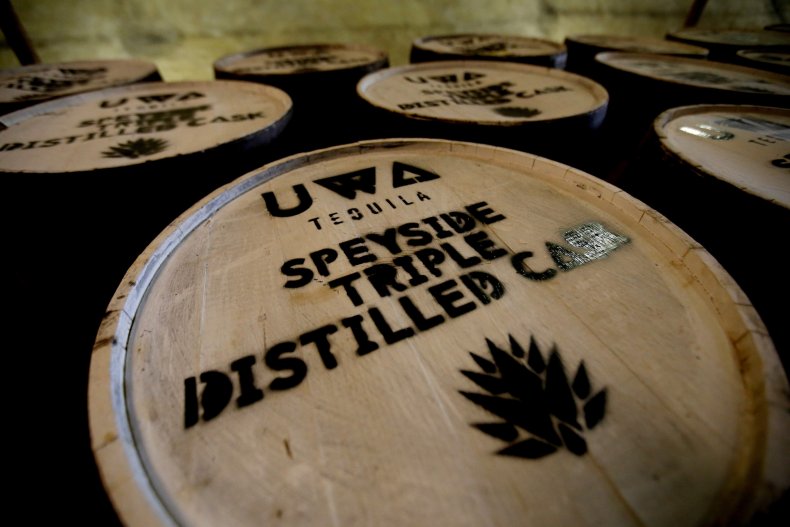 Updated 07/21/2021, 4:43 p.m. ET: This story has been updated with a statement from an 818 Tequila representative.