A TikTok video has gone viral after the user, @shannon_heroux claimed she was refused service at a Dunkin', formerly known as Dunkin' Donuts, because she is deaf. The video, which has amassed 5.2 million views, shows the TikToker in her car explaining what happened just moments before.
"A little while ago, I got refused service at a Dunkin' Donuts because I'm deaf," she said. "I didn't know how to process it. I was confused, I couldn't hear anything."
In tears, @shannon_heroux said she typically wears a cochlear implant but was not wearing it at that time. She said she was never refused service before and "it hurts."
"I called this girl over, told her I was deaf, I have to read her lips," @shannon_heroux said. "She didn't take her mask off."
She continued and said that the manager was called over, and she said that judging his body language and face, he was "going off," while waving his hand. @shannon_heroux told him that she couldn't hear him and needed to lip read, but he reportedly refused to write anything down.
"We're six feet apart, there's a Plexiglass to the side, I'm wearing my mask, like what more do you want from us?" she said.
According to a 2020 release by the National Association of the Deaf, opaque masks can affect speechreaders, otherwise known as lipreaders, because the wearer's mouth is completely covered.
The organization gave a few suggestions on how best to communicate with people who are deaf or hard of hearing, including wearing clear masks or coming up with communication strategies when wearing cloth or surgical masks.
The Center for Disease Control and Prevention recommends clear masks or cloth masks with a clear plastic panel as an alternative for people who interact with people who are deaf or hard of hearing.
The organization suggested that if an individual must wear a face shield instead of a mask, it should wrap around the sides of a person's face and extend below the chin.
TikToker @shannon_heroux said it has been a struggle dealing with the pandemic and said people do not believe she's deaf.
"I could sense and feel from him that he didn't believe me because I speak so well," she said.
In a second video describing the situation, @shannon_heroux said she was "at her breaking point," and that she has been "discriminated against" throughout the pandemic at a number of different consumer organizations.
@shannon_heroux told Newsweek that her partner is hearing and "handled everything" at the start of the pandemic.
She said at the beginning of the pandemic, it was difficult to listen to people through the masks, but the clearer people spoke, the easier it became to hear what they were saying. When @shannon_heroux started going out on her own, however, she ran into several issues.
"I started telling everyone I encountered whom I couldn't understand that I was deaf," she said. "Most refused to accommodate me. I just kept saying 'I can't understand you,' until they figured out how to communicate."
@shannon_heroux described several occasions in which she told a staff member of a business that she was deaf but was unable to communicate with them because they didn't pull their masks down to allow her to read their lips, or they didn't write what they needed to say down on a piece of paper.
"We do the right thing and you guys don't care," she said in her video. "Something needs to change. So my message to Dunkin' Donuts: I want an apology. I've never felt this way and I don't wish this upon anyone."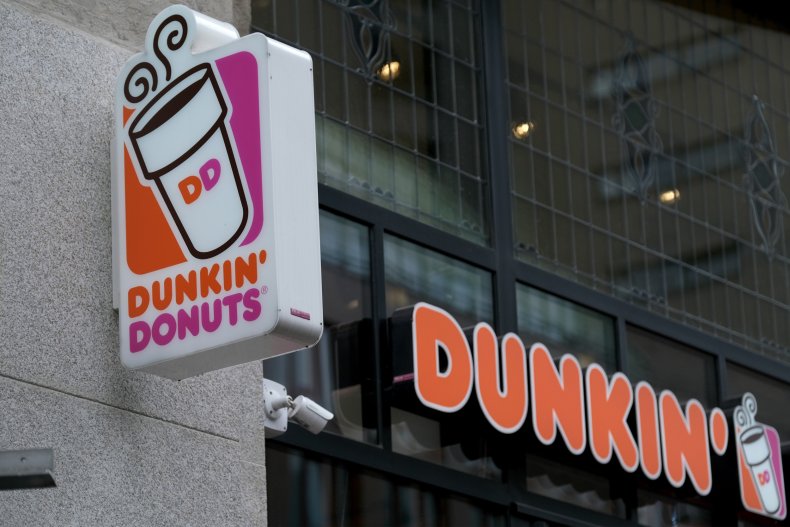 TikTok users flocked to the comment section to voice their support for @shannon_heroux, and many of them pointed out that the employee could have communicated through writing.
"Even if the employee policy is to keep the mask on, they still should have tried to communicate w you. Write on paper, type on phone, ANYTHING," one comment read.
Another commenter wrote, "I am so sorry; I am very pro mask by this was uncalled for. They need to take situations into account and make better judgment calls."
TikToker @shannon_heroux filmed a follow-up video and said the corporate office of Dunkin' reached out to her and told her she would receive an update about what would happen to the store location she tried to order from. She also said the general manager of the location wanted to meet with her to apologize and to take care of her order.
"I felt like that wasn't going to be enough, so that's why I reached corporate in the first place," she said. "It's important that changes get made and I stand up for the deaf community."
@shannon_heroux said she was shocked to find that her videos when viral. Her friends called and emailed the corporate office, and she said she is continuing this "fight" for others in the deaf community.
"It is time for the stigma surrounding the deaf communities to be corrected and properly inform the public what we are about and how to help us get through this pandemic with that added disadvantage it has caused," she said.
A representative from the corporate office of Dunkin' told Newsweek that they "take matters like this very seriously."
"At Dunkin', we are committed to creating a welcoming environment and treating every guest with dignity and respect," a spokesperson said. "We have contacted the guest to apologize, and we are actively working with her to resolve the matter."
Since her videos went viral, @shannon_heroux told Newsweek that she's heard from other people who are deaf or hard of hearing who are going through the same situation. She has since met with the owner of the Dunkin' location, and the two went over things that could help prevent an incident like this in the future.
"We discussed clear masks, whiteboards for the deaf-mute, laminated menus to check or circle your order, retraining to know how to handle and accommodate those with disabilities, etc.," she said. "I'm still thinking of how it can be properly conducted but these are a good start."