Woman Claims Steve Wynn Got Her Pregnant After Repeatedly Raping Her
One of the two women accusing casino mogul Steve Wynn of sexual misconduct told Las Vegas Police that she had his baby in the 1970s after he repeatedly sexually assaulted her.
Las Vegas Police reports reveal the latest allegations against the 76-year-old billionaire have emerged in the past month, ABC News reported. The new allegations by two women date to the 1970s and include one woman who says she had the mogul's baby in a gas station restroom.
Wynn, who was forced to step down as chief executive of Wynn Resorts following a Wall Street Journal report detailing several allegations, hit back at the new claims.
"Mr. Wynn has never been supplied with these unsubstantiated accounts or the names of these accusers by the Las Vegas Metropolitan Police Department," a spokesman for Wynn said in a statement, according to CNBC.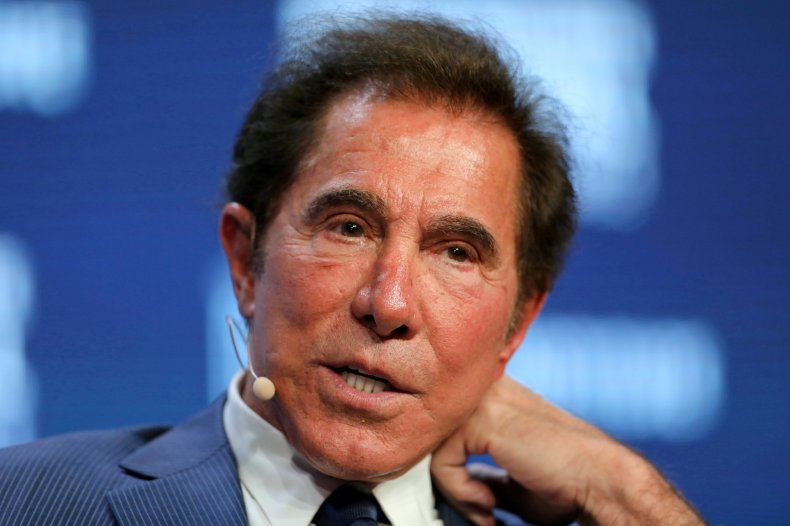 "It's revolting that the media repeated such inflammatory claims from events that supposedly occurred four decades ago without the slightest bit of fact-checking or skepticism."
Just a day after Wynn announced he was stepping down from his gambling and resort empire, a woman claimed to Las Vegas Police that Wynn had repeatedly sexually assaulted her between 1973 and 1974 while living in Chicago.
According to the report, she told police that during one encounter, Wynn came into her apartment unannounced.
"She was exercising in her old apartment and when she stood up, Stephen Wynn was standing in front of her and said a word that she didn't understand, and then pinned her up against the refrigerator and raped her as she was standing holding onto the refrigerator," the report said.
"Stephen then called someone for a few minutes then came and kissed her on the cheek and said he had to go and then added [I'll] call you later."
The report continued: "When he left, she was still standing holding onto the refrigerator and looked at the window and saw her reflection, crying, and asking herself what just happened, what did she say?"
The woman told authorities that Wynn attacked her again a few days later. She said that after showering and wrapping herself in a towel, she was heading to her bedroom when she saw Wynn sitting at the kitchen table.
"He got up and says some words, pinned her to the wall forcing himself on her then just like before, he called someone, kissed her on the cheek and said he would call her later and left," the report said.
The report said the woman was crying after the alleged assault and questioning why it had happened to her. "She didn't give him a key to her apartment," the report noted.
The woman claimed she became pregnant during the assaults and gave birth to a baby in a gas station restroom. She described the baby as being a "doll inside a water bag."
"She used her teeth to make a small opening, then with her fingers opened the water bag and saw that the doll was purple," the report said. "She started to blow on her and in a short time, her cheeks were turning pink and she opened her eyes. She looked so much like her."
She said a gas station attendant saw her and called an ambulance. The woman's daughter lives in Las Vegas with her own family, the report said.
Another case was reported to Las Vegas Police on January 29 by a 67-year-old woman who claimed to have had a sexual relationship with Wynn between 1974 and 1976 while she was a card dealer at the Golden Nugget. She told police "the sex was consensual but she felt coerced to perform the acts."
She tried to end the relationship in the summer of 1976. Soon after she was accused of stealing $40 from the Golden Nugget, which Wynn owned, and "forced to resign."
Las Vegas Police said they are investigating the allegations.