Woman Collecting Next Door's Dog for Sleepover Hailed As 'Best Neighbor'
A "wonderful neighbor" has delighted viewers after going to their neighbor's house at night to pick up her dog, after she informed her she wouldn't be home until 3 a.m.
In a video shared on TikTok on Saturday, under the username Calipolarbearcom, the user from North Carolina explained that her neighbor told her was coming home late, so she went to her place and picked up her dog, to take care of him until she was back.
The dog can be seen very excited to see her, wagging his tail uncontrollably and jumping all over her, happy that she came to his rescue.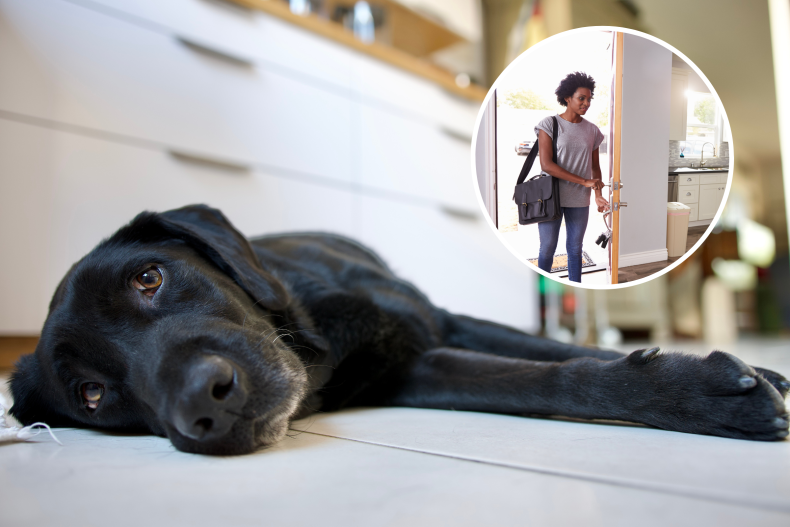 The heartwarming clip comes with a caption that explains: "My neighbor texted me that she's not coming home till 3 a.m. So I decided to get her dog, Beaver, to stay with us until she gets home. He's been alone for nearly 12 hours, goodest boy."
Followed by: "He left me! Running fast to our house."
Further down in the comments, Calipolarbearcom reassured users that: "Beaver is loved and a spoiled dog at their house and in our house. His momma has an emergency. All good I promised!"
But finding a trusted neighbor to have such a relationship with is no easy task. According to Pew Research Center, about 57 percent of Americans say they know only some of their neighbors. Only 26 percent say they know most of them.
Moreover, the older generations (those aged 65 and older) are more likely than those ages 18 to 29 to say they know most of their neighbors.
The video quickly attracted animal lovers from all over the platform, receiving over 834,000 views and 104,100 likes so far.
One user, kellybenson875, commented: "Take him outside to go potty and then let him have a sleepover at your house!" And Argentyne said: "So wonderful of you to go get him! 12 hours is too long for a dog to be alone and not get to go outside!"
Lammies wrote: "your a wonderful neighbor."
And nsmithlnc added: "You're the best neighbor!!!" and sourPatch7573 said: "She's so lucky to have you as a neighbor and a person who cares ... things happen and it's always a relief to know someone is there to help when needed."
Another user, theresarhoades, commented: "He's lucky to have you for a neighbor." And Kmrb777 said: "My neighbor and I also have keys to each other's houses so we can help each other out in emergencies. Like lonely dogs."
Msrbhill added: "Awe, he was so happy to see you! I keep an eye and help out my neighbor with their dog too."
Dollardiva88 said: "You're the goodest neighbor." And Yazz Alzuhair wrote: "Where can I get a neighbor like you?" Amyrou added: "Wish I had a neighbor like you."
Newsweek reached out to Calipolarbearcom for comment. We could not verify the details of the case.
Do you have funny and adorable videos or pictures of your pet you want to share? Send them to life@newsweek.com with some details about your best friend and they could appear in our Pet of the Week lineup.