A woman caught saying "KKK beliefs" while waving the Confederate flag has apologized and said she "blacked out" and didn't fully understand the meaning behind the flag.
In the now-viral video, Kathy Jenkins can be seen sitting in the back of a parked pick-up truck decorated with Confederate flags, as she holds one. The truck is parked in the parking lot of a Confederate-themed store, Dixie Outfitters, during a Black Lives Matter protest in Missouri.
Jenkins was wearing a camo print "Make America Great Again" hat and the man in the truck behind her is wearing a tank top that says: "Of course your opinion matters, just not to me."
Other people, including children, can be seen in the background holding Confederate flags while a police officer stands nearby.
Jenkins tells the Black Lives Matter protesters she will teach her grandchildren to hate them. She then holds up the Confederate flag to the protesters and tells them to "suck on this," before saying "KKK beliefs."
As a result of the video going viral, Jenkins was fired from her job and has left Branson, where she had lived for six years.
However, Jenkins has now apologized and claimed that she attended the protest to see what it was about and had even chanted Black Lives Matte⁠r—"but it wasn't caught on camera.
Jenkins claims she was sitting in the truck of somebody she didn't know and was handed a Confederate flag, but didn't know what it meant and assumed it meant something about unity.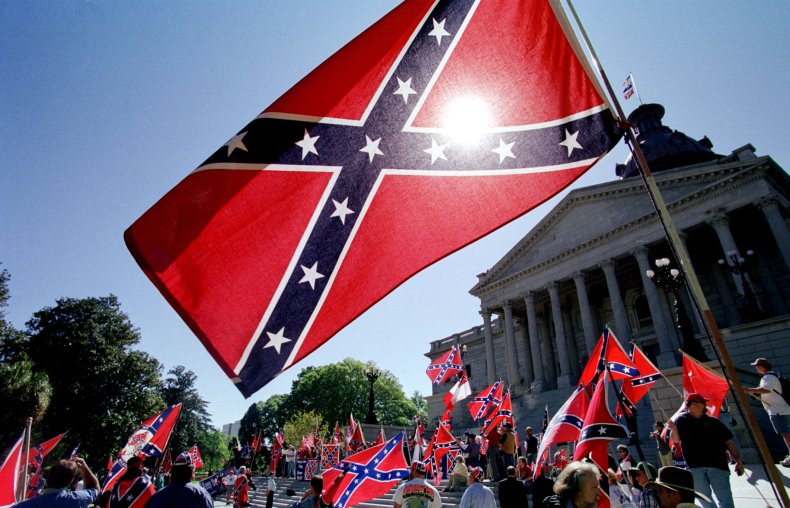 Jenkins told Ozarks First she lost her temper when the protesters approached her and said: "I hadn't said anything until they came into my face...It's like I blacked out. I don't even remember saying half the stuff that I said."
In response to her saying "KKK beliefs," Jenkins said: "I wasn't saying I'm KKK or for the KKK. I was mocking them because I don't like being called a racist."
Jenkins said she will never hold a Confederate flag again, adding: "I'm so, so sorry. I mean, if it would help for me to stand with Black Lives Matter, I absolutely would do that."
In a written apology Jenkins said: "I just wanted to start with saying that I am truly deeply sorry for what I said. This isn't who I am as a person. I obviously cannot take back what I said. I can only learn from this. I want to make it clear. I am not teaching my children or grandchildren to hate anyone. No one. Ever.
"I've always taught them to respect and love anyone no matter the race. I've always taught them to treat people with the same respect as they would want to be treated. My words and actions have been a learning experience.
"Not only did I learn from this, but I hope this message helps others that they cannot take back what they have said. Again I am so so sorry because that is not who I am. I would never ever want to see anyone hurt and I don't care who they are."