Woman Draped in Confederate Flag Praises 'KKK Belief' at BLM Protest
In a new viral video, a woman draped in a Confederate flag screams at Black Lives Matter protesters shouting, "KKK belief."
The woman was responding to Black Lives Matter protesters at a local Dixie Outfitters store in Branson, Missouri. According to Springfield News-Leader, the woman identified herself as a local resident named Kathy Bennett.
Sitting on the back of a pickup truck with multiple Confederate flags, the woman, wearing a camouflaged "Make America Great Again Hat," screams at protesters. "I will teach my grandkids to hate all of you people," she says as she stands up.
As she holds up the Confederate flag, she says, "suck on this" before shouting "KKK belief" and pumping her fist in response to a protester.
Other people can be seen in the background of the video wrapped in Confederate flags. A man is sitting on the back of the truck, wearing a t-shirt that reads, "Of course your opinion matters, just not to me."
The woman shouted many things in response to protesters. According to the Springfield News-Leader, the woman shouted, "Cops lives matter," when crowds chanted "Black Lives Matter."
"It's not just Black Lives Matter," she told News-Leader. "It's about white lives matter. Cops lives matter... Our officers are being f***ing beaten and killed, and they are not being recognized at all."
The video has since been viewed over 7 million times on Twitter.
Springfield News-Leader reported that about 65 people supporting the Black Lives Matter movement showed up at Dixie Outfitters to protest. About 50 people were there to support the store and the Confederate flag. Dixie Outfitters sells various pieces of clothing, souvenirs, and more, many of which show the Confederate flag.
Dixie Outfitters did not respond to Newsweek's emailed requests for comment in time for publication.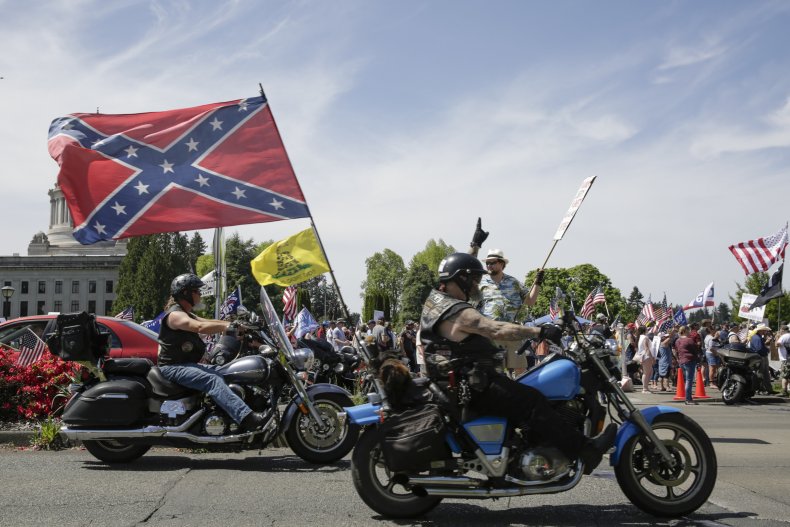 Many people shared the video, calling out the woman for openly supporting the KKK. Rapper and actor Ice T called her the "racist of the day." Singer and actor Todrick Hall also shared the video.
NFL player Jamal Agnew shared the video and also took issue with the children standing in the back wrapped in the flag. "Racism ain't goin nowhere unfortunately," he tweeted. Other people, like musician Telle Smith, also said the video illuminated how racism is taught, and people should make efforts to make sure other children don't grow up learning it. "Nobody is born with hate in their hearts, so we need to elevate the environment in which the future generation will be raised or nothing will change," The Word Alive singer wrote.