Woman Confronts North Carolina Police Not Wearing Masks: 'Why Are You All Breaking the Law?'
A North Carolina resident confronted police officers about their lack of compliance with the state's face mask mandate and requested an explanation, but she did not receive one during the recently recorded encounter.
The unidentified woman is heard questioning two officers, whose uniforms display the emblem associated with North Carolina's Alamance County Sheriff's Office, in a brief video shared online Monday afternoon. Despite statewide health orders that require North Carolina residents to wear face coverings in public settings where physical distancing is not maintained, the officers are unmasked and standing shoulder to shoulder in Monday's video.
"I'm curious. Why aren't any of the police wearing masks, in violation of the governor's order?" the woman asks. When neither officer responds, she inquires again, "Why are you all breaking the law by not wearing masks?"
The woman, who remains behind the camera throughout the video, encounters increasing hostility as the interaction goes on.
"We're not breaking the law. We know you're with antifa," one officer tells her, using the term for leftist militant groups that resist neo-Nazis and white supremacists at demonstrations. President Donald Trump has called "antifa," shorthand for anti-fascists, a terrorist organization.
The officer's comment prompts an argument that soon involves two individuals standing nearby. Neither person is wearing a mask or standing at a distance from the rest of the group.
Wearing face masks in public spaces and maintaining 6 feet of distance from others is required in North Carolina, as stated in health guidelines to reduce the risk of coronavirus transmission.
North Carolina's Department of Health and Human Services outlined the measures in updated guidance issued August 3, after the state reported an increased incidence of virus cases throughout June and July. Data published by the DHHS indicates North Carolina's outbreak trajectory began to curve downward during the second week of August.
As of Tuesday, August 18, more than 145,500 people have tested positive for the virus statewide.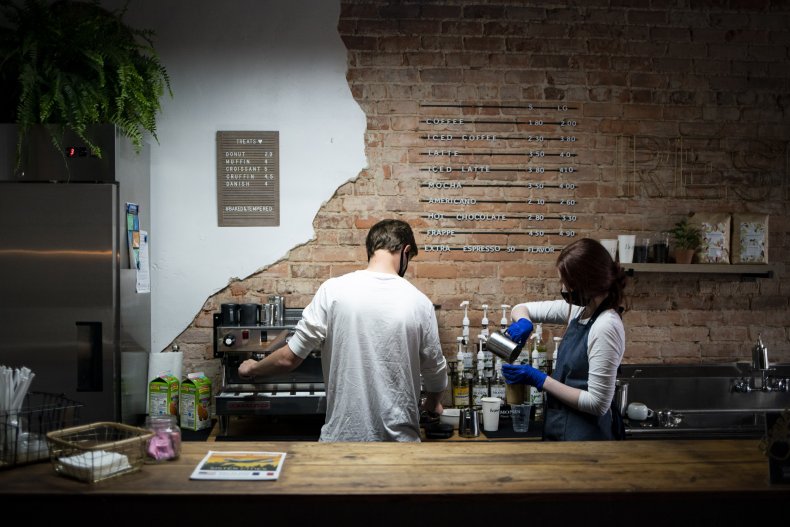 The department's guidance lists only two scenarios in which individuals are exempt from face mask and social distancing requirements: while inside their own, or someone else's, personal residence and while participating in a religious ritual.
Throughout the summer, police officers across the U.S. were seen at public demonstrations and private gatherings without wearing masks or practicing social distancing, in violation of various health orders in their jurisdictions. When demonstrations against police violence and systemic racism started in late May and early June after the death of George Floyd, HuffPost reported that some law enforcement agencies permitted officers to abide by mask orders at their own discretion.
Newsweek reached out to the Alamance County Sheriff's Office and North Carolina's DHHS for comments but did not receive replies in time for publication.