Woman in Controversial Biden Picture Finally Speaks Out: 'It was Unwelcome, Uncomfortable and Strange'
Sofie Karasek, a rights advocate for survivors of sexual abuse, has spoken out about a widely criticized picture which showed her and former Vice President Joe Biden touching foreheads at the 2016 Oscars.
Karasek has referred to the moment, captured on camera, as "unwelcome, uncomfortable and strange," as accusations of inappropriate touching swirl around Biden ahead of a presumed run at the 2020 Democratic presidential nomination.
Writing in the Washington Post, the survivors' rights advocate and progressive organizer explained how the incident with Biden came after she and 50 other sexual assault survivors shared a stage with Lady Gaga at the Academy Awards.
The performance followed the rape and subsequent suicide of Alabama college student Megan Rondini. Karasek explained how the moment of touching came as she recounted Rondini's story.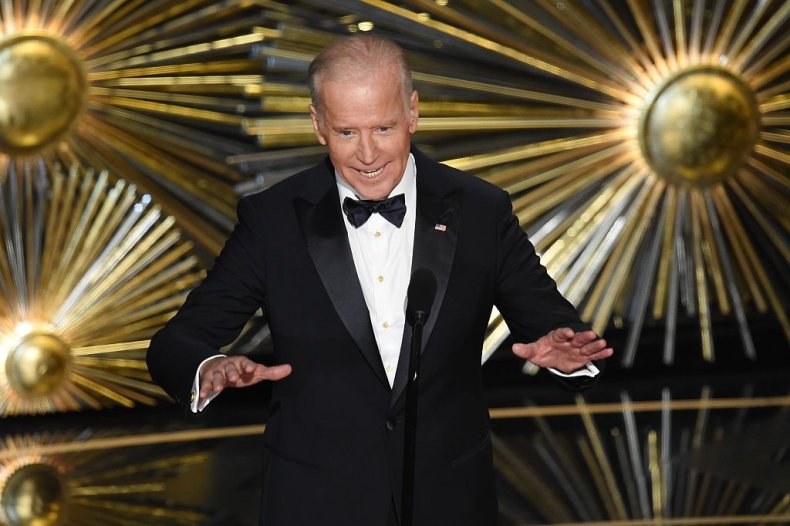 "Biden introduced the performance and asked to meet us afterward. I felt the urgency of this crisis coursing through my body—that the failure to support survivors could lead to more deaths—and I told him Rondini's story. In response, he leaned down, took my hands and put his forehead to mine," the activist said.
"I was taken aback. I averted my eyes, hoping my body language could shorten the interaction. I didn't think he was going to kiss me, but it felt like if I met his eyes, it wasn't out of the question, either. It was unwelcome, uncomfortable and strange. At the same time, I was glad to convey this serious message to him, glad it seemed to resonate with him," Karasek added.
She explained her uneasy relationship with the photo. On the one hand it enabled Rondini's parents to find the resources to pursue justice and brought attention to the plight of abuse survivors, on the other it was a reminder of an unsettling moment. As time passed and the MeToo movement gained momentum Karasek became increasingly aware of the problems encapsulated within the photo.
"Because he has been active on this for so long ... he should have realized much earlier that he could be making women uncomfortable and that, given his powerful position, women could be holding back from expressing those feelings," she wrote in the Post, referring to Biden's long history of addressing sexual violence.
In a two-minute video released Wednesday, Biden acknowledged his past behaviour of close contact with women and pledged to change. "I want to talk about gestures of support that I've made to women and some men that have made them uncomfortable," Biden said. "The boundaries of protecting personal space have been reset. I get it. I get it. I hear what they're saying and I understand it," he added. "I'll be much more mindful. That's my responsibility and I'll meet it."
Biden's touching of women in photographs and in video footage was called into question after former Nevada lawmaker Lucy Flores claimed the former vice president kissed her on the back of the head at a campaign event. After Flores came forward several more women have raised the issue of Biden invading their personal space.
Woman in Controversial Biden Picture Finally Speaks Out: 'It was Unwelcome, Uncomfortable and Strange' | U.S.