Woman Convenes Her Own Grand Jury After Sexual Assault Charges Against Accused Are Denied
A 22-year-old Kansas college student took matters into her own hands, calling a grand jury after the district attorney refused to press sexual assault charges against her classmate whom she alleges raped her, saying she felt the district attorney did not listen to her.
"My biggest thing is that I wish that when the attorneys and district attorneys and prosecutors and whoever's prosecuting these types of crimes would not make up their mind before they talk to the victim," Madison Smith said.
"Because I definitely feel my attorney made up his mind—and he did make up his mind, and called it 'immature sex' before he even talked to me. I feel like he didn't even hear me. I wish that he had been more understanding and more willing to bring rape charges on the perpetrator."
Smith said she was having consensual sex with a classmate on Bethany College's campus in Lindsborg, Kansas, in February of 2018. She said it turned into assault when her classmate allegedly began strangling her and forced her to perform oral sex.
"I tried to initially pull his hands off of my throat, and he squeezed harder every time," Smith said during a court hearing. "I truly thought that he was going to kill me and the only way I was going to leave that room was in a body bag."
Smith's classmate, Jared Stolzenberg, pleaded guilty to aggravated battery and received two years' probation, but McPherson County Attorney Gregory Benefiel did not charge him with sexual assault, which Smith found inadequate.
There was an attempt to discuss the charges with Benefiel, who said in meetings with the family that there was no clear withdrawal of consent, the Washington Post reported.
"If we go with the county attorney's logic that she had to verbally withdraw consent, when she had initially given it...all you have to do is incapacitate victims verbally," Mandy Smith, Madison Smith's mother, told Newsweek. "With his logic, a mute person or an unconscious person or a drunk person can't be the victim of rape."
Benefiel did not respond to a request for comment from Newsweek.
"There is no doubt in my mind that Madison believes that she was a victim of rape," Benefiel told the Washington Post. "It was approached in that way, and then charging decisions were made based on the evidence that was available in the case. I don't believe that we minimized this."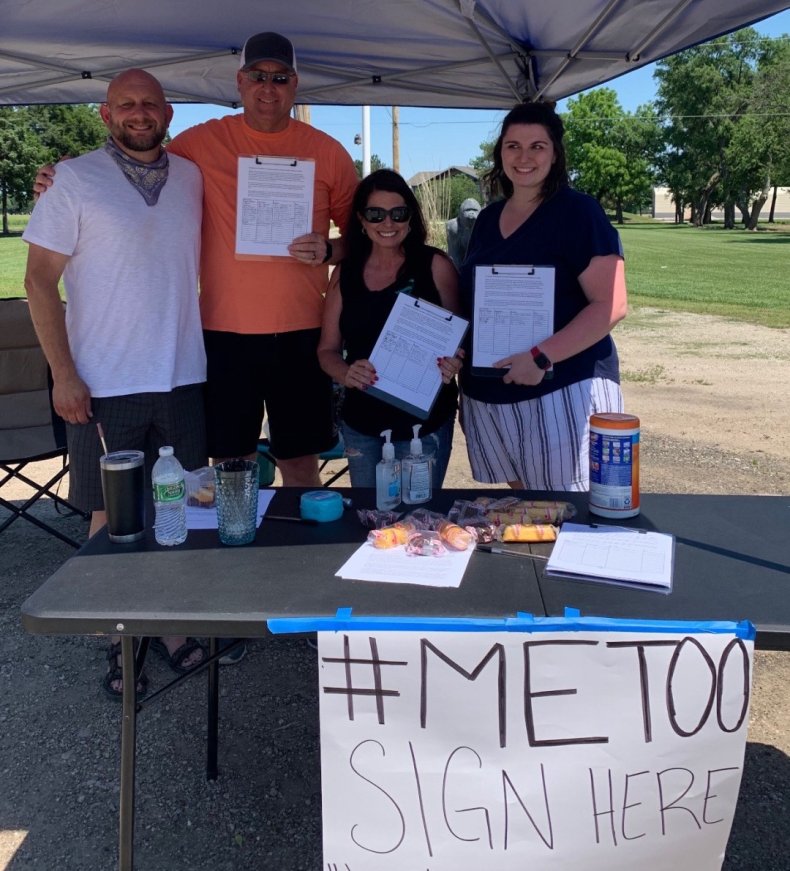 Feeling they were out of options, Mandy Smith contacted Justin Boardman, a former Utah detective who spoke in a podcast about prosecutors mishandling or undercharging sex crimes.
Boardman informed the family of an 1887 Kansas law that allows citizens to go around prosecutors and seek an indictment on their own. It requires getting petition signatures amounting to 2 percent of the county's vote total in the last gubernatorial election, plus 100.
"I threw out a Hail Mary, which was the grand jury law, and it actually worked," Boardman said. "I teach investigations all over the country, and I was lucky that they reached out because the system just chews up victims and spits them out. Our prosecutors don't understand, they're not trained, especially around the neurobiology of trauma."
Madison Smith collected 329 signatures, and filed the petition with the grand jury in September 2020 after a technicality caused her first petition to be rejected. The second petition was accepted by a three-judge panel, and last Tuesday, a judge set the hearing for September 29.
Boardman's website details the accounts of Madison Smith's struggle with the legal system to properly file a petition in time. There is an option to leave messages for Smith, many of which detail similar experiences and messages of support in her fight.
"Please know that so many of us are standing with you, cheering you on, and we hear you: the system didn't take your voice, and you're using it to fight for what's right, for yourself and for all survivors. I don't know if you know this, but you should: you are a hero. Keep going!!" one message reads.
Madison Smith said that regardless of the outcome of the grand jury, she wishes for her battle to inspire other survivors to keep fighting for justice, FOX4 reported.
Mandy Smith said she was also "inspired" by her daughter's fight, saying she hoped they could make some changes in the culture of sexual assault.