Woman Coughs on Shoppers, Deputy After Refusing to Wear Mask
A woman refused to wear her mask and deliberately coughed on other shoppers in a store in Cypress, Texas before pushing a responding officer, KTRK reported.
Deputies from Harris County Constable, Precinct 4 were called to a disturbance inside a Tory Burch store at the Houston Premium Outlets on Tuesday.
Amy McCay wouldn't leave the store after being asked to wear her mask and refusing, according to KTRK. Employees also claimed that the woman was coughing on other shoppers.
When deputies arrived, officials said that McCay allegedly pushed a deputy after they attempted to get her to cooperate. She was arrested on a $10,000 bond and charged with felony assault on a peace officer.
Other incidents involving disgruntled customers who disagree with private stores' continuing mask mandates have occurred after governors began passing the torch to private business owners earlier this year.
In April, an incident in a Trader Joe's in Phoenix got fairly heated after more than three employees tried to ask a customer to put on a mask or leave the store, 12News reported.
A video of the argument shows the unidentified man saying, "I'm not going to wear a mask. It's not enforceable."
After being asked by multiple customers around him as well, he responded, "It's a free country, I'll cough if I feel like it."
Arizona Governor Doug Ducey said in an interview in April, "When private businesses are asking people to wear a mask, let's respect the private business and wear a mask. They're a good idea. Arizonans have been among the leading states in the nation in mask participation and compliance. Let's keep that up as we move through this."
One customer from the Trader Joe's incident, in reference to customers refusing masks, told 12News, "If you don't like it, you need to respect it the same you would respect a no shirt, no shoes, no service policy. It's that simple."
While the lifting of mask mandates across the country recently has excited some people, others are still wary.
The New York Times reported in May that the mask confusion has left many wondering who to believe. "I'm going to wear a mask for a long time to come," said Fanny Lopez, 28, in San Antonio. "I trust the mask more than the vaccine. The government messages are confusing, telling us to wear a mask one day and the next day no."
Recent Centers for Disease Control guidance says that fully vaccinated people no longer have to wear face coverings and or distance themselves in nearly all situations, and mandates are beginning to lift nationwide.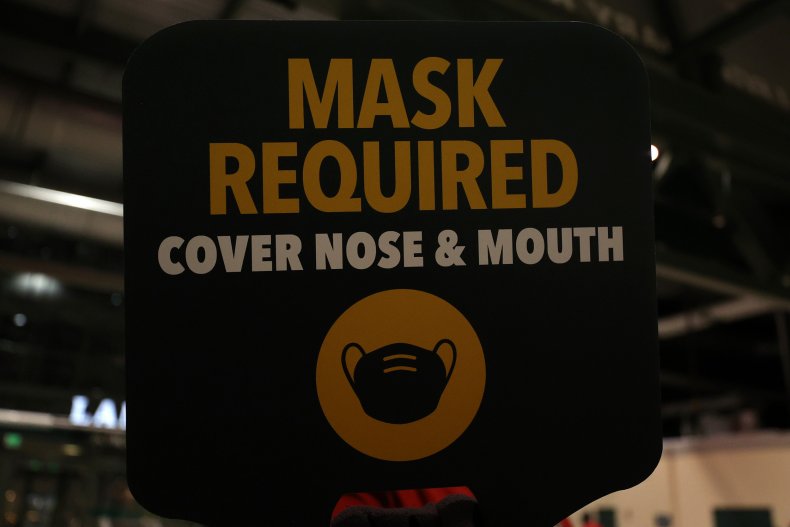 Newsweek reached out to Harris County Constable, Precinct 4 for additional comment.