These Women Could Beat Trump in 2020, So Naturally They're Being Attacked Like Hillary Clinton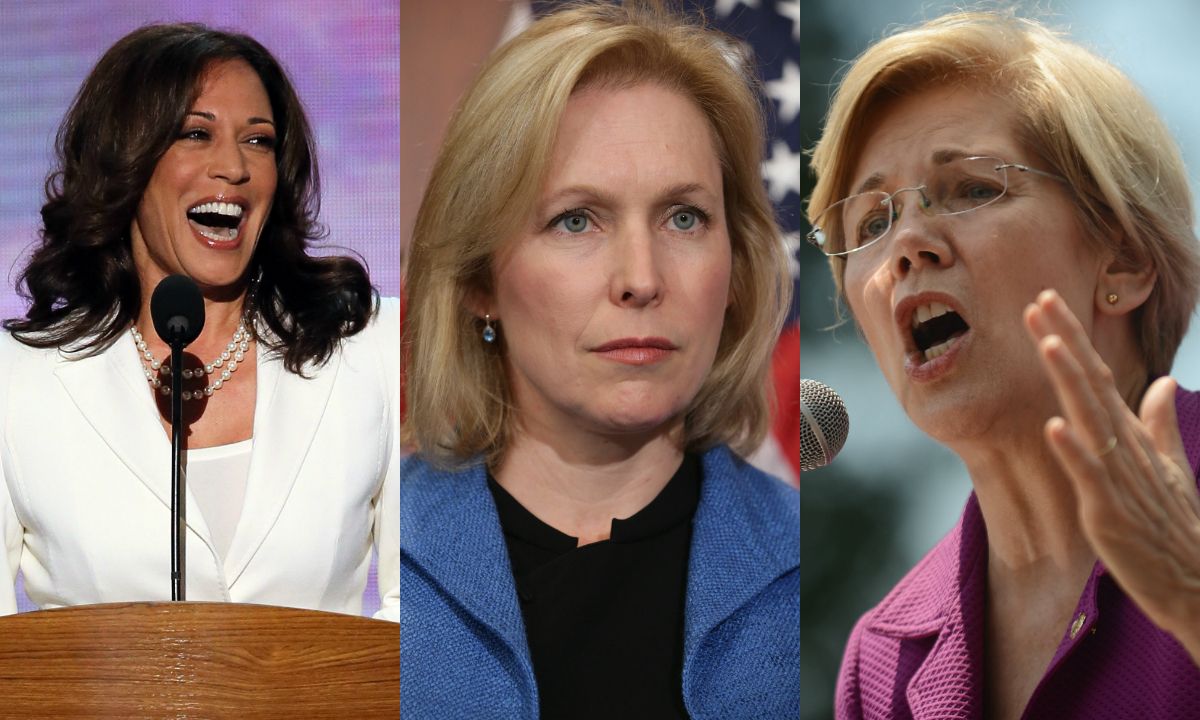 One of three Democratic senators seen as potential candidates in the 2020 presidential election—Elizabeth Warren (Massachusetts), Kamala Harris (California) and Kirsten Gillibrand (New York)—could earn the historic opportunity to end Donald Trump's tenure in the White House and become the first female American president. But before any one of them even gets a chance to accept her party's nomination, she'll be forced to battle the intense scrutiny and unparalleled criticisms Hillary Clinton faced last year.
All three women have gained notoriety in Trump's America for helping to lead the Democratic agenda and for decrying the president's conservative rhetoric toward immigrants and minorities. Each has also raised speculation over whether she will announce a run for the Oval Office during the next campaign season. With such speculation—and optimism from Democrats, who are hoping for another shot at breaking that nearly cracked glass ceiling—has come echoes from 2016, when Clinton was deemed too unlikable and aggressive for the job by many Republicans and Democrats alike.
Related: Here's how Donald Trump could actually be impeached
Whether any of the senators runs for the highest office in the country is not yet known, but the exact terminology used to undermine Clinton's candidacy as the first female to represent a major party in the battle for the White House is already being applied to them.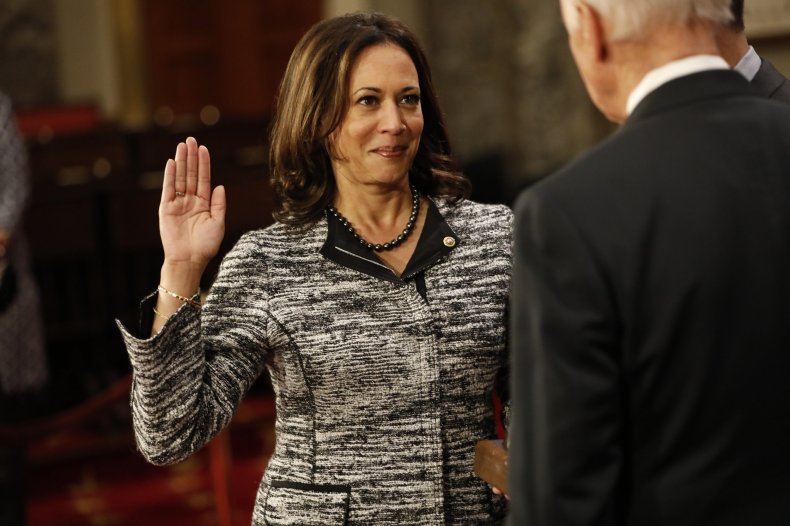 "This is exactly what happens when women have the audacity to think about running for the highest office in the land," Debbie Walsh, director of the Center for American Women and Politics, tells Newsweek. "We've seen this double standard of language confronting female candidates forever. A man is 'strong,' while a woman is 'aggressive.' A man 'speaks out,' a woman is 'shrill.' A man is 'serious,' a woman doesn't smile enough. Sadly, here we are in 2017, and this is still the case."
Gillibrand, a rising senator from New York and lifelong women's health advocate, has been the subject of misogynistic attacks throughout 2017. One right wing news outlet derided her for attempting to "look like the cool parent on the club soccer sideline," noting it's even worse she's a "vocal proponent of feminism." The Washington Times penned a piece on Harris titled, "Kamala Harris: Eric Holder in a Skirt." Warren has been described as "toxic" for the Democratic Party by the right wing media and members of the Republican National Committee, including spokesperson Rick Gorka, who said comparing her to Democratic Minority Leader Nancy Pelosi "will be an effective way to brand vulnerable Democrats."
The Barbara Lee Family Foundation has been studying voter perceptions of female candidates for years, finding additional barriers and obstacles women must overcome in order to receive support from the American public. "Voters assume men are qualified; they do not assume women are qualified," Adrienne Kimmell, the foundation's executive director, tells Newsweek. "What we tend to see recently is once a woman appears to be a contender or ambitious more than people would like that woman to be, there's an increase in chatter around traits people find unlikable."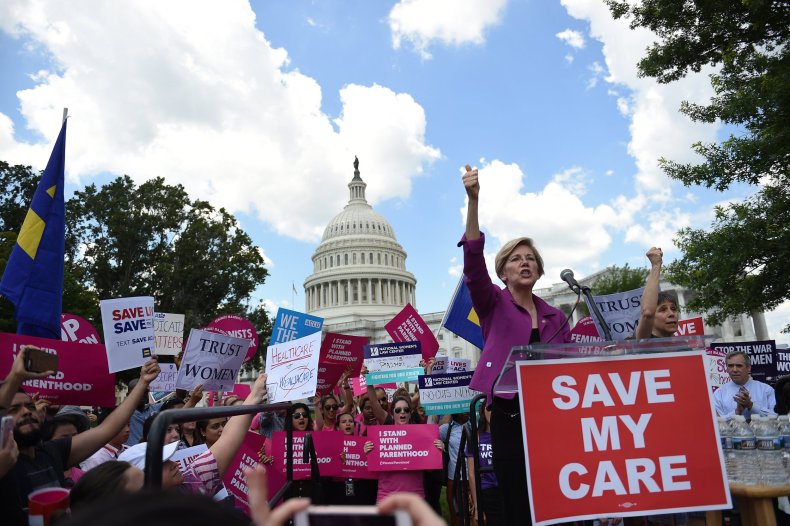 The foundation's study, "Politics is Personal: Keys to Likability and Electability for Women," suggests a number of actionable items female candidates can take to counter the gendered scrutiny they face when running for office.
"Voters assess a woman's confidence in less than 30 seconds," Kimmel noted. "But there are tactics women can take that will allow them to display their likability, which is essential for female candidates—showing them engaging in communities with children and constituents, talking about seemingly mundane problems they've solved in their communities, like snowstorms or sewage systems—that's surprisingly appealing for voters when it comes to women.
"They should take credit for things they've done, but share that credit with their team, or with supporters. They should show a sense of humor, but certainly you can't be silly. It's an incredibly fine line."
The disadvantages women face in politics became magnified and overtly clear on a grand scale during last year's election. But Democratic strategists like Celinda Lake, president of the political research firm Lake Research Partners, believe female candidates may have a unique opportunity in the age of Trump to rise into power.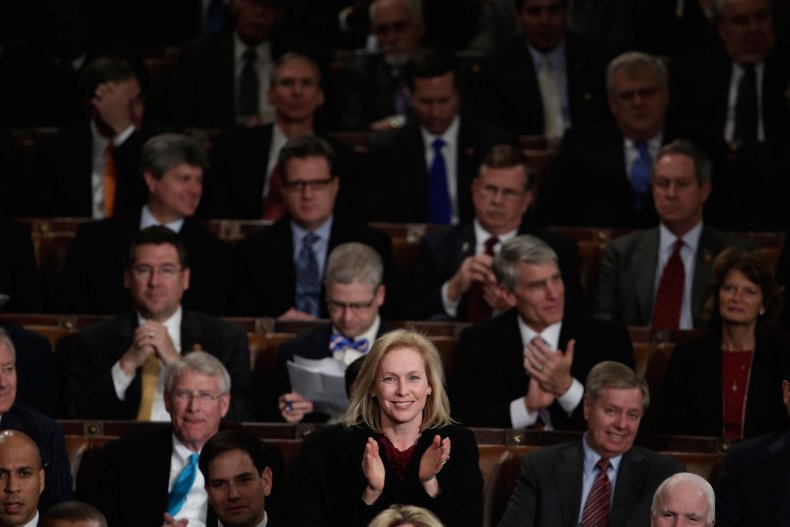 "One thing that's different is that in a re-election, the race is more about that incumbent. It was hard to make these things stick to Trump, but now he'll have a record. And because of her complicated history and being a Clinton, it was much easier to vilify Clinton. If you try to use the same strategy against women again in 2020, it will become exhausted."
Whereas some folks will inevitably lambast female candidates regardless of their political identity—former Republican candidate Carly Fiorina was also attacked by both Trump and voters for her appearance—the tides could soon be turning on how the majority of the nation views those critiques, Lake noted.
"The problem with the narrative that Hillary wasn't the right female candidate won't hold up, since there will be so many of them running," Lake continued. "But likability will always remain a bigger issue for women. It's much harder for a woman to run if she is disliked, while voters will totally vote for a man who is qualified even if they don't like him."
The 2020 presidential race will prove to be the ultimate test in determining whether gender politics have the same impact they did last year in Trump's shocking electoral victory. For now, the president's support among women appears to be plummeting, with analysts citing his use of social media and behavior in office as key factors in the demographic's disdain. Moreover, the bough may be breaking for Trump's base, as white Republican voters flee his stalled agenda and his attacks against his own party via Twitter.
All that is to say the future may very well be female. But the path leading to it is paved with unprecedented obstacles that must be dealt with before that oval glass ceiling can finally be broken.