Woman With COVID-19 May Have Developed Rare Brain Disease From Coronavirus, Her Detroit Doctors Say
A woman in Detroit is thought to be the first person to have brain damage linked to COVID-19, according to the doctors who treated her. The clinicians stressed it is not clear if the rare condition was caused by the new coronavirus, but said it was important for doctors to be aware of it as a possible complication.
The case of the unidentified 58-year-old COVID-19 patient diagnosed with a rare form of brain damage known as acute necrotizing hemorrhagic encephalopathy was detailed in the journal Radiology. The condition has been linked with other viral infections in the past but not yet COVID-19, the authors said.
Dr. Elissa Fory, a neurologist at Detroit's Henry Ford health system who helped to diagnose the woman, said in a statement the patient had experienced a fever, cough and muscle aches. She was rushed by ambulance to an emergency room on March 19, after becoming confused, lethargic and disoriented.
According to the journal article, the woman tested positive for COVID-19, and negative for the flu. The team were unable to test the woman's cerebrospinal fluid for SARS-CoV-2, the virus that causes COVID-19 (not to be confused with the SARS virus).
MRI scans showed abnormal lesions in parts of the woman's brain associated with consciousness, sensation and memory function, the statement explained. "The 58-year-old female patient is hospitalized in serious condition," the health system said.
The authors of the paper explained acute necrotizing encephalopathy is a "rare complication" of viral infections such as the flu, particularly in children. It has been linked to cytokine storms, where the immune system dangerously overreacts. This can "result in blood-brain-barrier breakdown," they said.
Growing evidence suggests some COVID-19 patients might experience cytokine storms, according to the team.
Fory said: "This is significant for all providers to be aware of and looking out for in patients who present with an altered level of consciousness. We need to be thinking of how we're going to incorporate patients with severe neurological disease into our treatment paradigm.
"This complication is as devastating as severe lung disease."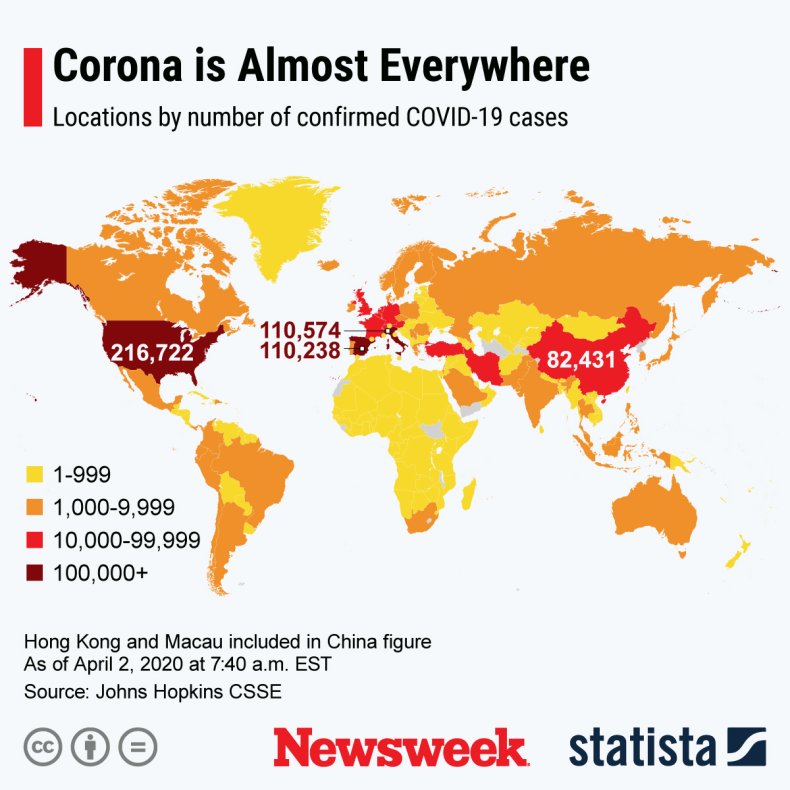 As indicated in the map by Statista below, COVID-19 has spread to almost every country and territory in the world. According to Johns Hopkins University, almost 1 million cases have been confirmed worldwide, 47,522 people have died, and at least 195,929 have recovered. According to the CDC, common COVID-19 symptoms include a fever, cough, and shortness of breath.
Professor Neil Scolding of the U.K.'s University of Bristol Institute of Clinical Neurosciences, who did not work on the paper, told Newsweek: "This is the first reported case of severe brain inflammation related to COVID-19 and so is highly significant.
"We had suspected this kind of inflammation could occur, since it happens—though rarely—with conventional influenza virus infection, and with other viruses related to COVID-19."
Scolding said the study "serves as a valuable reminder to the medical community to look out for this complication."
Asked who might be most at risk of such a complication, Scolding said: "We don't know who will be most susceptible. With flu, it is children who are more likely to get this complication—but children seem rather resistant to COVID-19, and the individual in this report is an adult."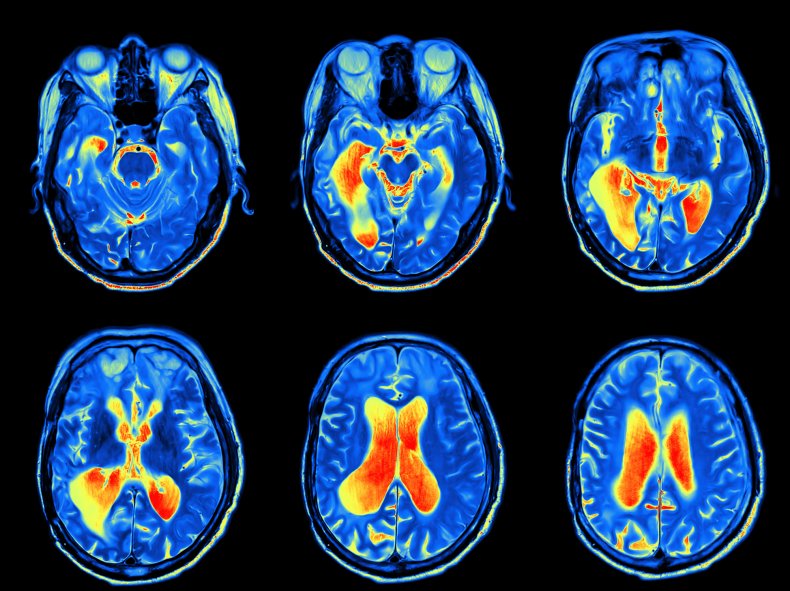 Scolding stressed: "We do think it will remain a rather rare complication, and so I do not think people should start routinely looking out for confusion or other brain-related symptoms."
Professor Cris S. Constantinescu, of the Division of Clinical Neuroscience at the U.K.'s University of Nottingham Queen's Medical Centre, told Newsweek that while the case study describes a single report, it adds to the emerging evidence that SARS-cov-2 can affect the nervous system.
As the test to detect the virus in the cerebrospinal fluid could not be performed, "it is unclear whether the encephalitis was the direct effect of viral invasion" he said.
Constantinescu said it is "important" for people to look out for symptoms such as confusion as a potential COVID-19 symptom.
"In particular people with neurological diseases requiring immunosuppressive treatments such as multiple sclerosis or myasthenia gravis should be vigilant as they are at higher risk of infection, and have diminished immune responses to the infection.
"They should not always attribute new neurological symptoms [to] their underlying neurological disease. Also COVID-19 patients and carers should be aware of potential neurological problems," he said.
As the disease spreads, said Constantinescu, "we will become increasingly aware of neurological complications of COVID-19 and of the implications of COVD-19 infections in people with underlying neurological conditions. Even rare complications such as this one have great informative value."
World Health Organization advice for avoiding spread of coronavirus disease (COVID-19)
Hygiene advice
Clean hands frequently with soap and water, or alcohol-based hand rub.
Wash hands after coughing or sneezing; when caring for the sick; before, during and after food preparation; before eating; after using the toilet; when hands are visibly dirty; and after handling animals or waste.
Maintain at least 1 meter (3 feet) distance from anyone who is coughing or sneezing.
Avoid touching your hands, nose and mouth. Do not spit in public.
Cover your mouth and nose with a tissue or bent elbow when coughing or sneezing. Discard the tissue immediately and clean your hands.
Medical advice
Avoid close contact with others if you have any symptoms.
Stay at home if you feel unwell, even with mild symptoms such as headache and runny nose, to avoid potential spread of the disease to medical facilities and other people.
If you develop serious symptoms (fever, cough, difficulty breathing) seek medical care early and contact local health authorities in advance.
Note any recent contact with others and travel details to provide to authorities who can trace and prevent spread of the disease.
Stay up to date on COVID-19 developments issued by health authorities and follow their guidance.
Mask and glove usage
Healthy individuals only need to wear a mask if taking care of a sick person.
Wear a mask if you are coughing or sneezing.
Masks are effective when used in combination with frequent hand cleaning.
Do not touch the mask while wearing it. Clean hands if you touch the mask.
Learn how to properly put on, remove and dispose of masks. Clean hands after disposing of the mask.
Do not reuse single-use masks.
Regularly washing bare hands is more effective against catching COVID-19 than wearing rubber gloves.
The COVID-19 virus can still be picked up on rubber gloves and transmitted by touching your face.