Woman Cuts Up 32 Wedding Dresses After Store Refuses to Return Her Deposit
A woman cut up 32 wedding dresses at a bridal salon in China after a dispute over a deposit escalated.
The customer was caught on video slicing up racks of dresses worth thousands of dollars after she was reportedly refused a $550 deposit.
The incident took place on January 9 at a bridal shop in Chongqing's Jiangjin district, according to Chinese media outlet Sohu, which reported that the woman used scissors to destroy 32 wedding dresses worth $11,000.
She was reportedly refused her deposit back after suddenly canceling a wedding package that she bad booked in April 2021 for her October 5 wedding, worth $1,260.
The furious customer can be seen in footage cutting holes in multiple white wedding dresses hung on a rack, and traditional Chinese wedding dresses.
The person filming the woman can be heard saying in the clip, "Think clearly, these dresses cost thousands [yuan]." The customer hit back saying: "Thousands? Even [if] it's ten [of] thousands, it doesn't matter."
"Call the police," she said.
"This one? It's several tens of thousands," the person filming the woman says as she cuts a traditional red-and-gold traditional Chinese wedding gown.
The woman responded by saying that she could pay 100,000 Chinese yuan, or $74,000.
According to local media reports, the woman asked in August if she could postpone the wedding arrangements that she had booked. Later, in November, she asked to cancel the package and demanded her deposit be returned.
Her request was denied as per store policy of not refunding advanced payments. The bridal store allegedly offered to provide some services for a newborn's 100th day celebration, known as the "full moon" celebration—a Chinese tradition that was first observed at a time when infant mortality was very high.
The woman was allegedly pregnant when the offer was made, and she initially agreed to the arrangement.
However, on January 9, she returned to the store and cut up 32 weddings dresses.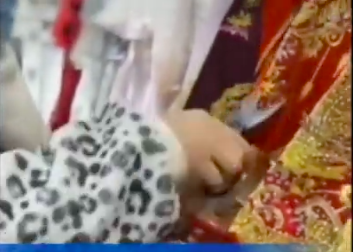 The furious customer cut holes in multiple white wedding dresses hung on a rack, and traditional Chinese wedding dresses.
Screengrab/Getty Images
The customer was reportedly removed from the bridal store by police and taken into custody.
Local TV station Chongqing Broadcasting Group aired a report showing police officers examining the damaged wedding gowns at the Jiangjin district bridal store.
The woman has since apologized for her conduct and the damage caused, according to local media. Her husband meanwhile has promised to compensate the bridal store, according to the shop owner.
Users on the Chinese microblogging website Weibo criticized the woman for her behavior, with some saying that she should face jail time.
"What on earth was she thinking?" one user wrote.
Others called on the woman to fully compensate the bridal store for the dresses she destroyed.