Woman, 84, Describes Calling Partner 'My Wife' for First Time in Video
An 84-year-old lesbian grandma has shared a powerful video describing the first time she referred to her partner of 30 years as her wife.
Grandma Jan and her wife Grandma Linda live together in Ontario, Canada, as part of a family of eight women that includes Linda's daughter Karen and granddaughter Madison.
They regularly post videos to TikTok under the profile of "Canada's Gayest Family," with their clips accumulating more than two million likes and over 140,000 followers.
However, it's one of their latest videos, in which Jan opens up about the experience of finally being able to describe Linda as her wife, that has been attracting attention online.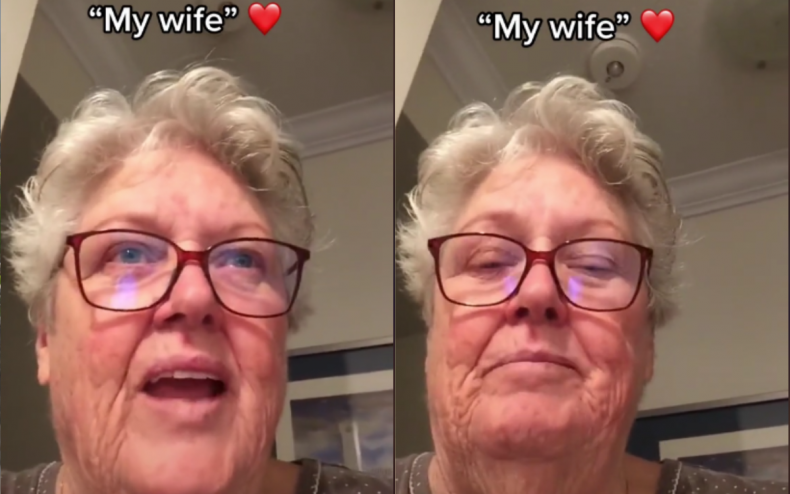 In 2003, the provinces of Ontario and British Columbia became the first in the country to legalize same-sex marriage. It subsequently became legal across the entirety of Canada after the Civil Marriage Act was implemented in July 2005.
At the time, Canada was only the fourth country to permit same-sex marriages, following in the footsteps of the Netherlands, Belgium and Spain. As of today, there are 32 countries where same-sex marriage is legal, including both the U.S. and U.K., as well as Jan's native Australia.
Despite this, there remains a global divide on the subject, with homosexuality illegal in 67 countries. A 2019 Pew Research Center survey found 16 of 34 countries polled felt homosexuality should be accepted by society.
As an example, while 94 percent of respondents in Sweden felt it should be accepted, just 7 percent of people in Nigeria agreed with that sentiment.
Across the entire 34 countries surveyed, meanwhile, 52 percent felt homosexuality should be accepted while 38 percent said it should be discouraged.
Although those figures make for concerning reading, the response to Jan's video, which has been watched 1.8 million times already, has been wholly supportive.
"Hello, today I did it," Jan says on the clip. "I can't believe that it's taken me so long to do it. I had a phone call from my bank...and they said to me 'And who is Linda?' and I said 'my wife.'"
She continued: "I hung up the phone and I realized for the first time, and I'm 84 and a bit years old, I'd said 'my wife' so I thought it was worthwhile recording."
"You can call me dumb for not saying it before but I guess it's hard to teach an old dog new tricks," she added. "Guess what: I'm going to be doing it again."
Jan told Newsweek: "Do I have a reason for posting my video? Not really, it was just the sudden realization of the magnitude, to me, of what I had done and I was excited and giddy. I wanted to celebrate so I picked up the phone, no combing of my hair or primping, and I told it like it was. AND, I felt good."
Jan's video has drawn widespread praise on social media.
"I'm so proud of you," mskayleighjune wrote, with danajang1 commenting: "I'm sorry the world took this from you, glad you took it back."
Westbrouck wrote: "literally in tears. Congratulations" while ChrissyHax said: "I am glad that at age 84 and in 2022 you feel safe enough to speak your truth."
Elsewhere, Pa Lemon praised Jan for speaking her truth. "So wonderful," they wrote. "The leap is hard, until it's not!" JuslinWallas, meanwhile, offered up a piece of advice to Jan.
"Each person in their own time," they replied. "Now, walk up to her and say 'you're my wife.' Do it several times a day, you have a lot of catching up to do."
Update 9/27/22 5:00 a.m. ET: This article was updated with comment and video from Grandma Jan.