Woman Diagnosed With COVID While in Labor Dies Weeks After Giving Birth
A new mom in Texas died this week after a weeks-long battle with COVID-19 that resulted in the collapse of both her lungs and landed her in the intensive care unit shortly after giving birth in January.
Alexandra Chandler, an elementary school teacher, learned she was COVID-19 positive while she was in labor at the hospital, according to a GoFundMe page established on her behalf. Despite being fully vaccinated, her illness "took a turn for the worse" and after being intubated and suffering from two collapsed lungs, Chandler died on Sunday.
On January 6, Chandler left work at Montague Village Elementary at Fort Hood early because she didn't feel well, a development she attributed to pregnancy fatigue and possibly a cold, according to the GoFundMe page. However, she tested positive for COVID-19 on January 9 while she was at the hospital for a cesarean section, but appeared to have no other complications.
She and her newborn son, Beau, were sent home days after her successful C-section. The next day, she began to experience shortness of breath and Kait Osborne-Bias, who organized the GoFundMe wrote on the page that her condition "progressed rapidly," sending her and her baby back to the emergency room.
Ultimately, doctors added pneumonia to her COVID-19 diagnosis, according to the GoFundMe page, and on January 15, Chandler required additional medical support to breathe. The teacher eventually had to be intubated and both of her lungs collapsed.
"To know Alex was to love her. She left a great impact on so many lives and her memory will not be forgotten," Brittany Rodriquez, a co-founder of the GoFundMe, wrote in an update announcing her death.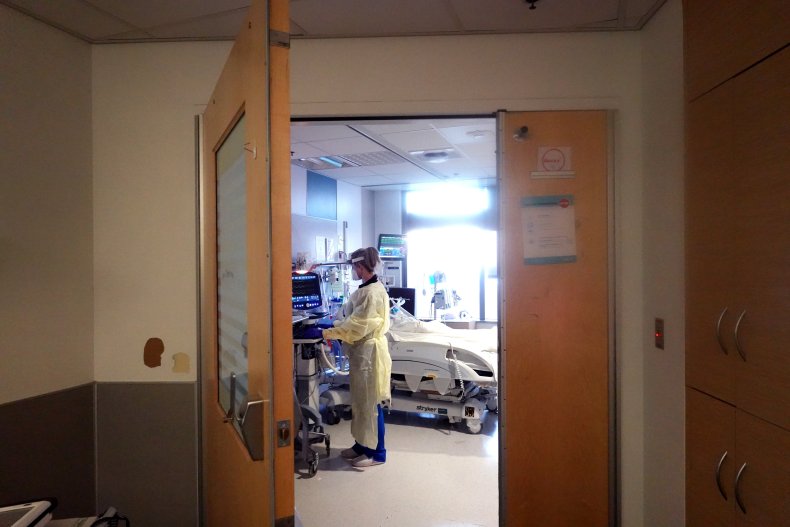 Serious illness and deaths from COVID-19 complications are rare, but they have happened. Pregnant women are believed to be more susceptible to COVID-19 than their non-pregnant counterparts. The Centers for Disease Control and Prevention (CDC) noted that there are changes that happen when a person is pregnant that could make them more likely to get sick from COVID-19, making it even more important for pregnant women to get vaccinated.
Jenny Clay, Chandler's mother, wrote on a separate GoFundMe page established for Chandler, that her daughter was "first in line" to get vaccinated. Clay said her daughter didn't want to get sick or cause harm to others and did "everything she could to protect herself from COVID-19."
Clay wrote that teaching was Chandler's dream but she was hesitant to return to the classroom so close to her due date. Clay said she was "concerned" about going back to work after Christmas break and didn't "feel safe" because of the rising COVID-19 cases in Central Texas.
Clay wrote on the GoFundMe that the initial prognosis "looked promising" because her daughter was "young, healthy and vaccinated." Doctors initially predicted that she could be breathing on her own by the end of the week, according to Clay, but one "mediocre day would be followed by three horrible ones."
On January 27, Clay and Chandler's husband were told to come to the hospital to say their goodbyes, but she started to improve. Unfortunately, weeks later, her lungs were "no match for [COVID's] might."
In her statement on her GoFundMe page, Clay said she established the page on February 4 in place of the one established by Osborne-Bias. "The previous fundraiser has been discontinued," she wrote. "The family received those funds, and we are very appreciative for all your support."
However, after Chandler's passing, Osborne-Bias reactivated her GoFundMe page. "The GoFundMe has been reactivated to be put towards funeral expenses as well as anything her husband, newborn son, and family may need during this time," she wrote. "Above all else, pray for comfort for those who loved her dearly."
In a statement announcing her death, KISD spokeswoman Taina Maya said Chandler will be "greatly missed." The school called her a dedicated "teacher, friend, and mentor to her peers and students" and expressed their condolences and prayers to her family.