Doctor Tracks Down Beachfront Bargain Hunt Contestant After Spotting Thyroid Tumor On Her Neck
A surgeon may have saved a woman's life when he noticed a cancerous tumor on her neck as he watched her on T.V.
New York-based ear, nose and throat surgeon Dr. Erich Voigt of NYU Langone Health was watching Beachfront Bargain Hunt when he spotted a shadowy lump on the neck of one of the house-hunters.
Worried it could be a sign of a serious condition, Dr. Voigt became determined to track her down, but only the woman's first name was featured on the show, he told ABC News. So, he shared a clip of the segment on his Facebook page in the hope someone might know how to reach her.
"When I saw the mass in her neck I immediately sensed that she might have thyroid cancer. I then wondered if she knew she had a mass there," he told Newsweek.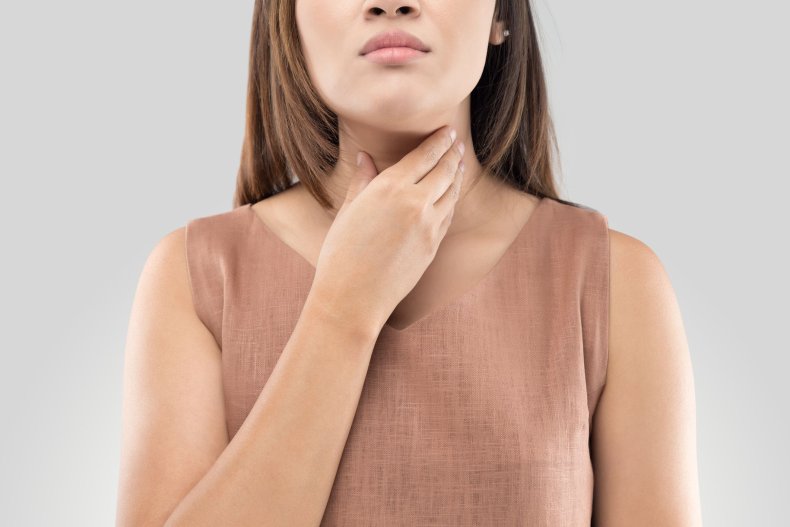 A user of the social media website later alerted Dr. Voigt the woman was Nicole McGuiness, 32, of Havelock, North Carolina. McGuiness had already survived brain cancer, but the lump had not yet been spotted.
Doctors then diagnosed her with thyroid cancer.
Dr. Voigt said he felt he had a moral obligation to tell her about the lump.
In a follow-up status on his Facebook page, he wrote: "She will be seeing a surgeon and getting appropriate treatment and I hope she will be cured! Awesome power of Facebook and good people!"
He added in a later post that what he did was "nothing more than what doctors and nurses and so many other people are doing every day. Many people care and help others. It's so simple. The good stories are often overlooked because of the impact of the bad negative stories."
McGuiness was "very grateful and surprised," by Dr. Voigt's warning, he told Newsweek. "She was unaware of the lump and she accepted my advice to have a sonogram and get a biopsy with her doctors."
This isn't the first time that Dr. Voigt has spotted throat cancer in a stranger.
"I once detected throat cancer in a salesman who had a hoarse voice," he said. "When I heard him speak I stressed the importance to him to have his throat examined. He was very reluctant, and scared, however, he did take my advice and had a proper examination of his throat and was diagnosed with squamous cell carcinoma of the larynx."
The American Cancer Society estimates that around 53,990 new cases of thyroid cancer will be diagnosed in 2018, with 40,900 of those being in men. Around 2,060 people will die of the condition.
The symptoms of thyroid cancer include a lump in the neck that sometimes grows quickly, swelling in the area, and pain that can sometimes reach the ears. A hoarse voice which does not fade, trouble swallowing and breathing, and a constant cough not caused by a cold are also symptoms of the disease.
Dr. Voigt stressed that thyroid cancer has an "excellent" prognosis and is very treatable when caught early.
This piece has been updated with comment from Dr. Erich Voigt.